The weekend is here! Pour yourself a mug of Colombia Tolima Los Brasiles Peaberry Organic coffee, grab a seat outside, and get ready for our longer-form weekend reads:
• The Mostly Untold Story Of How The Sports Bra Conquered The World And Tore Its Inventors Apart. In an era when young entrepreneurs have become fodder for countless movies and TV shows—cf. The Dropout, WeCrashed, and Super Pumped, to name just a few—eliding the true story of the women behind the sports bra is an omission and a diminishment that's as remarkable as the sports bra itself, especially because the three women have no hesitation talking about the messier parts of their story.  (Defector)

• An Entire Neighborhood Is Being Flipped by a Los Angeles Developer Shaul Kuba of the powerful real estate firm CIM is remaking scrappy West Adams according to his very particular vision. Some people just don't fit the picture. (Bloomberg)

• Is MrBeast for Real? Inside the Outrageous World of YouTube's Cash-Happy Stunt King Jimmy Donaldson built a $54 million empire on elaborate pranks and eye-popping giveaways. Next up: Becoming the most popular creator on the planet. (Rolling Stone)

• The Amazonification of the American workforce The e-commerce giant's labor issues expose the complicated truth about getting what we want when we want it. (Vox)

• Walk Away Like a Boss Postcard from the cryptosphere I can't explain exactly how I ended up on crypto Twitter (or CT, as it's known in the cryptosphere) and in the crypto-focused Telegram and Discord groups I started lurking in late last summer. There was a bull run going on, and whenever cryptocurrency values skyrocket the corporate press turns up like a kettle of raptors spewing headlines about improbable fortunes (N+1).

• The power of shit Our excrement is a natural, renewable and sustainable resource – if only we can overcome our visceral disgust of it. (Aeon)

• Can Virtual Reality Help Ease Chronic Pain? V.R. treatments may provide relief similar to intravenous opioids — a tantalizing prospect for the millions of Americans living with chronic pain. (New York Times)

• Why Nasal Sprays Are Poised to Be the Next Weapon for Fighting Covid Vaccines says its approach can dramatically reduce transmission. (Businessweek)

• The lost Jews of Nigeria: Until the 1990s, there were almost no Jews in Nigeria. Now thousands have enthusiastically taken up the faith. Why? (The Guardian)

• The Sheryl Crow You Never Knew: For decades, the singer-songwriter carved her own path while battling sexism in the music industry and personal darkness. Now, at 60, she's telling her story in a new documentary. (New York Times)
Be sure to check out our Masters in Business interview this weekend with Michael Lewis. We discuss Season 3 of his podcast Against the Rules. We also delve into the 30th anniversary of Liar's Poker: Rising Through the Wreckage on Wall Street, and his new audio recording of the book. He is also the author of Undoing Project, Moneyball, Flashboys, The Big Short, and so many others.
S&P 500 bottoms mid-August on average, median September during Midterm years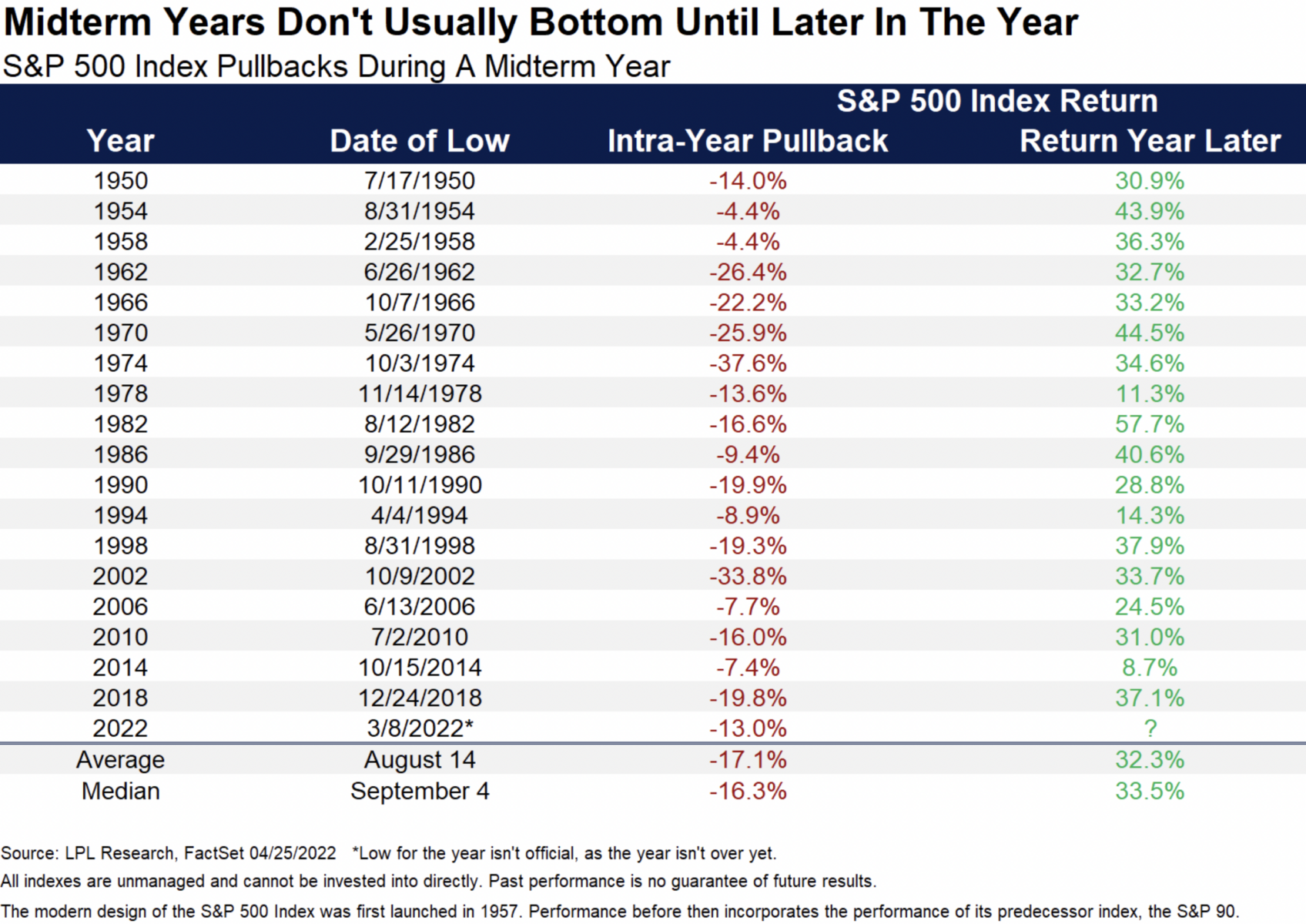 Source: LPL Research
Sign up for our reads-only mailing list here.
~~~
To learn how these reads are assembled each day, please see this.