My end of week morning train WFH reads:
• American Consumers Are Shopping, Traveling and Working Out Like It's 1999 2019 People have returned to their old habits in many ways, while pandemic stars like hand sanitizer and stationary bikes have faded.(Wall Street Journal)

• Elon Musk bets the farm: How the billionaire's Twitter buy could blow back on Tesla Musk is leveraging Tesla stock for his Twitter purchase, making the companies odd bedfellows. (Grid)

• Does China have hidden reservoirs of growth potential? Sheer market size. The most important reason to be invested in China switched long ago from cheap labor costs to market access. Even if the Chinese government takes various steps to limit foreign companies' market access and support home-grown competitors, even a tiny sliver of a billion consumers equals vast riches. So obviously, the question of whether the Chinese market will continue to grow is an important factor for investors. (Noahpinion)

• How the Blockchain Could Fix Asset Management: A DAO is like the crypto version of an investment club — and it could be the solution to one of the industry's most nettlesome problems, writes columnist Angelo Calvello.(Institutional Investor)

• Working 9 to 2, and Again After Dinner: The pandemic upended the rigid 9-to-5 workday. Enter the age of the "triple peak" day. (New York Times) see also How Austin Lured the Most Workers Back to Offices: Hiring boom over the past decade has drawn many young professionals in tech-adjacent roles that are more likely to be located in the office (Wall Street Journal)

• The strange business of hole-in-one insurance When golf tournaments promise big cash prizes for holes-in-one, they turn to niche insurers to protect against a stroke of luck. (The Hustle)

• Wild Secrets of Multimillion-Dollar Weddings Our undercover reporter spent a week working with some of the top event planners in the world, and discovered all the unromantic work that goes into achieving nuptial bliss. (Businessweek)

• How Public Schools Are Going Net Zero: K-12 schools are a major source of building energy use. Two new Washington, D.C., schools aspire to be models for efficiency — and student equity. (CityLab)

• Putin vs. His Oligarchs: As Russia's invasion of Ukraine enters its third month, Putin's chummy ruling class is feeling the burn. It's a reminder that they were never so chummy in the first place (Puck)

• In the Court of the Liver King: From the medieval trappings of his Texas mansion to his raw organ-meat diet, the TikTok star and supplement magnate promotes living like a caveman in all aspects of life. (GQ)
Be sure to check out our Masters in Business interview  this weekend with Alex Guervich of Hon Te Advisors, a discretionary global macro hedge fund. Previously, Guervich ran JP Morgans's macro book. In 2020, Hon Te was ranked 2nd in net return, and a top 10 emerging manager. He is the author of The Next Perfect Trade and most recently, The Trades of March 2020.
Energy at ~3% of spending is at historically low levels, compared to the ~6% late 1970's peak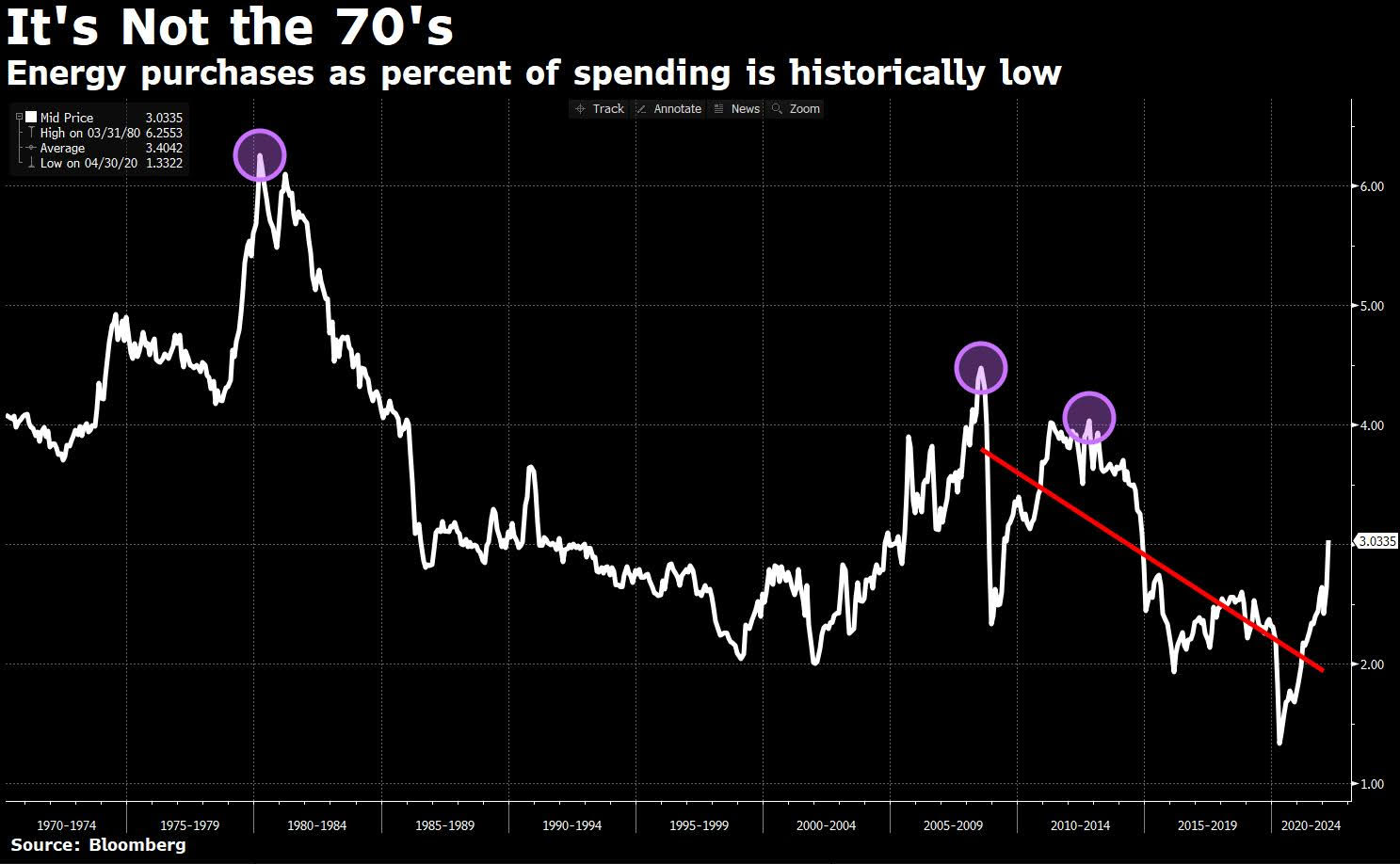 Source: @kritiguptanews
Sign up for our reads-only mailing list here.