My morning train WFH reads:
• Pimco: Navigating the end of the bond bull market The California-based asset manager is trying to adapt to an era of rising interest rates and passive investing. (Financial Times)

• A bear market reading list. As you can see the S&P 500 and Dow have yet to officially enter bear market territory, but by every other measure we are in a bear market. For even the most stalwart, a bear market will put you on edge. What is happening and how you should react, a sampling. (Abnormal Returns) see also A VC Framework for Navigating Down Markets. Conserve cash, extend runway, shift from focusing on growth to focusing on efficiency. Founders crave advice that goes beyond the platitudes and provides a tangible framework to quantify the magnitude of the change in valuations and what it means for their next round and charting their future course. (Future)

• What part of rangebound didn't you understand? It's not popular behind the scenes when I'm quoted in an article or I go on video or TV and say things like "Go outside and play" or "He who does the most right now loses." The advertisers want people active and engaged, not calmly waiting out the moment on a golf course or at the zoo. But I will still say those things, because they're true. And if you really want to build an audience and not just produce a temporary pageview spike or a momentary surge in the ratings, you tell the truth over a long period of time and earn the loyalty of the crowd. (Reformed Broker)

• How a Trash-Talking Crypto Founder Caused a $40 Billion Crash Do Kwon, a South Korean entrepreneur, hyped the Luna and TerraUSD cryptocurrencies. Their failures have devastated some traders, though not the investment firms that cashed out early. (New York Times)

• What Would It Take to Lower the Almighty Dollar? Try a recession, or sanction-fueled suspicions, or high debt. But the buck's dominance should continue, experts say. (Chief Investment Officer)

• Your Dog Is Not Ready for You to Return to the Office Pets (and their owners) prepare for the inevitable. (N.Y. Times)

• TV at Unprecedented Scale: How Dick Wolf Rebounded to 198 Hours of Drama a Season (Variety)

• Shuffled by the iPod: The iPod is leaving the market, which means that now's as good a time as any to consider the many audio players it vanquished along the way. (Tedium) see also The music lives on: iPod touch will be available while supplies last (Apple)

• 'The Quarantine Atlas' Maps How 65 Lives Turned Upside Down In maps and essays, a new book from Bloomberg CityLab charts the less visible changes of a global pandemic. (CityLab)

• This is Spinal Tap sequel in the works with original team attached Director Rob Reiner is bringing back the cast of the much-loved rock mockumentary for a follow-up set to be released in 2024. (The Guardian)
Be sure to check out our Masters in Business interview this weekend with Gerard K. O'Reilly, Co-Chief Executive Officer and Chief Investment Officer of Dimensional Fund Advisors, which manages $650 billion in client assets. Previously, he was Head of Research at DFA, managing the firm's rigorous approach to interpreting, testing, and applying research in portfolios.
Serious bear markets tend to see both a valuation derating and an earnings recession. So far, this has only been a P/E correction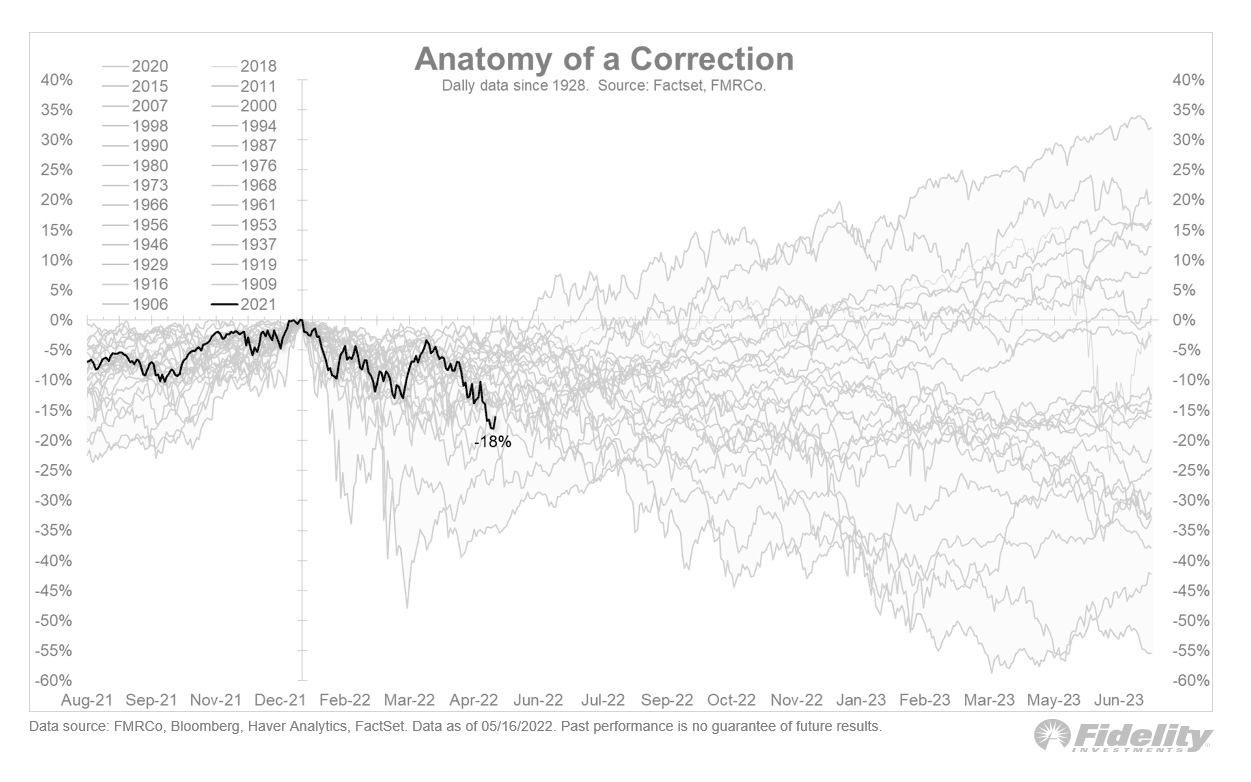 Source: @TimmerFidelity
Sign up for our reads-only mailing list here.