My Two-for-Tuesday morning train WFH reads:
• Day Trader Army Loses All the Money It Made in Meme-Stock Era 'Diamond hands' mentality fuels dip buying and now faces test Capitulation from the crowd may help signal a market bottom. (Bloomberg)  see also Attitude Adjustment  Even in the private markets we see this attitude adjustment taking hold. The unicorns are being gelded, reins pulled in, their horns knocked off with a croquet mallet. F*** you, I'm not valuing you at a multiple of how many people there are in the world who might give you 8 dollars a month in the year 2027. (Reformed Broker)

•  Spotify Shares Now Selling at Less Than the IPO Price 4 Years Ago I revisit my past predictions about this company, and make some new ones (Ted Gioia)

• AQR regains its mojo as Tiger swoons Two of the hedge fund industry's biggest players have seen a violent change in fortunes lately (Financial Times) see also Chris Hohn Is a Hedge Fund Manager Like No Other The TCI Fund Management founder and 2022 Hedge Fund Lifetime Achievement honoree has differentiated himself through philanthropy, activism — and an enviable track record. (Institutional Investor)

• The Air-Ambulance Vultures A search for why my flight cost $86,184 led to a hidden culprit: private equity. (New York Magazine)

• The fossil fuel industry has a trillion-dollar secret weapon to kneecap climate action International trade agreements open the door to claims that could slow progress on climate change. (Grid) but see The E-Bike Effect Is Transforming New York City As the next-generation pedal-assist Citi Bike arrives, the surging popularity of electric two-wheelers stands to reshape the city's transportation future. (CityLab)

• Tesla Autopilot Stirs U.S. Alarm as 'Disaster Waiting to Happen' Regulators are scrutinizing Tesla's driver-assistance system more than ever, pointing to a potential crackdown that could alarm investors and consumers. (Hyperdrive)

• Apple, Google, and Microsoft will soon implement passwordless sign-in on all major platforms: The tech giants want to roll out FIDO passkey technology in the coming year  (The Verge) see also Scammers snatch up expired domains, vexing Google What Google is getting wrong about expired domains. (TechCrunch)

• Microplastics are in our bodies. How much do they harm us? The science is unsettled, but researchers say there is cause for concern. (National Geographic)

• Drones Have Transformed Blood Delivery in Rwanda The autonomous aircraft have shuttled blood to rural, mountainous areas for years. A new analysis proves they're faster than driving. (Wired) see also This Pill Tells Your Doctor if You Didn't Take It. But Whom Is It Really For? The first-ever medication with an embedded chip – an "ingestible event marker," or IEM, which sends a signal when it reacts with stomach acid. That signal is picked up by a patch users wear, which connects via Bluetooth to a smartphone app that can also measure users' steps and rest, and allows users to record their self-reported moods or reasons for not taking medication. (Slate)

• 25 Years Ago, Bruce Willis Made the Most Divisive Sci-Fi Movie Ever: Whether you think it's one of the best sci-fi movies ever or one of the worst, you're never going to forget it. (Inverse)
Be sure to check out our Masters in Business interview  this weekend with Alex Guervich of Hon Te Advisors, a discretionary global macro hedge fund. Previously, Guervich ran JP Morgans's macro book. In 2020, Hon Te was ranked 2nd in net return, and a top 10 emerging manager. He is the author of The Next Perfect Trade and most recently, The Trades of March 2020.
There is an inverse correlation between the forward P/E of the S&P 500 and the 10-year US Treasury bond yield since 2014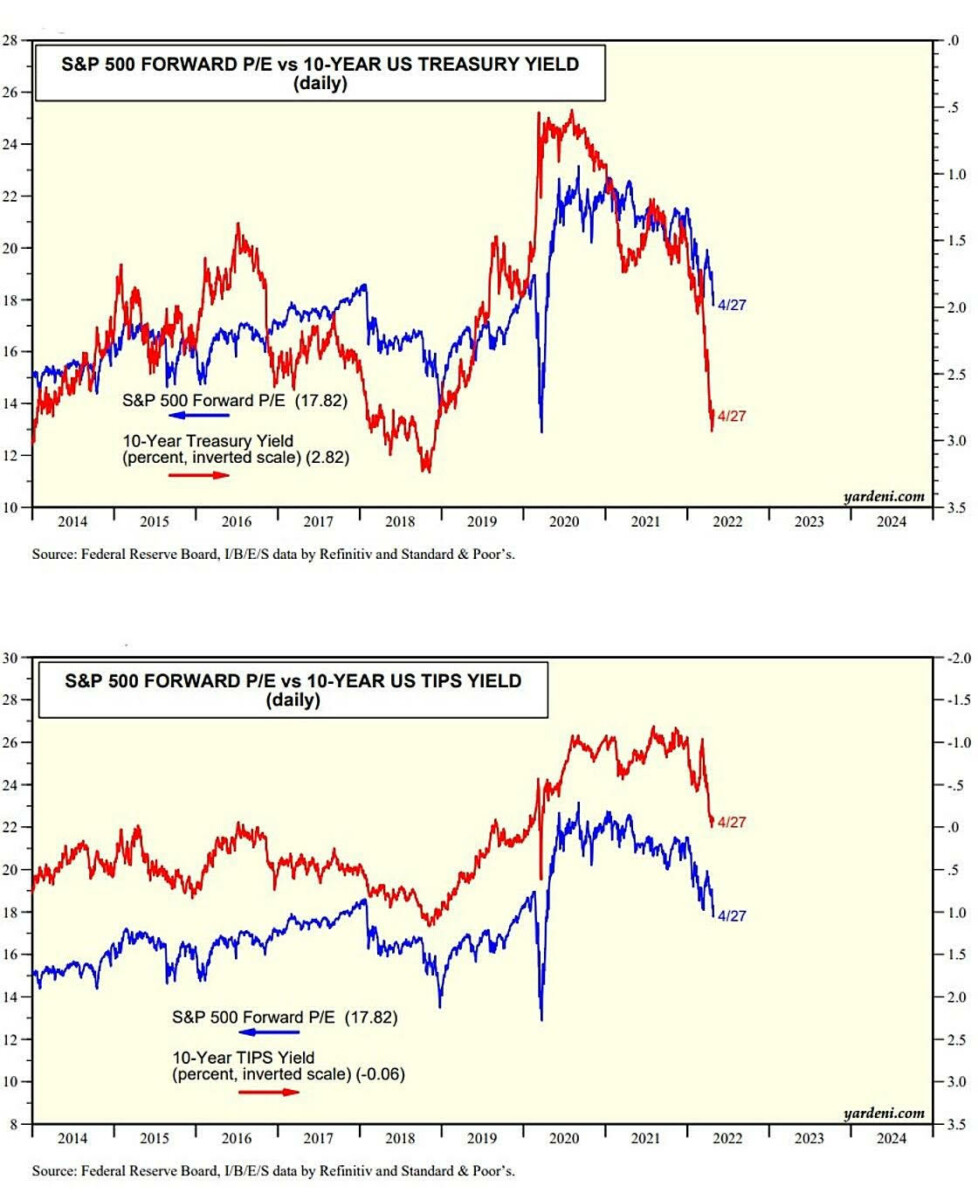 Source: Yardeni Research