My Two-for-Tuesday morning train WFH reads:
• The Rich Are Not Who We Think They Are. And Happiness Is Not What We Think It Is, Either. It's not the small number of well-known tech and shopping billionaires but instead more than 140,000 Americans who earn more than $1.58 million per year. Researchers found that the typical rich American is, in their words, the owner of a "regional business," such as an "auto dealer" or a "beverage distributor." (New York Times) see also In East Hampton, It's the Superrich Against the Merely Rich Plans would limit commercial helicopters; private planes could still land. Residents say noisy skies perturb naps and barbecues. (Wall Street Journal)

• Why Elon Musk can't just walk away from the Twitter deal His recent tweets may be a renegotiation strategy. (Grid)

• What is the point of crypto? Crypto is a solution in search of a problem — or problems. (Vox) see also Why This Computer Scientist Says All Cryptocurrency Should "Die in a Fire" UC-Berkeley's Nicholas Weaver has been studying cryptocurrency for years. He thinks it's a terrible idea that will end in disaster. (Current Affairs)

• Venture Capitalists Are Aiming to Disrupt Fish Farming: Forever Oceans says it's built technology that allows it to push into new frontiers for cultivated fish. (Businessweek)

• The Current Thing: The meme is meant to skewer a perceived conformism, frivolousness, and distractability among a certain subset of social media users, who (the meme suggests) blindly flit from news story to news story, issue to issue, changing their Facebook profile pics and Twitter display names to "support" whatever "Current Thing" dominates news and commentary. (Read Max) see also The Current Thing Centralization is a second order effect of decentralization: when all constraints on content are removed, more power than ever accrues to the entity that is the preferred choice for navigating that content; moreover, that power compounds on itself in a virtuous feedback loop. (Stratechery)

• Greedflation, gouging and price controls There are really three questions here: Is corporate greed contributing to inflation? Is market power contributing to inflation? Are price controls a good way of addressing market power and/or inflation? (Noahpinion)

• Facebook Has a Superuser-Supremacy Problem: Most public activity on the platform comes from a tiny, hyperactive group of abusive users. Facebook relies on them to decide what everyone sees. (The Atlantic) see also How an obscure far-right website with 3 employees dominates Facebook in 2022 Evidence strongly suggests certain sites are paying a network of large Facebook pages, including several controlled by prominent conservative political personalities, to post its content. This conduct, if it is indeed occurring, is in direct violation of Facebook's rules. (Popular Information)

• Bad Bunny: Un Verano Sin Ti review – this is why he is the world's biggest pop star: Hopping from psychedelia to indie-pop to woozy reggaeton, this giant album flaunts the Puerto Rican's boundless creativity (The Guardian)

• Inside Mark Meadows's final push to keep Trump in power: The former congressman played a key role in Trump's effort to overturn the election, according to his texts, congressional investigations and interviews. (Washington Post) see also 'Provide some cover': Batch of seditious Eastman emails sheds light on contacts with state legislatures He suggested a way for Pennsylvania legislators to cancel Joe Biden's win. (Politico)

• How a Fringe NBA Player Blazed a Trail to Coach the Boston Celtics Ime Udoka beat long odds and made an NBA team after getting a last-minute invitation to training camp. It was a month that would change his life. (Wall Street Journal)
Be sure to check out our Masters in Business next week with Boaz Weinstein of Saba Capital. The hedge fund specializes in Credit Default swaps, Tail Protection & Volatility trading. Saba is one of the 5 largest SPAC investors. Previously, Weinstein was Co-Head of Global Credit Trading at Deutsche Bank and a member of the Global Markets Executive Committee. Weinstein became infamous as the trader on the other side of the London Whale trade against JPM, which lost the bank $2B and netted Saba 100s of millions in gains.
How Bad Could It Get?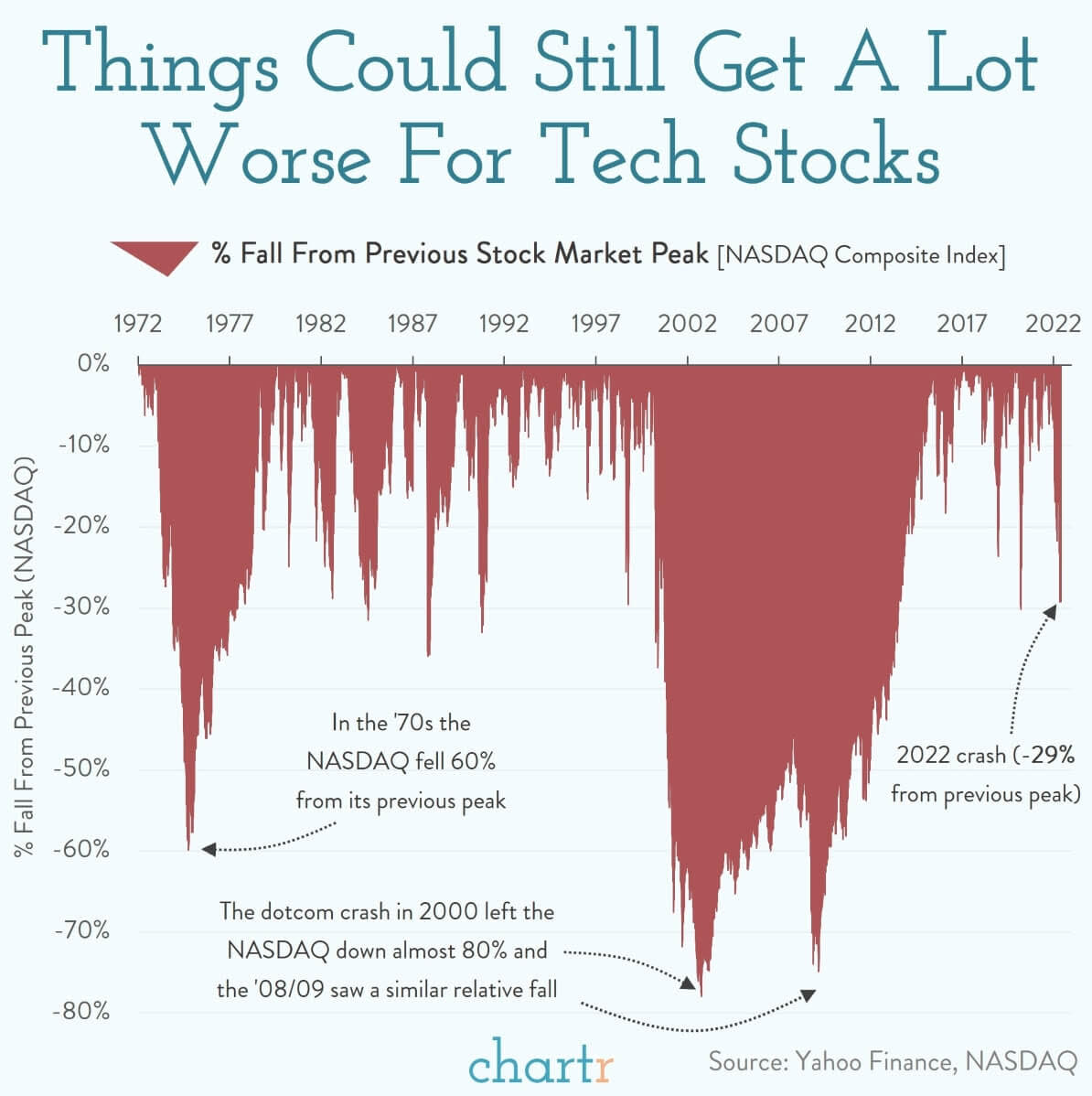 Source: Chartr