My morning train WFH reads:
• How Susceptible Are You to Financial Bullshit? One of the biggest leading indicators of people's tendency to be swayed by bad investment advice is in their susceptibility to put their faith in pseudo-profound financial jargon. A new academic study seeks to actively measure consumers' ability to detect "financial bullshit". Its findings are startling. (Evidence Based Investor)

• The Fire Burning Beneath Crypto's Meltdown The cryptocurrency implosion followed rampant creation of new digital money, something that never ended well in the traditional world. (Wall Street Journal) see also Crypto's frozen mystery: The fate of billions in Celsius deposits A disruptive company with a charismatic leader threw a lot of wealth into uncertainty — and vividly demonstrates the end of the crypto party. (Washington Post)

• Six Things That Might Go Right Inflation Eases / Rates Stabilize; Growth Accelerates; Corporate Profits Hold Up Ok; Russia / Ukraine War Ends; Better Valuations, Better Future Returns; Investors Learn & Become Better Long-Term Investors (Validea)

• Why Social Media Makes People Unhappy—And Simple Ways to Fix It Research suggests platform designs make us lose track of time spent on them and can heighten conflicts, and then we feel upset with ourselves. (Scientific American)

• The comedown: After stimulus boom, Americans face a darkening economy Pandemic-era aid ended as prices spiked — and now the middle class is feeling squeezed again. (Washington Post)

• Who owns the San José? The international fight over a 300-year-old treasure-laden Spanish galleon How the "mother of all shipwrecks" became the mother of all legal battles. (Grid)

• Self-Driving Big Rigs Are Coming. Is America Ready? Autonomous trucks that mostly stick to highways could make sense, both technologically and economically, in ways robotaxis have not. The goal is better-than-human, but not perfect, autonomous driving; jobs are probably on the line. (Wall Street Journal)

• The US Can Halve Its Emissions by 2030—if It Wants To The economics are clear: Renewables are cheap enough for the country to rapidly decarbonize. Less evident is the political will to pull it off. (Wired) see also As a heat wave grips the US, lessons from the hottest city in America Summer is becoming unbearable. Phoenix holds solutions on how to cope. (Grist)

• Former Federal Judge Warns of Danger to American Democracy: Retired Federal Judge J. Michael Luttig issued a dire warning to the country: 17 months after the riot on the U.S. Capitol, "Donald Trump and his allies and supporters are a clear and present danger to American democracy." Luttig was appointed to the federal bench by George H.W. Bush and had worked in both the Bush and Reagan administrations, and was a legal adviser to former Vice President Mike Pence. The United States is at a crossroads similar to the one the country faced during the Civil War, and he said America needs help. (NPR)

• A Visual Guide to the Aztec Pantheon Aztec codices and a whole world of deities, each taking care of some aspects of human life, illustrated to reveal the complexity of the Aztec Pantheon, make the academic research more accessible, and show how this civilization is still alive in our global culture. With luck, they will also help you see this society with the wonderment of your inner child's eyes, just like I did all those years ago. (The Pudding)
Be sure to check out our Masters in Business interview this weekend with Jonathan Miller, discussing real estate, home sales, rentals, and whether cities are dead or not. Miller is the CEO and co-founder of Miller Samuel, whose data and analytics on real estate have become the standard for the residential real estate appraisal and brokerage industry.
Estimated CO2 and greenhouse gas emissions of various vehicles by mileage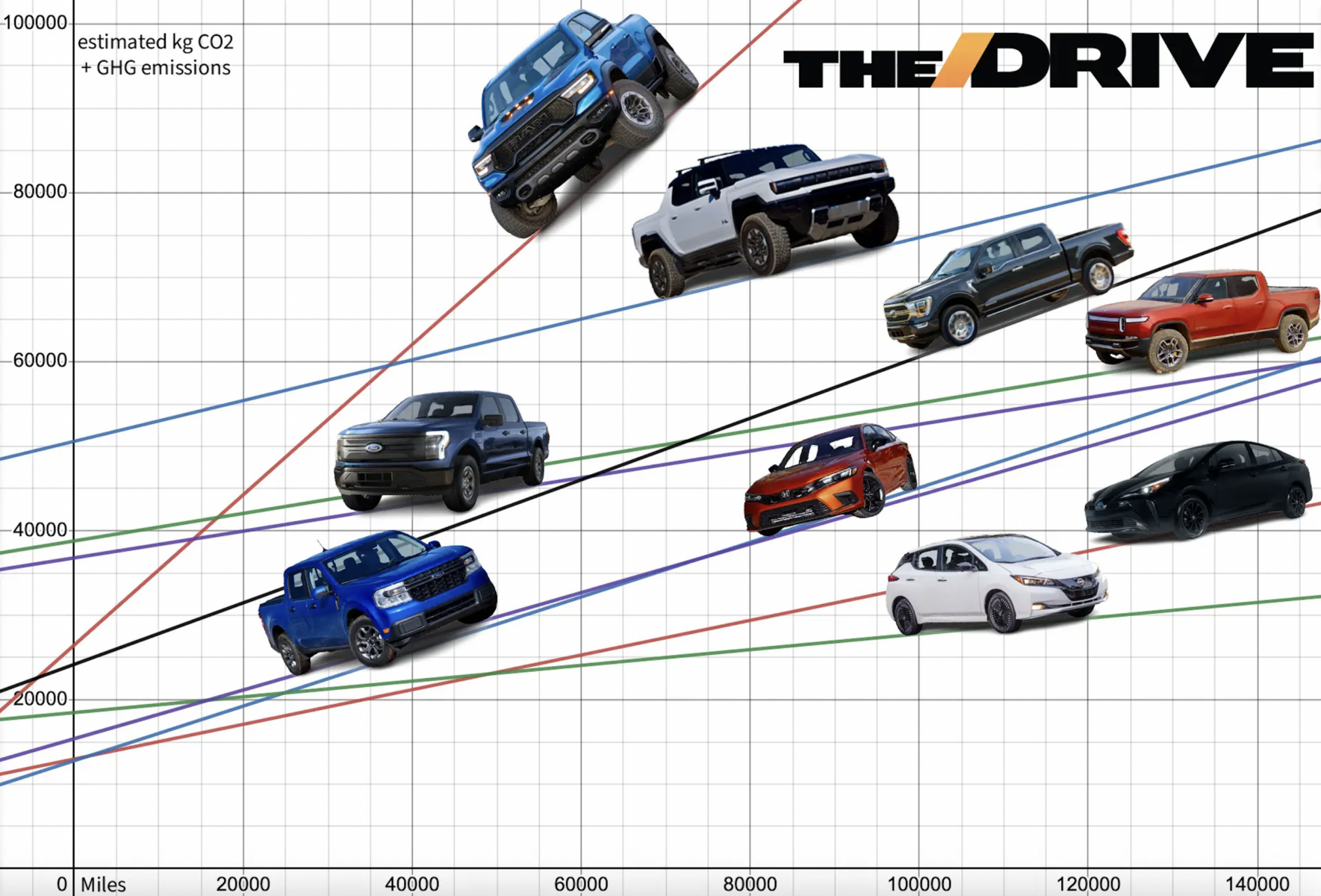 Source: The Drive
Sign up for our reads-only mailing list here.