My morning train WFH reads:
• Artwork, Anybody? The Case for Investing in Offbeat Alts Alternative alternatives, such as lawsuit funding and pro sports, redefine non-correlated assets. (Chief Investment Officer)

• The Lights Are Going Out for Crypto's Laser-Eyed Grifters Bitcoin's latest market rout has quietened influencers on social media. That's a welcome development. (Bloomberg) see also Crypto Crash Widens a Divide: 'Those With Money Will End Up Being Fine' No cryptocurrency investor has been spared the pain of plunging prices. But the fallout from more than $700 billion in losses is far from even. (New York Times)

• Fight the Bear-Market Blues With a Roth IRA Conversion: Roth IRAs are the best retirement plans to have, and this year's market declines have put them on sale (Wall Street Journal)

• The Big Japan Short Is Back for Traders Betting Against the BOJ: The Bank of Japan says it's committed to keeping yields low despite a global push to hike rates. As the yen gets pummeled, investors once again doubt its resolve. (Bloomberg)

• How Covid Tracking Apps Are Pivoting for Commercial Profit In the pandemic's early days, government-backed public health apps acquired millions of users—a ready-made audience developers are eager to tap. (Wired)

• Goldman Sachs Sees Losses From Consumer Push Exceeding $1.2 Billion This Year Bank expects new venture's losses to accelerate this year Goldman sees Main Street initiative as key to lifting stock. (Bloomberg) but see Has the Consumer Ever Been More Prepared for a Recession? But if consumer spending is the main driver of economic activity, that 70% of the economy is in pretty good shape right now from a financial perspective. You could argue the consumer has never been more prepared for a slowdown in the economy.? (A Wealth of Common Sense)

• Rural Counties Are Booming, but Can It Last? The pandemic and the work-from-home movement sparked an economic resurgence in sparsely populated areas as workers fled big cities. (Wall Street Journal)

• Social media sites can slow the spread of deadly misinformation with modest interventions Basic efforts by Twitter can cut misinfo sharing in half, according to a new study. (Grid)

• Republicans could be taking a victory lap. Here's why they aren't. Yet for some reason, the GOP is not working especially hard to keep these legal developments at the forefront of midterm voters' consciousness. Instead, the Democrats have been the ones beating the drum louder about recent Supreme Court rulings, declaring abortion rights to be "on the ballot," and megaphoning the economic, social and medical consequences that will result from losing the constitutional right to terminate a pregnancy. (Washington Post) see also The End of Roe Means We Need a New Civil Right to Privacy We need to treat intimate privacy as a civil right. Civil rights are legal and moral rights whose protection is essential for human beings to flourish, enjoy respect, and feel that they belong. Civil rights guarantee our participation in a democratic society. They are moral rights: They cannot be traded away or denied without a good reason. Civil rights are fundamental entitlements owed to everyone. (Slate)

• Wild solar weather is causing satellites to plummet from orbit. It's only going to get worse. The change coincided with the onset of the new solar cycle, and experts think it might be the beginning of some difficult years. (Space)
Be sure to check out our Masters in Business next week Perth Tolle with founder of Life + Liberty Indexes, index provider and sponsor of the Freedom 100 Emerging Markets ETF. The first-of-its-kind strategy uses personal and economic freedom metrics as the primary factors in its investment process. Prior to forming Life + Liberty Indexes, Perth was a private wealth advisor at Fidelity Investments in Los Angeles and Houston and had lived and worked in Beijing and Hong Kong, where her observations led her to explore the relationship between freedom and markets.
Trump vs DeSantis: Who will win the 2024 Republican presidential nomination?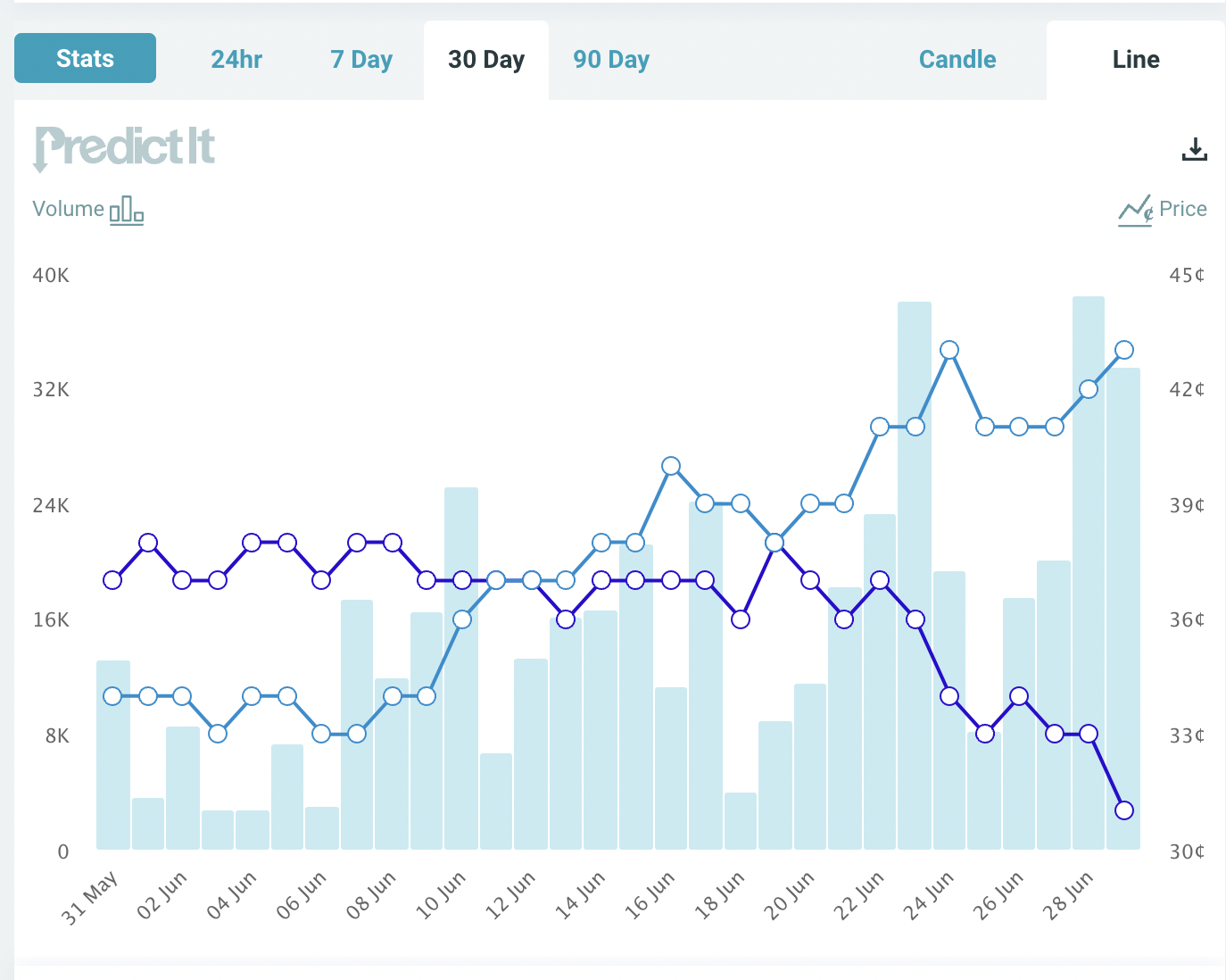 Source: Predict It (For updated prices, click here)
Sign up for our reads-only mailing list here.