My back-to-work morning train WFH reads:
• The World Economy Is Imperiled by a Force Hiding in Plain Sight: Well more than 2 years into the worst pandemic in a century, the accompanying economic shock continues to assault global fortunes. (New York Times)

• People Have Money but Feel Glum—What Does That Mean for the Economy? Strong job market and savings have shielded consumer spending so far, but it is endangered by inflation that has some households running scared. (Wall Street Journal) see also Is the World Really Falling Apart, or Does It Just Feel That Way? By most measures — with one glaring exception — people around the world are better off than ever. So why doesn't it feel that way, especially to Americans? (New York Times)

• Stocks For the Long Run: Every strategy and philosophy has its pros and cons. The good strategy you can stick with is far superior to the great strategy you can't stick with so a lot of this comes down to who you are as an investor. There are a number of factors that determine the type of investor you are.  (A Wealth of Common Sense)

• Wall Street Texting Habit Sticks Banks With Rare $1 Billion Bill: Regulators are poised to extract about $1 billion in fines from the five biggest US investment banks for failing to monitor employees using unauthorized messaging apps. Citi, Goldman, BofA have had advanced talks with regulators; Morgan Stanley discloses expected fine, JPMorgan has settled.(Bloomberg)

• Venture Capitalists Are Making 'Predictably Bad' Investments. A Researcher Says AI Could Prevent That. Machine learning could pave the way for better VC investment decisions, according to new research out of the University of Chicago. (Institutional Investor)

• Elon Musk's Inner Circle Rocked by Fight Over His $230 Billion Fortune Before the Tesla CEO's billion-dollar battle over Twitter, another fight broke out over how his charitable giving should be managed. Ex-professional gambler Igor Kurganov became a top Musk adviser on giving his fortune away. Jared Birchall, his wealth manager and key player in financing the bid for Twitter, wanted him out. (Wall Street Journal)

• Why disasters are getting more severe but killing fewer people An important but overlooked piece of good news about climate change. (Vox)

• Life Lessons from Laura Wasser, Divorce Lawyer to the Stars: The so-called disco queen, whose former clients range from Kim Kardashian to Johnny Depp, reflects on the state of our unions. (New Yorker)

• Trouble for Trump as committee makes case Capitol attack was premeditated (The Guardian) see also The DOJ Must Prosecute Trump: The January 6 committee has provided overwhelming evidence that the former president was not some bit player along for the ride, but the central driver of a nefarious plot. (The Atlantic)

• Let's Give Duke Ellington the Pulitzer Prize He Was Denied in 1965 Last week, the IOC reinstated Jim Thorpe's 1912 Olympic gold medals—it's time to do the same with Duke Ellington's Pulitzer. (The Honest Broker)
Be sure to check out our Masters in Business this week with Antti Ilmanen, AQR Capital's co-head of Portfolio Solutions Group. Ilmanen market theories and research are highly regarded, and he has won multiple awards, including the Graham and Dodd award, the Harry M. Markowitz special distinction award, multiple Bernstein Fabozzi/Jacobs Levy awards, and the CFA Institute's Leadership in Global Investment Award. His most recent book is "Investing Amid Low Expected Returns."
The 10 Cities Where the Housing Market Is Cooling the Fastest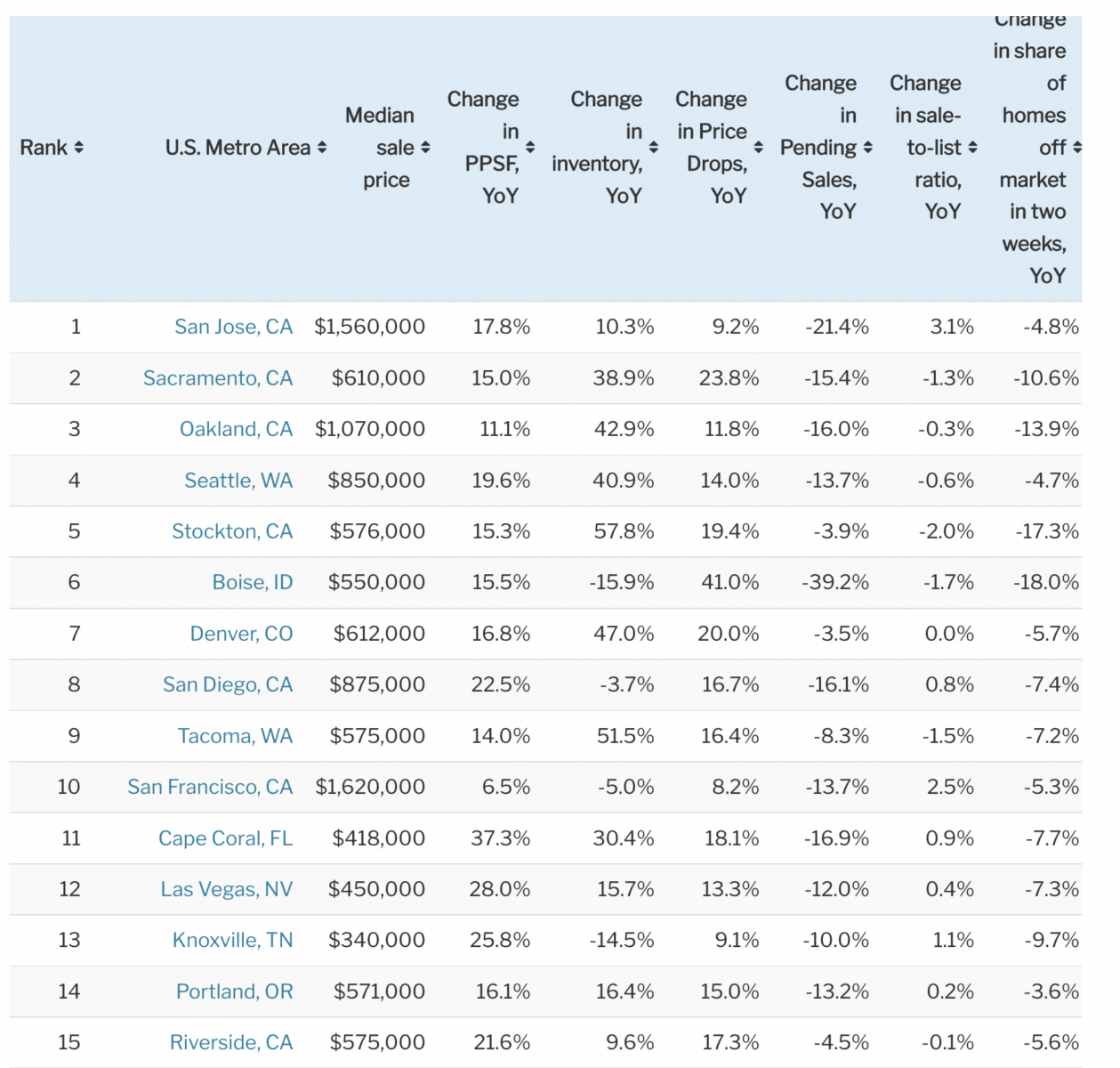 Source: Redfin
Sign up for our reads-only mailing list here.