My mid-week morning train WFH reads:
• How long bear markets typically last—and how you should think about investing during this one: Going back to the end of World War II, the U.S. stock market has experienced 13 bear markets (including the current one). In the previous 12 bear markets, the average loss was –32.7%. It took the stock market an average of around 12 months to go from the peak of the market to the bottom. It then took roughly 21 months on average to go from the bottom back to the previous peak.(Wealth of Common Sense)

•  The Lucid Air Grand Touring Makes the Tesla Model S Feel Kinda Pointless: With better build quality, nicer materials and vastly superior battery range, the Air makes the Model S seem old, cheap and outdated. (Jalopnik) see also GM Will Finally Have a Rival to Tesla's Model Y With Blazer EV Chevy SUV built on new battery platform to debut in a year Battery capacity gives GM edge in getting models out: analyst. (Bloomberg)

• Active Managers Are Proving Their Worth Right Now. Will It Last? Active managers' performance during downturns is "usually not as good as they say, not as persistent as they say, and not as important to their long-term success as they would lead you to believe," says Morningstar's Jeff Ptak. (Institutional Investor)

• The Dollar Is Extremely Strong, Pushing Down the World: The value of the U.S. dollar is the strongest it has been in a generation, devaluing currencies around the world and unsettling the outlook for the global economy as it upends everything from the cost of a vacation abroad to the profitability of multinational companies. (New York Times)

• The New Numbers on Music Consumption Are Very Ugly: And it's not just the dominance of old songs—the whole creative culture is losing its ability to innovate. But why? (The Honest Broker)

• The Haves and the Have-Yachts: Luxury ships attract outrage and political scrutiny. The ultra-rich are buying them in record numbers (New Yorker)

• Instagram is dead What's left is a constantly mutating product that copies features from whatever popular service — Snapchat, TikTok, or whatever. It is all about marketing and selling substandard products and mediocre services by influencers with less depth than a sheet of paper. It has become QVC 2.0. (Om) see also On TikTok, Teens Stuck in the Suburbs Get the Urbanist Pitch: Step aside, makeup tutorials and viral dance challenges — TikTok for urban planning has arrived. (Citylab)

• Good Grief: Reflections on a dreaded emotion: But no one has told us how to deal with the deaths of those we love or found important to our own lives. Or at least no one has done so convincingly. The best-known attempt has been that of Elisabeth Kübler-Ross, a Swiss psychiatrist, in her 1969 book On Death and Dying and in her later book, On Grief and Grieving (2005). (Commentary)

• Meet the Giant Sequoia, the 'Super Tree' Built to Withstand Fire: Mammoth redwood trees have evolved along with fire, but humans are disrupting that delicate balance (Scientific American)

• How Picasso's Great Anti-war Mural Flopped Picasso's giant mural about the horrors of war left its first viewers cold. How did this painting become one of the most important in the history of art? (The Atlantic)
Be sure to check out our Masters in Business this week with Antti Ilmanen, AQR Capital's co-head of Portfolio Solutions Group. Ilmanen market theories and research are highly regarded, and he has won multiple awards, including the Graham and Dodd award, the Harry M. Markowitz special distinction award, multiple Bernstein Fabozzi/Jacobs Levy awards, and the CFA Institute's Leadership in Global Investment Award. His most recent book is "Investing Amid Low Expected Returns."
The U.S. plan to avoid extreme climate change is running out of time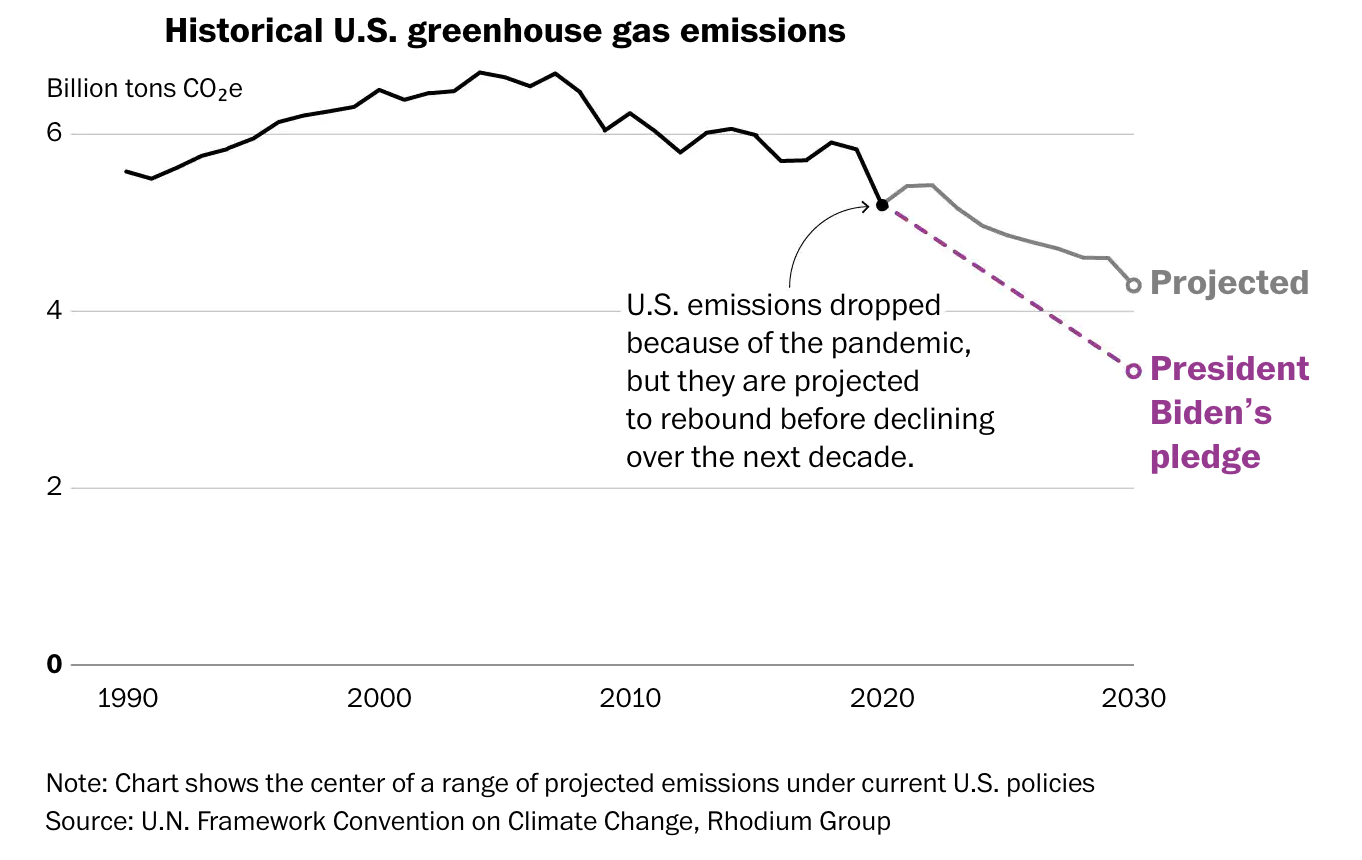 Source: Washington Post
Sign up for our reads-only mailing list here.