Avert your eyes! My Sunday morning look at incompetency, corruption and policy failures:
• 5 stunning revelations about Jan. 6 from Cassidy Hutchinson: Meadows and Trump knew there could be violence on Jan. 6 and enabled the mob. They also knew many were armed. (Washington Post) see also A Withering Indictment of the Entire GOP: Cassidy Hutchinson's testimony was damning. If anyone was surprised, they shouldn't have been. (The Atlantic)

• The Frack Master's Master Class: Christopher Faulkner wooed potential oil investors a decade ago with a jargon-filled prospectus, which he pumped hard when the price of crude started to climb. Expect a proliferation of similar ploys again soon. (Bloomberg)

• Plastic Recycling Doesn't Work and Will Never Work If the plastics industry is following the tobacco industry's playbook, it may never admit to the failure of plastics recycling. (The Atlantic)

• Behind the Scenes, McKinsey Guided Companies at the Center of the Opioid Crisis The consulting firm offered clients "in-depth experience in narcotics," from poppy fields to pills more powerful than Purdue's OxyContin. (New York Times) see also Is McKinsey & Co. the Root of All Evil ? Where ever there has been a financial disaster in the world, if you look around, somewhere in the background, McKinsey & Co. is nearby. (The Big Picture)

• Ships going dark: Russia's grain smuggling in the Black Sea An FT investigation tracks the vessels exporting food from Crimea in ways that sidestep international sanctions. (Financial Times)

• 'An Invisible Cage': How China Is Policing the Future The more than 1.4 billion people living in China are constantly watched. They are recorded by police cameras that are everywhere, on street corners and subway ceilings, in hotel lobbies and apartment buildings. Their phones are tracked, their purchases are monitored, and their online chats are censored. Now, even their future is under surveillance. (New York Times)

• It Took 35 years to Get a Malaria Vaccine. Why? The parasite's complex biology played a role in the delay, but experts say there was also a lack of urgency and funding. (Undark)

• The Lottery Lawyer Won Their Trust, Then Lost Their Mega Millions: Jay Kurland built a practice giving legal and financial advice to jackpot winners. He's now accused of fraud. (Bloomberg)

• How Generations of Black Americans Lost Their Land to Tax Liens Sales of repossessed assets have stripped thousands of families of their property—along with the potential to increase wealth. (Businessweek)

• Death and Suffering: The Story Behind Ireland's Abortion Ban and its Reversal The death of Savita Halappanavar in an Irish hospital in 2012 after she was denied an abortion during a miscarriage caused outrage across Ireland.  (US News)
Be sure to check out our Masters in Business next week Perth Tolle with founder of Life + Liberty Indexes, index provider and sponsor of the Freedom 100 Emerging Markets ETF. The first-of-its-kind strategy uses personal and economic freedom metrics as the primary factors in its investment process. Prior to forming Life + Liberty Indexes, Perth was a private wealth advisor at Fidelity Investments in Los Angeles and Houston and had lived and worked in Beijing and Hong Kong, where her observations led her to explore the relationship between freedom and markets.
The US would be bucking a clear global trend of expanding reproductive rights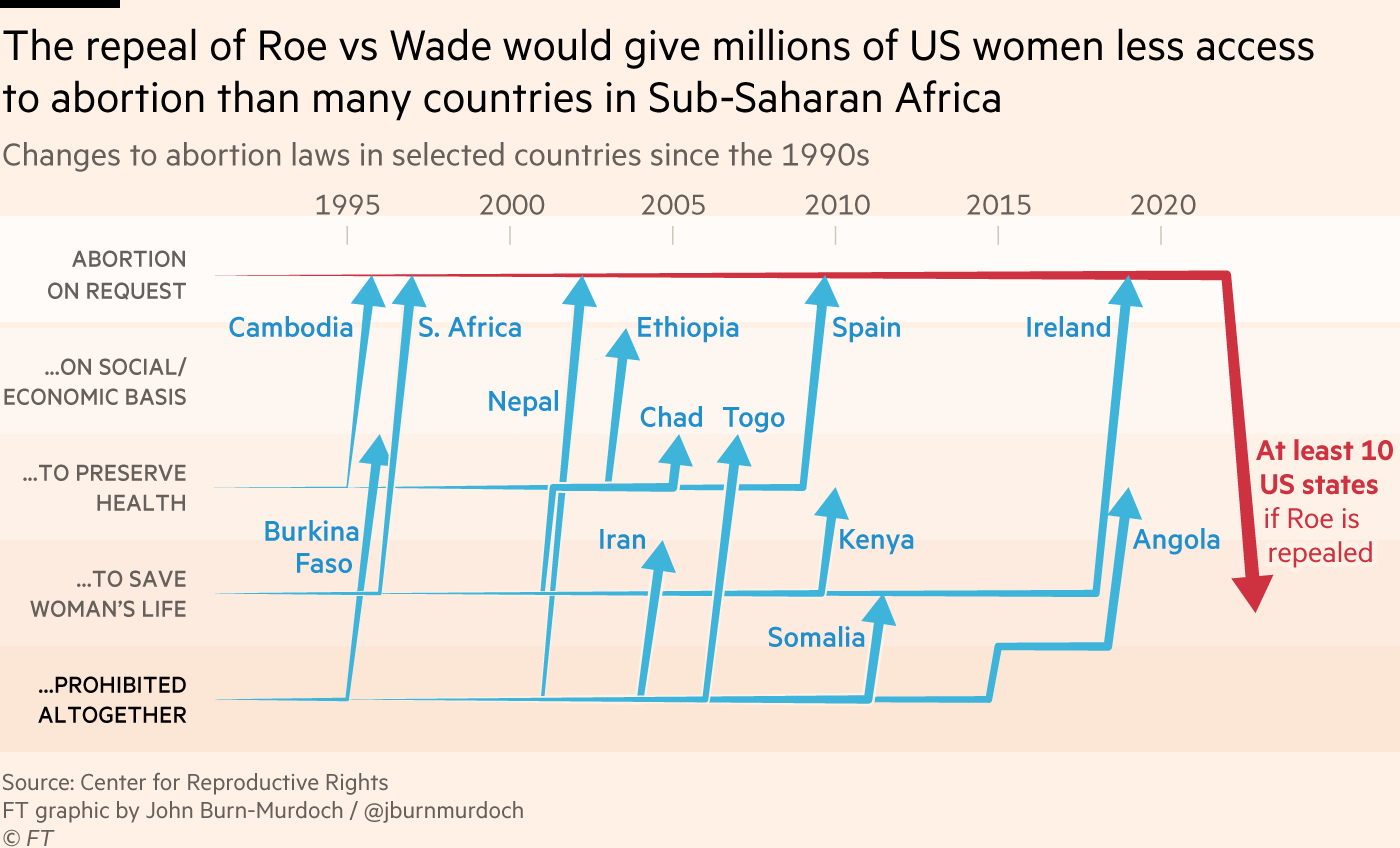 Source: @jburnmurdoch
Sign up for our reads-only mailing list here.
~~~
To learn how these reads are assembled each day, please see this.