Avert your eyes! My Sunday morning look at incompetency, corruption and policy failures:
• The nonstop scam economy is costing us more than just money Relentless waves of sophisticated phone and online scams are impacting people's mental health. (Washington Post)

• Donald Trump's tampering, a rioter's remorse, and other January 6 hearing takeaways The latest hearing teed up what the committee members promise will be "a profound moment of reckoning" for America next week. (Vox) see also The DOJ Must Prosecute Trump: January 6 Was Trump's Project All Along And the Department of Justice has more than enough evidence to prosecute him for it. (The Atlantic)

• Switzerland, Playground of Russian Oligarchs, Emerges as Sanctions Weak Link Ownership shuffles and tradition of secrecy thwart efforts by Alpine financial haven to punish billionaire allies of Vladimir Putin (WSJ)

• 'Hit the kill switch': Uber used covert tech to thwart government raids Regulators entered Uber's offices only to see computers go dark before their eyes. (Washington Post) see also Uber broke laws, duped police and secretly lobbied governments, leak reveals More than 124,000 confidential documents leaked to the Guardian Files expose attempts to lobby Joe Biden, Olaf Scholz and George Osborne Emmanuel Macron secretly aided Uber lobbying in France, texts reveal Company used 'kill switch' during raids to stop police seeing data Former Uber CEO told executives 'violence guarantees success'. (The Guardian)

• Inside Celsius: how one of crypto's biggest lenders ground to a halt Former employees and internal documents suggest a reckless pursuit of high returns put the company in a poor position to ride out this year's market turbulence  (Financial Times) see also Crypto collapse: 3AC, Voyager, Celsius, and other DeFi casualties: All Bankman-Fried can do is buy time. The entire cryptosystem is imploding. People are finally realizing that most of the money they thought they had in crypto was imaginary. You didn't lose money in the crash — you lost your money when you bought crypto. (Amy Castor)

• A massive leak of Chinese government data on hundreds of millions tests a new privacy law Food delivery orders, crime reports and personal details: A historic data breach exposes the inner-workings of China's surveillance state. (Grid)

• Big business goes after another Regulator for doing his job, which is protecting consumers Chopra isn't cut from that cloth. As CFPB chair, he has taken aim at credit card late fees and bank overdraft fees, which he quite rightly calls "junk fees" through which "large financial institutions feast on their customers," leaving them feeling "gouged," as he said in a January news conference announcing an inquiry into these charges. (Los Angeles Times)

• The right-wing smear campaign against a doctor who helped a 10-year-old rape victim An editorial published in the Wall Street Journal on Tuesday evening called it a "fanciful tale that was too good to confirm." Ignoring first-hand accounts, the editorial claimed there is "no evidence the girl exists." The piece criticizes not providing details that could expose the identity of the 10-year-old, calling it a hoax. Fox News said supporters of abortion rights invented a "fake" rape victim. (Popular Information) see also Unimaginable abortion stories will become more common. Is American journalism ready? In America after the end of Roe v. Wade, one brave source, on the record, is often the best we are going to get. Countless other stories will never be told. (Nieman Lab)

• What Happened to Michael Flynn? In military intelligence, he was renowned for his skill connecting the dots and finding terrorists. But somewhere along the way, his dot detector began spinning out of control. (The Atlantic)

• How conservatism conquered America — and corrupted itself The past month's conservative victories were decades in the making. Three books about the right reveal what it cost the movement. (Vox)   
Be sure to check out our Masters in Business this week with Antti Ilmanen, AQR Capital's co-head of Portfolio Solutions Group. Ilmanen market theories and research are highly regarded, and he has won multiple awards, including the Graham and Dodd award, the Harry M. Markowitz special distinction award, multiple Bernstein Fabozzi/Jacobs Levy awards, and the CFA Institute's Leadership in Global Investment Award. His most recent book is "Investing Amid Low Expected Returns."
US + China emissions = nearly $4tn of damage inflicted on other countries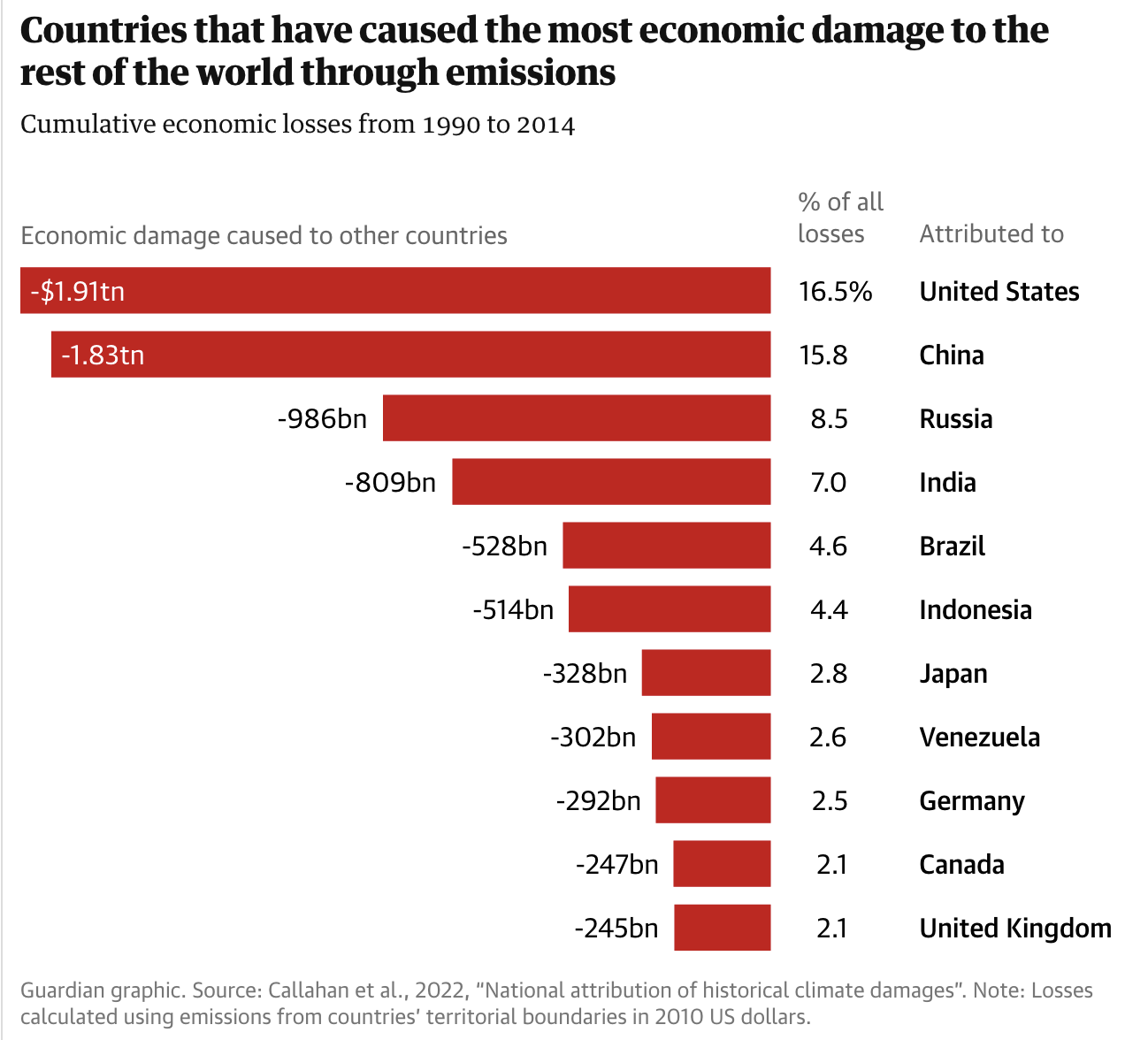 Source: The Guardian
Sign up for our reads-only mailing list here.
~~~
To learn how these reads are assembled each day, please see this.