The weekend is here! Pour yourself a mug of Volcanica Sumatra Gayo Peaberry Coffee coffee, grab a seat on the beach, and get ready for our longer-form weekend reads:
• 24 charts that show we're (mostly) living better than our parents Ignore the haters: living standards have improved a lot since the 1980s. (Full Stack Economics)

• Moneyball at 20: 20 years later, you will not be able to recognize the game. Catchers will be on one knee and will not even attempt to block pitches as runs score on gift wild pitches. There will be so many relievers in a game your head will spin. Batters will try to lift the ball to such a degree and at all costs that batting average will sink to new lows and strikeouts will rise to record highs. Scouts will be replaced by video. (Ball Nine)

• At 88, Poker Legend Doyle Brunson Is Still Bluffing. Or Is He? The Texas gambler has been winning at poker for seventy years—long enough to become an icon and watch an outlaw's game become an industry. (Texas Monthly)

• Jason Brassard Spent His Lifetime Collecting the Rarest Video Games. Until the Heist. The porn trilogy for Nintendos. Atari games from the 1980s. Pristine nostalgia, potentially worth millions, gone in a night. (Vanity Fair)

• Modern Art and the Esteem Machine Picasso was a joke. Then he was a god. How did his art finally take off in America?  (New Yorker)

• Icons of Italian Automotive Style Struggle to Go Electric Ferrari and Lamborghini are trying to design battery-powered cars that inspire the same devotion as their costly internal combustion models. (New York Times)

• Environmentalism in One Country: Japan and Korea had both gone through periods of intense deforestation in the 18th and 19th centuries. The hills of Japan and Korea had both been stripped bare. When the Japanese set about trying to figure out why their civilization had fallen behind the West, they learned that this had been an error. Japanese scholars returning from Europe brought back the ideas of silviculturists and foresters, seeing the link between national strength, racial vitality, and the health of forests. The preservation of forests and wild spaces, European silviculturists had argued, was a necessity for civilization. (Palladium)

• Do we need a new theory of evolution? A new wave of scientists argues that mainstream evolutionary theory needs an urgent overhaul. Their opponents have dismissed them as misguided careerists – and the conflict may determine the future of biology.  (The Guardian)

• Emma Willard's Maps of Time: In the 21st-century, infographics are everywhere. In the classroom, in the newspaper, in government reports, these concise visual representations of complicated information have changed the way we imagine our world. Susan Schulten explores the pioneering work of Emma Willard (1787–1870), a leading feminist educator whose innovative maps of time laid the groundwork for the charts and graphics of today (Public Domain Review)

•  Annie Lennox beguiled us in the MTV age. Now she calms us down online. Nearly 40 years after Eurythmics hit it big with 'Sweet Dreams (Are Made of This),' the singer keeps her chin up in a world of anxieties. (Washington Post)
Be sure to check out our Masters in Business next week Perth Tolle with founder of Life + Liberty Indexes, index provider and sponsor of the Freedom 100 Emerging Markets ETF. The first-of-its-kind strategy uses personal and economic freedom metrics as the primary factors in its investment process. Prior to forming Life + Liberty Indexes, Perth was a private wealth advisor at Fidelity Investments in Los Angeles and Houston and had lived and worked in Beijing and Hong Kong, where her observations led her to explore the relationship between freedom and markets.
Confidence in the U.S. Supreme Court Sinks to New Low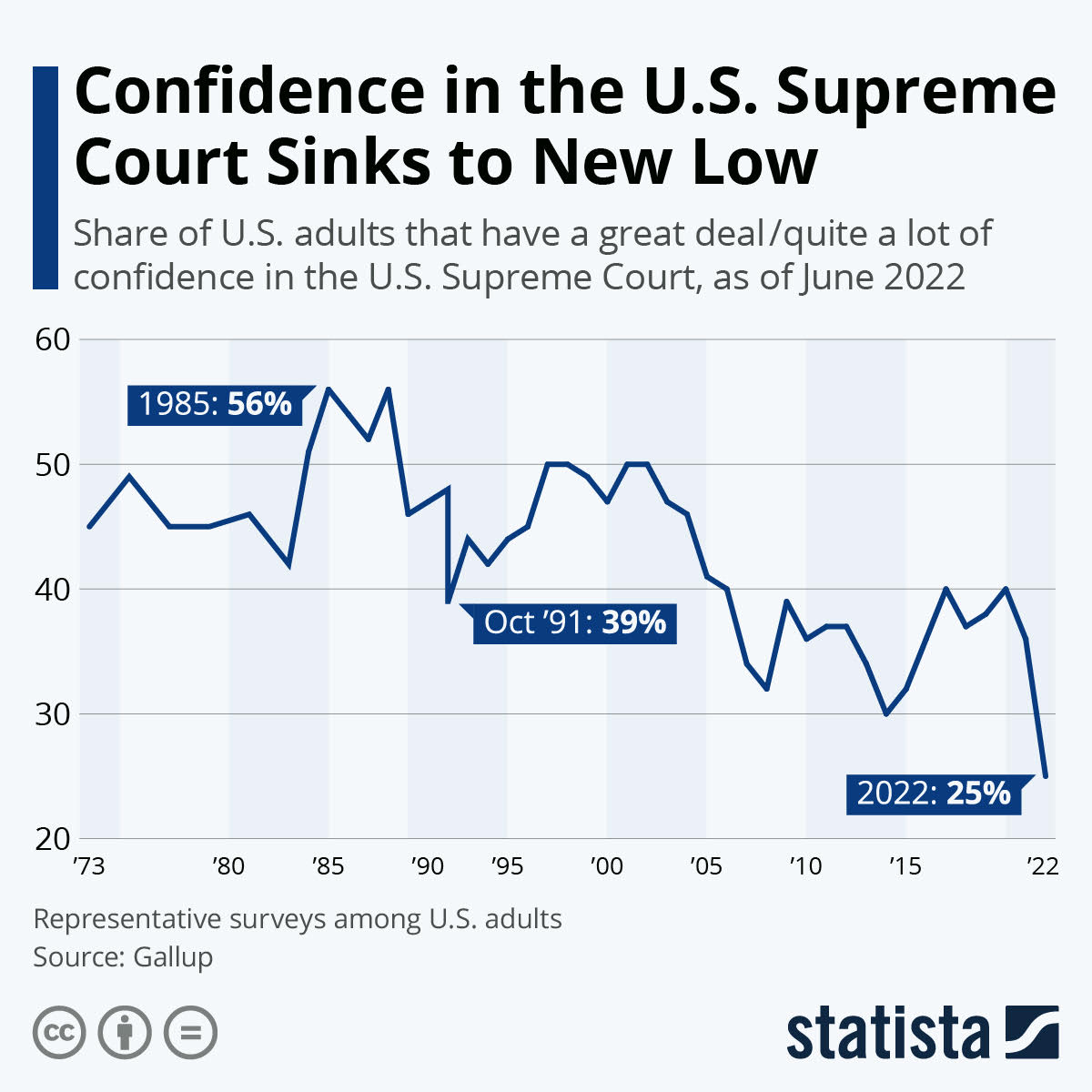 Source: Statista
Sign up for our reads-only mailing list here.
~~~
To learn how these reads are assembled each day, please see this.