The weekend is here! Pour yourself a mug of percolated coffee, grab a seat on the canoe, and get ready for our longer-form weekend reads:
• Revenge of the Humans: How Discretionary Managers Can Crush Systematics: Discretionary managers are scurrying to incorporate new data sets, but lack the understanding of how to analyze their efficacy and more importantly, how to incorporate them into their discretionary trading processes. (LinkedIn)

• New York is roaring back from the worst of the pandemic. Why isn't San Francisco? Despite San Francisco's relative public health success and New York's catastrophe, the East Coast metropolis is bouncing back stronger. In 2022, more people are moving into Manhattan than before the pandemic, a major contrast to the four other New York boroughs and San Francisco, which are still seeing net losses, according to U.S. Postal Service change of address data. (San Francisco Chronicle)

• How effective altruism went from a niche movement to a billion-dollar force: Effective altruism has gone mainstream. Where does that leave it? (Vox)

• 'Find the smartest technologist in the company and make them CEO': In the first episode of the new The Quarterly Interview: Provocations to Ponder series, Silicon Valley's Marc Andreessen tackles tech trends like artificial intelligence, crypto, and Web3—and why incumbents still have a tough time competing with digital start-ups. (McKinsey)

• Does Crypto Have Any Good Use Cases? Besides making VCs richer, of course. (Nat's Crypto Newsletter)

• The Gun Industry Created a New Consumer. Now It's Killing Us. Good marketing is supposed to generate demand. Bad firearms marketing has given us a national nightmare. (The Atlantic)

• Semiotics of dogs: In all its baroque and sometimes cruelly overbred forms, the dog is a paramount symbol of both human hopes and foibles (Aeon)

• Five States Will Decide If the 2024 Election Can Be Stolen: Politicians who dispute the outcome of the 2020 presidential election are on the ballot this year for offices that could determine how the 2024 election is decided in swing states—regardless of what voters intend. (Bloomberg)

• 30 Things Donald Trump Did as President You Might Have Missed Trump's presidency may be best remembered for its cataclysmic end. But his four years as president also changed real American policy in lasting ways, just more quietly. We asked POLITICO's best-in-class policy reporters to recap some of the ways Trump changed the country while in office, for better or worse. (Politico) see also Inside the War Between Trump and His Generals How Mark Milley and others in the Pentagon handled the national-security threat posed by their own Commander-in-Chief. (New Yorker)

• The Double Life of an American Lake Monster: In the Great Lakes, sea lampreys are a scourge. In Europe, they're an endangered cultural treasure. Can biologists suppress—and save—the species? (Wired)
Be sure to check out our Masters in Business interview this weekend with Ken Tropin, chairman and founder of Graham Capital Management, a multi-strategy quantitative hedge fund managing $17.2 billion. Previously, he was President and Chief Executive Officer of hedge fund John W. Henry & Company, working with such legendary traders as John Henry and Paul Tudor Jones.
How Americans Feel About Contraception And The Right To Privacy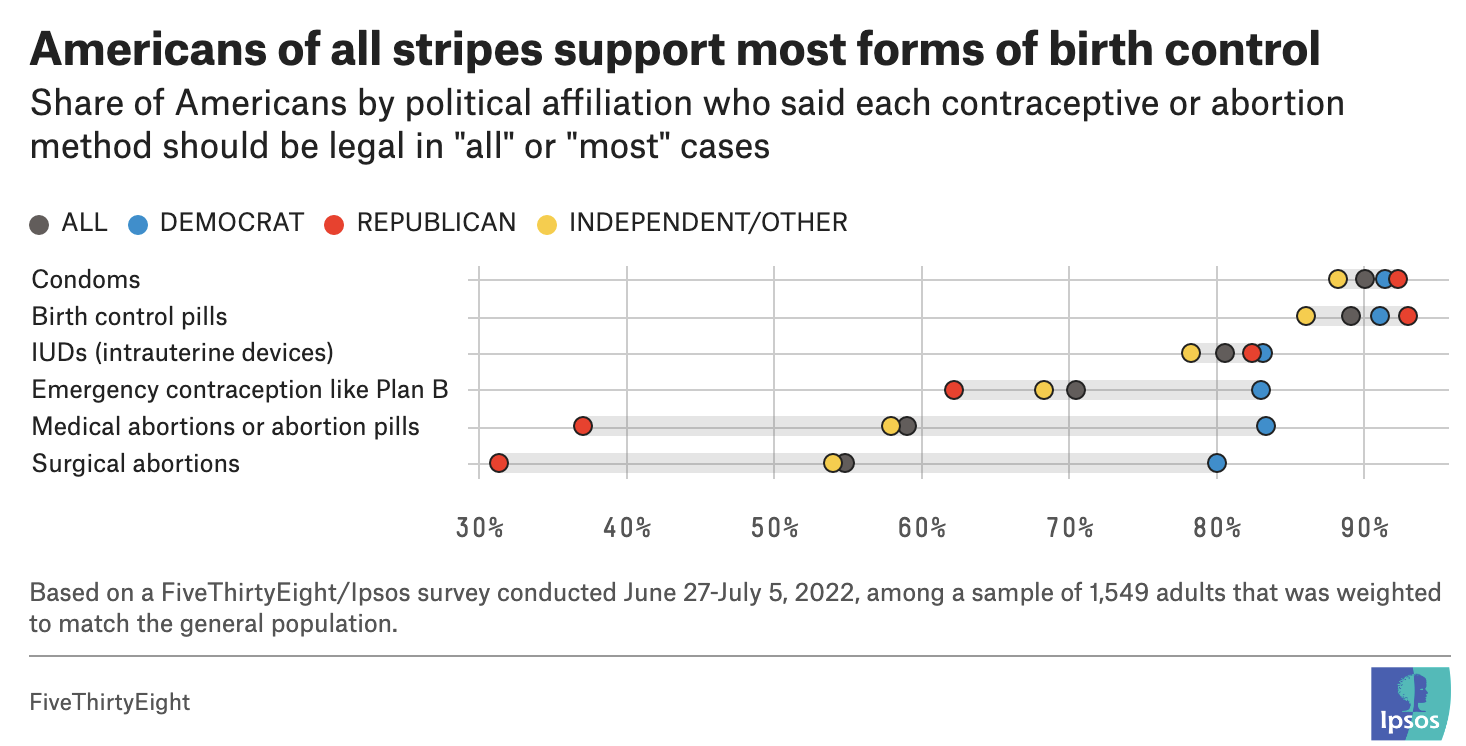 Source: FiveThirtyEight
Sign up for our reads-only mailing list here.
~~~
To learn how these reads are assembled each day, please see this.