Welcome to August! Kick it off right with 0ur back-to-work morning train WFH reads:
• The pandemic impulse purchases we grew to hate From Pelotons to pets, the Covid buys people wish they'd left on the shelves. (Vox)

• If the Economy Is Shaky, Why Are Company Profits Still Strong? Corporate optimism may seem at odds with the Fed's grim determination to hold back the economy to get inflation down, but earnings tell a story that other data doesn't. (New York Times) see also Recession or Not, the Recovery Has Ended The Fed engineered this slowdown to combat inflation, a sign of how the pandemic has set back economic capacity. (Wall Street Journal)

• Was That the Bottom? The Russell 2000 Index of small-cap stocks and the Nasdaq 100 were both down nearly 32% and 33%, respectively, from their highs. That's a pretty decent bear market. Since that day, the S&P 500 is up 13%. The Russell 2000 has shot up 14% while the Nasdaq 100 has bounced 16%. (A Wealth of Common Sense)

• The 100 Wealthiest Americans Lost $622 Billion Since November But they're still a lot richer than they were before the pandemic. (Businessweek)

• Why So Many Supercars Have Montana License Plates A legal loophole lets owners of expensive cars avoid taxes and emissions standards in other states. Tightening rules could send the practice into overdrive. (Bloomberg)

• The Elusive Origin of Zero: Who decided that nothing should be something? (Scientific American)

• Elon Musk's Antics Turn Owners and Would-Be Buyers Against Tesla The lightning-rod CEO's public persona — once a big asset — is increasingly a liability in the EV race. (Bloomberg) see also Elon Musk's Word? A Tale of Three Acquisitions Without a certain level of trust, our modern civilization would soon disintegrate into total chaos. Like oxygen, many of us tend to take trust for granted until it is in short supply. Trust is particularly important in business. You might be given the benefit of the doubt initially, but abuse of that trust is likely to ruin your reputation and severely curtail future opportunities. (Rational Walk)

• Highway robbers of the knowledge economy A podcast I'd never heard of before stole my work. I'm not alone. (The Racket)

• What We Lose as John Roberts Is Sidelined on the Court Behind any concept of compromise is the notion of humility. (Slate)

• The myth of Marilyn Monroe: how her 'sex bomb' image buries the truth Six decades on, the spectacle of Marilyn Monroe's tumultuous life and death still holds us in its grip. With a major new biopic on the way, her biographer sorts fact from fiction. (The Guardian)
Be sure to check out our Masters in Business interview this weekend with Hannah Elliott, who covers all things automotive for Bloomberg. We discuss today's wild car market, Motorcycles going electric, LA  car culture, vehicles competing with Tesla, and all of her favorite hypercars, and why you should do the $10,000 Ferrari track course.
If This Is a Recession, We Might Not Know for Months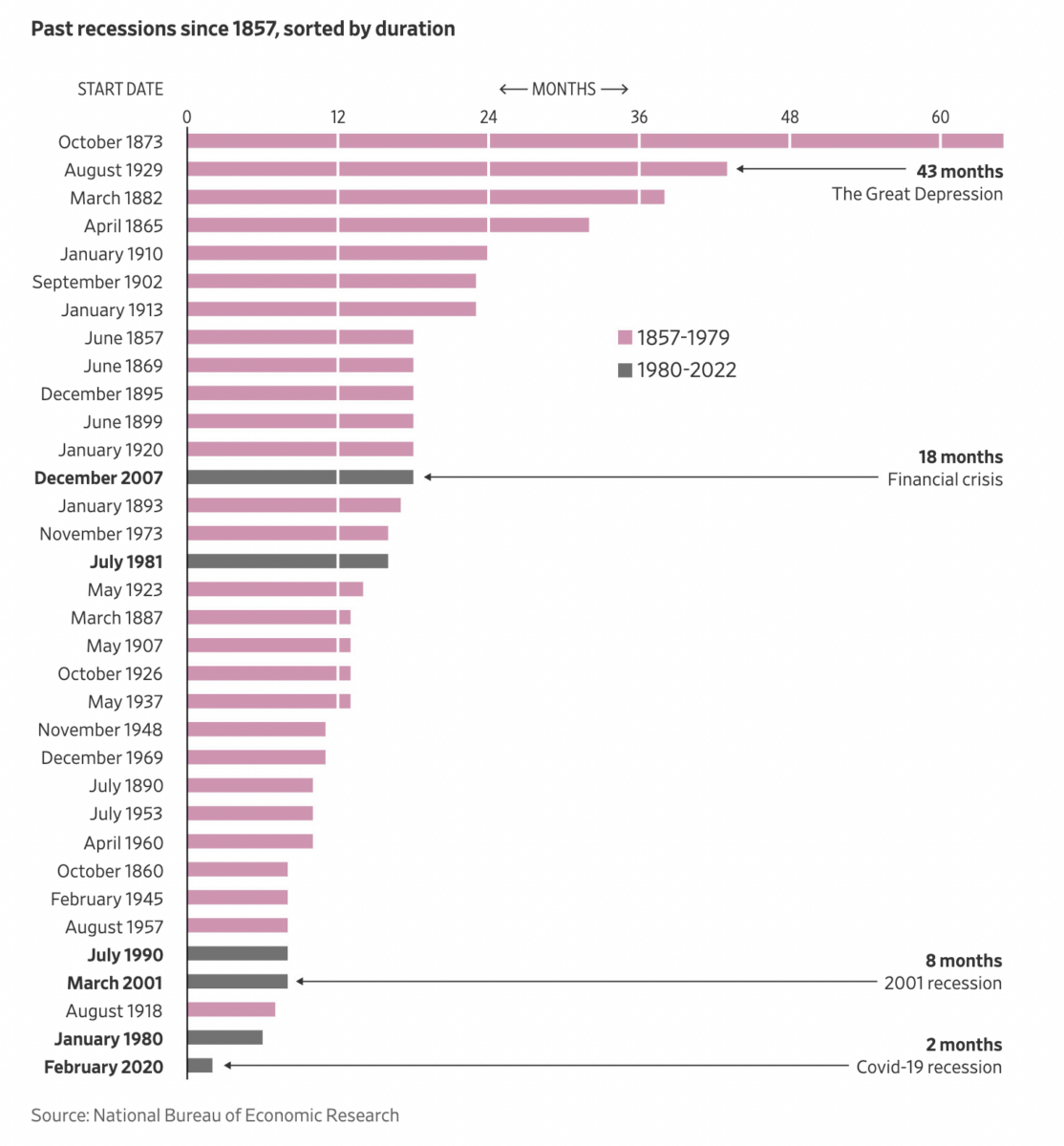 Source: Wall Street Journal
Sign up for our reads-only mailing list here.