My mid-week morning train WFH reads:
• The End of Snow Threatens to Upend 76 Million American Lives Disappearing snowpack is accelerating the historic drought across the Western US, and so far government responses haven't matched the scale of the problem. (Bloomberg)

• Is the US Economy in Recession? Here Are Eight Offbeat Indicators to Watch: From popping the bubbly to shopping for underwear, pundits look at alternative ways to measure sentiment. (Bloomberg) see also Gas Prices Have Fallen for 49 Straight Days, Approach $4 a Gallon The cost of fuel in the U.S. is easing after hitting record highs in June (Wall Street Journal)

• The Price of Admission: Down 5% months don't happen very often but they're not completely out of the ordinary. Over the past 96 years, on average, the stock market is down 5% or worse in a month about once a year. (A Wealth of Common Sense)

• Opposite George: If every instinct you have is wrong, then the opposite would have to be right. (Al Hambra Investments)

• Yes, you can short a startup: With synthetic derivatives, hedge funds can bet against a startup's price and VCs can de-risk an aging portfolio (Protocol)

• America's Much-Vaunted, Mythological CBDC: As investors confront the so-called crypto winter, many are looking toward central bank digital currencies as a possible solution. If only it were that simple. (Institutional Investor)

• How Moderna's Covid Vaccine Boosted Boston's Real-Estate Market The company's hiring spree and soaring stock led to an uptick in luxury home purchases by employees during the pandemic. (Wall Street Journal)

• If Humans Are the Smartest Animals, Why Are We So Unhappy? New books on intelligence, medicinal cocktails, galactic history, and more (Scientific American)

• 9 ways the Jan. 6 hearings are having an impact, from deflating Trump to squeezing Merrick Garland: The committee has begun to disrupt the political landscape, a Grid analysis suggests. And it's not finished: More hearings are planned for September. (Grid)

• The most Midwestern things on Earth, according to data We looked at hundreds of thousands of Airbnb listings to calculate how the heartland describes itself. (Washington Post)
Be sure to check out our Masters in Business interview this weekend with Hannah Elliott, who covers all things automotive for Bloomberg. We discuss today's wild car market, Motorcycles going electric, LA  car culture, vehicles competing with Tesla, and all of her favorite hypercars, and why you should do the $10,000 Ferrari track course.
Chaos in Bond Market Is Dangerous Side Effect of Inflation Fight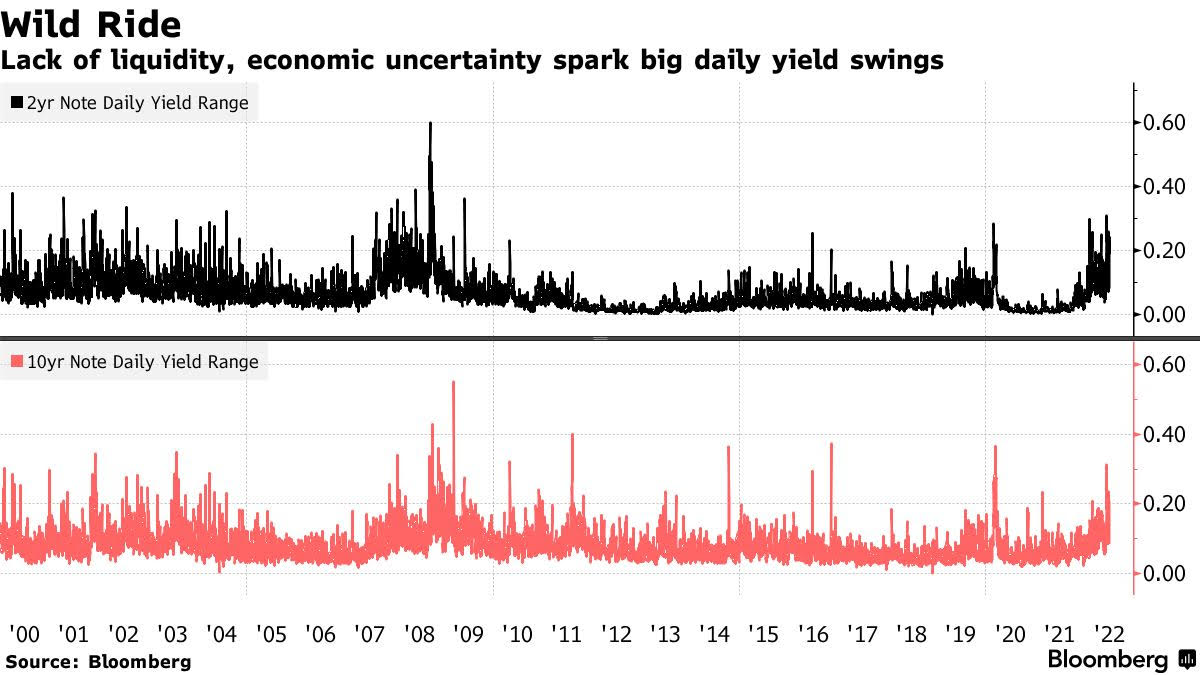 Source: Bloomberg
Sign up for our reads-only mailing list here.