My morning train WFH reads:
• The Forbes 400 2022: The Definitive Ranking of The Wealthiest Americans: In 2022 The wealthiest people in the U.S. are poorer than a year ago—and the cutoff to make the list fell for the first time since the Great Recession. (Forbes)

• Sympathy for the Dimon: He's dealing with an important shortage: Balance Sheet. (Financial Times) see also The Reinvention of Goldman Sachs: what has David Solomon achieved? After almost four years in charge, the CEO's strategy to diversify the bank has not been as transformative as many had hoped. (Financial Times)

• What happened to giving money to charity? The ultrawealthy are donating more than ever. That doesn't mean the rest of us are giving less. (Vox)

• John Paulson on Frothy US Housing Market: This Time Is Different Unlike subprime era, financial system is not at risk, he says Real interest rates blamed for lackluster gold price. (Bloomberg)

• Satoshi stumble: Calendar of former official provides insight into SEC regulatory intent: Hinman's agenda, obtained by Fox Business, details meetings from his nearly four-year tenure at the SEC. (Fox Business)

• How the Bank of England should respond to UK fiscal policy crashing the pound: Given the irresponsible fiscal policy announcement of the UK government and the rout of the pound that followed, the Bank of England has few good options. While there cannot be a currency crisis in the UK — it has a flexible exchange rate and issues public debt in its own currency — a collapsing currency is still a major problem for its inflation and financial stability. (Peterson Institute for International Economics)

• Silicon Valley Slides Back Into 'Bro' Culture Elon Musk, Mark Zuckerberg and Marc Andreessen show how the tech industry's insular culture remains largely unchanged. (New York Times)

• Long COVID Has Forced a Reckoning for One of Medicine's Most Neglected Diseases: Only a couple dozen doctors specialize in chronic fatigue syndrome (ME/CFS). Now their knowledge could be crucial to treating millions more patients. (The Atlantic)

• The Texans Who Are Moving to Illinois: Armadillos: Possum-sized creatures are creeping north—and leaving their mark on the Land of Lincoln; "I'm not sure I would give them the 'cute' label." (Wall Street Journal)

• Elizabeth Banks Thinks This Interview Is Dangerous for Her: There are very few female directors in Hollywood. There are even fewer who are actresses who have become directors. I've [expletive] worked my tail off to be able to do what I'm doing. I would love for you to interview the studio heads and the corporations and ask them these questions, because I can't solve it. (New York Times)
Be sure to check out our Masters in Business interview this weekend with David McRaney, science journalist, blogger, podcaster, and author. He created the podcast You Are Not So Smart based on his bestselling book of the same name. His new book is "How Minds Change: The Surprising Science of Belief, Opinion, and Persuasion."
Electric Cars' Turning Point May Be Happening as U.S. Sales Numbers Start Climb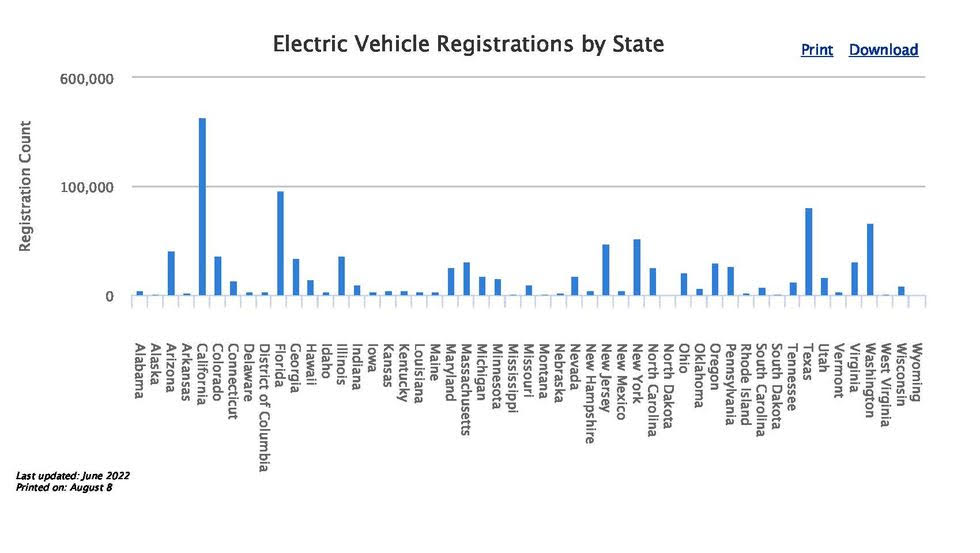 Source: Car and Driver
Sign up for our reads-only mailing list here.