The weekend is here! Pour yourself a mug of Guatemala Quetzaltenango coffee, grab a seat outside, and get ready for our longer-form weekend reads:
• Who Owns the Generative AI Platform? Many hot technology trends get over-hyped far before the market catches up. But the generative AI boom has been accompanied by real gains in real markets, and real traction from real companies. Models like Stable Diffusion and ChatGPT are setting historical records for user growth, and several applications have reached $100 million of annualized revenue less than a year after launch. Side-by-side comparisons show AI models outperforming humans in some tasks by multiple orders of magnitude. (Andreessen Horowitz)

• Six Types of Wealth: Being rich isn't just a money thing: Which resources you consider valuable is just as important as the abundance of resources themselves. The key is optimizing for the right form of wealth. (Young Money)

•  Future Cringe One day we'll look back on this moment and wonder: What were we thinking? What are the things we do today that will seem embarrassing or otherwise regrettable to our future selves — the stuff that will make us cringe when we look back on how we lived our lives in the early 2020s? (New York Times)

•  Why VR/AR Gets Farther Away as It Comes Into Focus: As we observe the state of XR in 2023, it's fair to say the technology has proved harder than many of the best-informed and most financially endowed companies expected. (Matthew Ball)

• The Violin Doctor He's trusted to repair some of the world's most fabled — and expensive — instruments. How does John Becker manage to unlock the sound of a Stradivarius? (Chicago Magazine)

• How Much Netflix Can the World Absorb? Bela Bajaria, who oversees the streaming giant's hyper-aggressive approach to TV-making, says success is about "recognizing that people like having more." (New Yorker)

• "It's Gotta Grow to Stay Alive": Inside Noah Shachtman's Raucous Reinvention of 'Rolling Stone' The scoop-hungry, Twitter-happy editor has turbocharged the magazine's digital metabolism—"back in the game," says Gus Wenner—and chafed some staff along the way, who wonder if the new Rolling Stone is becoming the old Daily Beast. (Vanity Fair)

• How to Be 18 Years Old Again for Only $2 Million a Year: Middle-aged tech centimillionaire Bryan Johnson and his team of 30 doctors say they have a plan to reboot his body. (Businessweek)

• Forgotten existentialist: Sartre gets much of the credit for existentialism. Karl Jaspers not only preceded him, but offered a way out of despair (Aeon)

• 'The SNL of Sabermetrics': How a group of message-board misfits changed baseball: More than 25 years ago, Huckabay was at the center of one of baseball's great underdog tales: "Revenge of the Nerds" meets "Major League," with a little National Lampoon mixed in. Analytical, irreverent and opinionated, Baseball Prospectus became, as one former employee said, the "Saturday Night Live" of sabermetrics, a launching pad for talented outsiders. (The Athletic)
Be sure to check out our Masters in Business next week with Neil Dutta, head of economic research at Renaissance Macro Research. He joined RenMac after spending seven years at Bank of America-Merrill Lynch, where he was a Sr. economist covering US + Canada. Prior to that, he was a research analyst at Barron's.
JPMorgan Machine: America's largest bank handles whatever is thrown at it.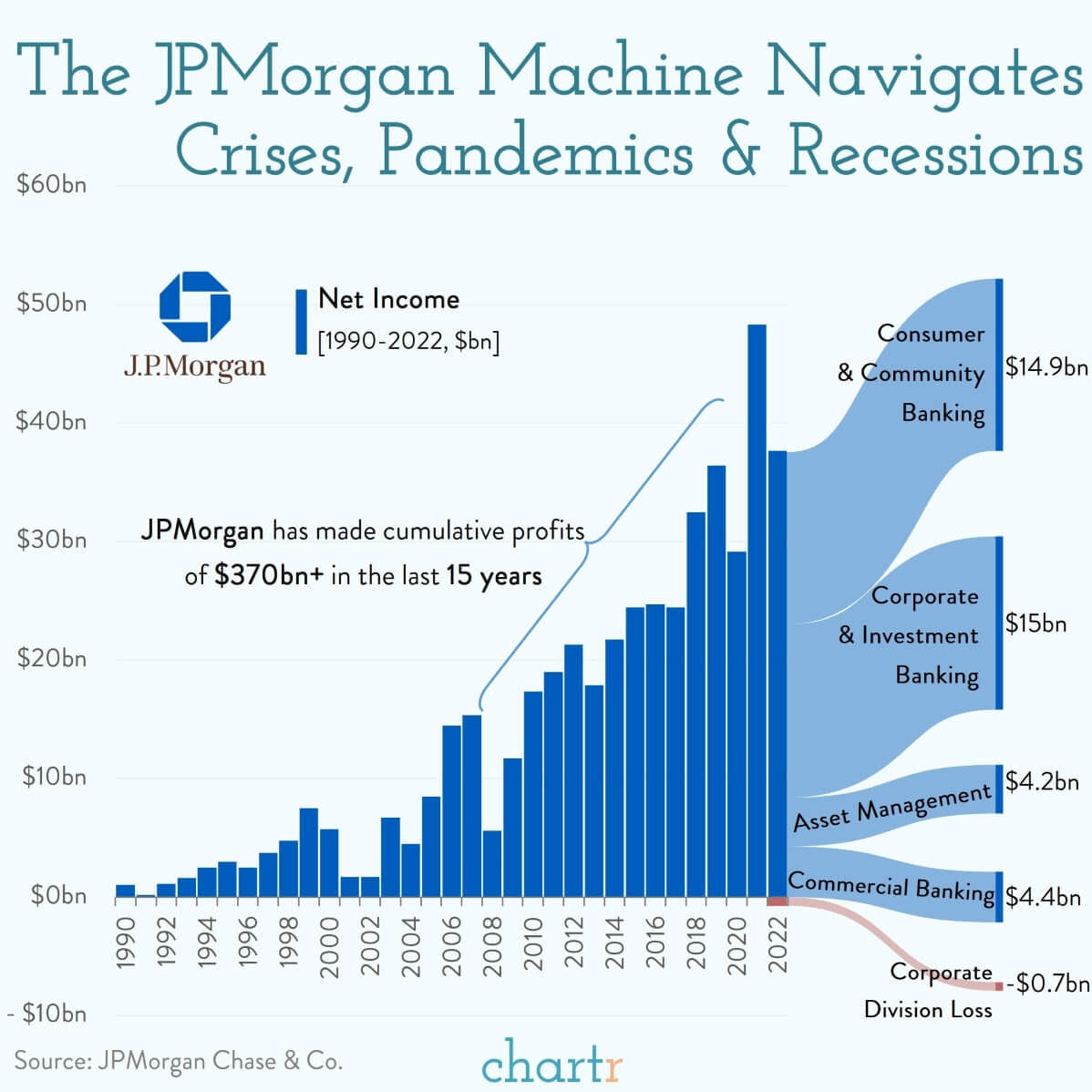 Source: Chartr