My end-of-week morning train WFH reads:
• The Fed alone cannot bring inflation down: Management of demand is not efficient in dealing with supply-driven price rises: fiscal policy must play its part.art (Financial Times)

• When a savings account is very risky: Compound Banc pays an eye-popping 7% on deposits — or at least things that look and feel a lot like deposits. But it's not a bank, and the deposits — technically, they're risky bonds — are not insured by the FDIC or anybody else. Its savings bonds, if you read its SEC filings, are characterized by "a high degree of risk." Accounts at Compound Banc are not insured by the FDIC, the SIPC, or any other government regulator. (Axios)

• The growing US labor movement in 3 charts: A new report from Cornell University shows that walkouts and lockouts increased from 2021-2022. (Quartz)

• After Multibillion-Dollar Fintech Binge, Wall Street Has a Writedown Hangover: Blue-chip firms spent big on companies promising new ways to make payments or manage money. Now they understand they overpaid. (Businessweek)

• How Long Does Pop Culture Stardom Last? I have a hunch that even huge stars are forgotten after 80 years—but does the data back that up? (The Honest Broker)

• Why the South has such low credit scores: The reason why credit scores are so low in the South is connected to medical debt, because that's the most common type of unpaid bill that people have. The South has the highest levels of medical debt in the country. When you look at areas across the nation where adults are struggling to pay down medical debt, they have similar credit scores. (Washington Post)

• Why aren't teenagers driving anymore? Parents are baffled as their kids delay or forgo a driver's license (Washington Post) see also Children of the Ice Age: With the help of new archaeological approaches, our picture of young lives in the Palaeolithic is now marvellously vivid. (Aeon)

• Venice canals start to run dry as low tide and lack of rain hit: Gondolas unable to navigate some of its famous canals as Italy faces prospect of another drought. (The Guardian)

• The Great LA Dumpling Drama: Taiwanese chain Din Tai Fung is at the center of an all-out tug-of-war between two of LA's biggest malls, but the fight says something even bigger about the future of the mall itself. (Eater)

• Mercedes's F1 Dynasty Ended With a Thud. Toto Wolff Has a Plan to Bring it Back. After a string of bad bets on new regulations, the most dominant team of the modern era is now playing catch-up to Red Bull as the 2023 season begins. (Wall Street Journal) see also 2023 is the year America takes over Formula One: This year, F1 has an American driver in Logan Sargeant, an American team in Haas, and, for the first time in 40 years, three races in the U.S. as it hits the Las Vegas Strip for the first time. It's also got a whole lot of American fans. (The Athletic)
Be sure to check out our Masters in Business interview this weekend with David Layton, CEO of Partners Group. The firm is the largest listed PE/Buyout firm in Europe, managing $135 billion in assets in Private equity, infrastructure, real estate and debt.
US Housing Market Posts $2.3 Trillion Drop, Biggest Since 2008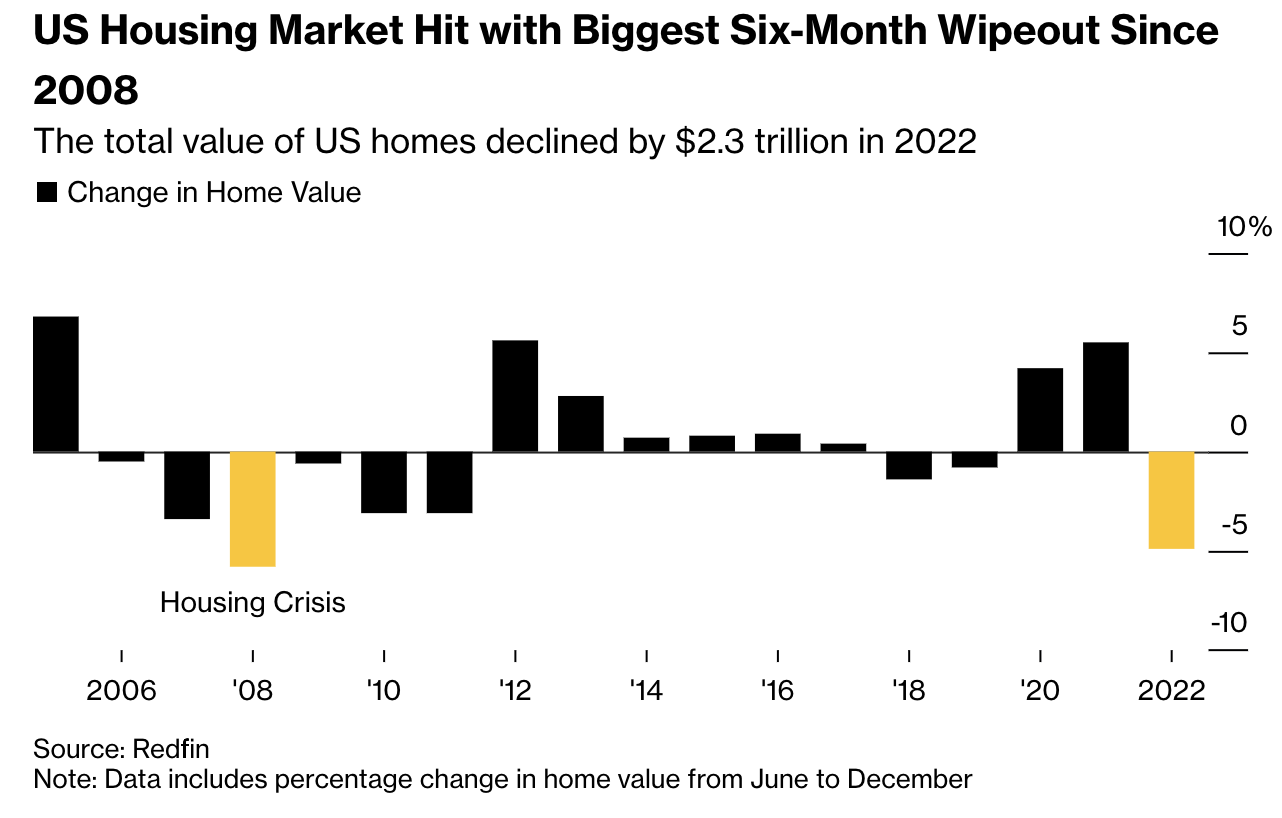 Source: Bloomberg
Sign up for our reads-only mailing list here.