My morning train WFH reads:
• How Extreme Bets Fueled an $11.4 Billion Fortune: A look inside BlueCrest reveals Michael Platt's many acts — including outsize returns and some harrowing losses. (Bloomberg)

• Stock, Bond and Crypto Investors Call Fed's Bluff on Interest Rates: Many are skeptical as central bank says battle against inflation isn't over. (Wall Street Journal) see also Wall Street: We Want Lower Rates. The Fed: Not So Fast: Traders keep bidding up stock and bond prices in hopes that the central bank will declare victory over inflation. (Businessweek)

• #EUROBOOM European stock markets have further to rally, argues GS (FT)

• Wall Street Is Losing Out to Amateur Buyers in the Housing Slump: Big money spent a fortune snapping up homes. Now, regular folk are outsmarting the pros. (Bloomberg)

• The Last Mustard Maker in Dijon: Nicolas Charvy is bringing a culinary art back to its ancestral home. (Atlas Obscura)

• When Private Equity Came for the Toddler Gyms: The same playbook that has notched high returns acquiring things like foreclosed homes and highway rest stops is being tested by a family-oriented franchise. (New York Times) see also The Private Markets Valuation Debate Isn't Settled Yet: The Miami conference circuit was abuzz with valuation chatter as investors weigh the pros and cons. (Institutional Investor)

• This group is sharpening the GOP attack on 'woke' Wall Street: Consumers' Research, bolstered by millions in undisclosed donations, targets investment firms and their evaluation of climate risks (Washington Post)

• Passwordless Authentication: What It Is and Why You Need It ASAP. The cybersecurity industry has a vision for a more secure future—one that involves getting rid of passwords. (PC Magazine)

• Want a well-trained dog? Start with a better-trained human. Some dog researchers are rethinking the goals of obedience training, which should include listening, a strong parenting style and collaboration with your dog. (Washington Post)

• Astronomers Say They Have Spotted the Universe's First Stars: Theory has it that "Population III" stars brought light to the cosmos. The James Webb Space Telescope may have just glimpsed them. (Quanta Magazine)
Be sure to check out our Masters in Business next week with William Cohan, M&A investment banker at Lazard Frères, Merrill Lynch, and JP Morgan Chase. He is also an accomplished author, was a columnist for Vanity Fair's Hive, and a founder of Puck. He is also a NYT bestselling author of multiple books on Goldman Sachs, Bear Stearns, and Lazard Frères. His latest book on GE is titled: "Power Failure: The Rise and Fall of an American Icon."
January continued the strong bounce back seen for most global assets since October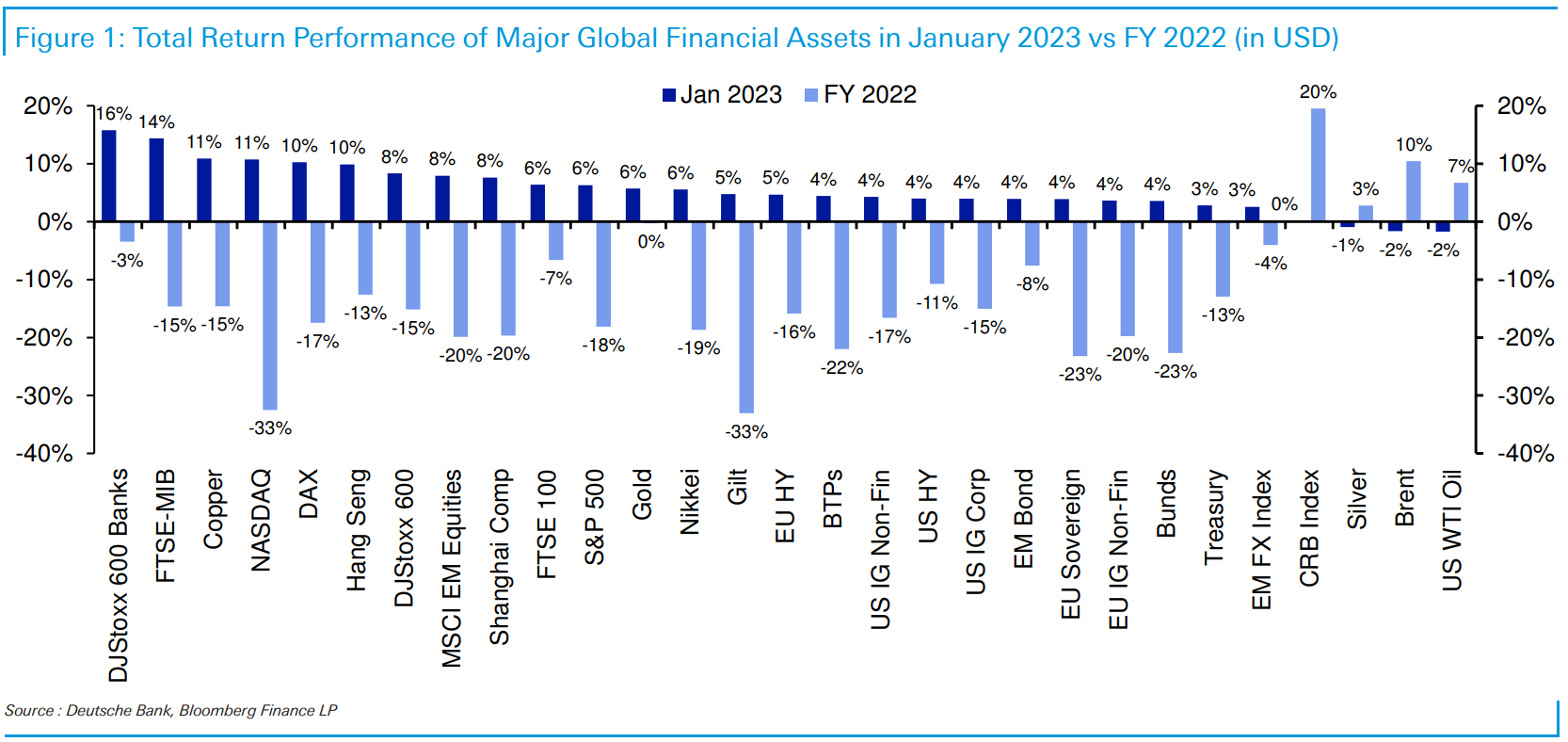 Source: Jim Reid: Deutsche Bank
Sign up for our reads-only mailing list here.