Avert your eyes! My Sunday morning look at incompetency, corruption and policy failures:
• What Everyone Got Wrong About the Economy—and the Ominous Implications for the Fed: The central bank's efforts to tame inflation haven't worked yet. More pain, and a harder landing, could lie ahead. (Barron's)

• A Year of Putin's Wartime Lies:  Every credible analyst of the invasion of Ukraine has been stunned by the scale of the Russian President's folly—and his failure extends well beyond the battlefield. (New Yorker)  see also Russian Shadow Fleet Emerges From Data on Empty Oil Tankers: Number of empty vessels with no destination jumps to record; Dark fleet expected to keep Russian diesel flowing after ban (Bloomberg)

• The Investors Who Still Think Crypto Can Make Them Rich: Digital currencies' bruising losses and big risks haven't swayed those who say other paths to wealth aren't accessible to them. (Wall Street Journal)

• Consultants Gone Wild: The real reason it costs so damn much to build new subways in America.  there's a lot going wrong with American transit projects—more on this in a moment—but many of the problems can be traced to a larger philosophy: outsourcing government expertise to a retainer of consultants. "What I've heard from consultants, which is surprising because they make so much money off this stuff, is, 'Agencies don't know what they want, and we have to figure it out.' " (Slate)

• The lunacy of 340B and Medicare's inability to negotiate drug prices: Why do we mandate a better deal for business than for taxpayers? (Health Care Un-Covered)

• Donald Trump Has Been Lying About Trump Tower For Decades: As the former president tries to fend off authorities, new revelations about Trump Tower suggest that the building is—and always was—something of a fraud. (Forbes)

• Fox News feared losing viewers by airing truth about election, documents show: 'Everything at stake here,' billionaire founder Rupert Murdoch wrote to a top executive in November 2020, part of a cache of internal communications revealed in a $1.6 billion defamation suit. (Washington Post+PDF) see also Fox Stars Privately Expressed Disbelief About Election Fraud Claims. 'Crazy Stuff.' The comments, by Tucker Carlson, Sean Hannity and others, were released as part of a defamation suit against Fox News by Dominion Voter Systems. (New York Times)

• COVID deniers claim a new study says mask mandates don't work. They should try reading it: Increased mask usage…reduced symptomatic SARS-CoV-2 infections, demonstrating that promoting community mask-wearing can improve public health. (Los Angeles Times)

• 'Incredibly intelligent, highly elusive': US faces new threat from Canadian 'super pig' Northern states on alert for invasion of cross-bred pig that threatens flora and fauna – and is difficult to stop. (The Guardian)

• Marjorie Taylor Greene's Civil War: The congresswoman is too influential within the GOP—and too representative of its views—for her calls for secession to be dismissed. (The Atlantic)
Be sure to check out our Masters in Business interview this weekend with David Layton, CEO of Partners Group. The firm is the largest listed PE/Buyout firm in Europe, managing $135 billion in assets in Private equity, infrastructure, real estate and debt.
How people in other countries view Biden vs Trump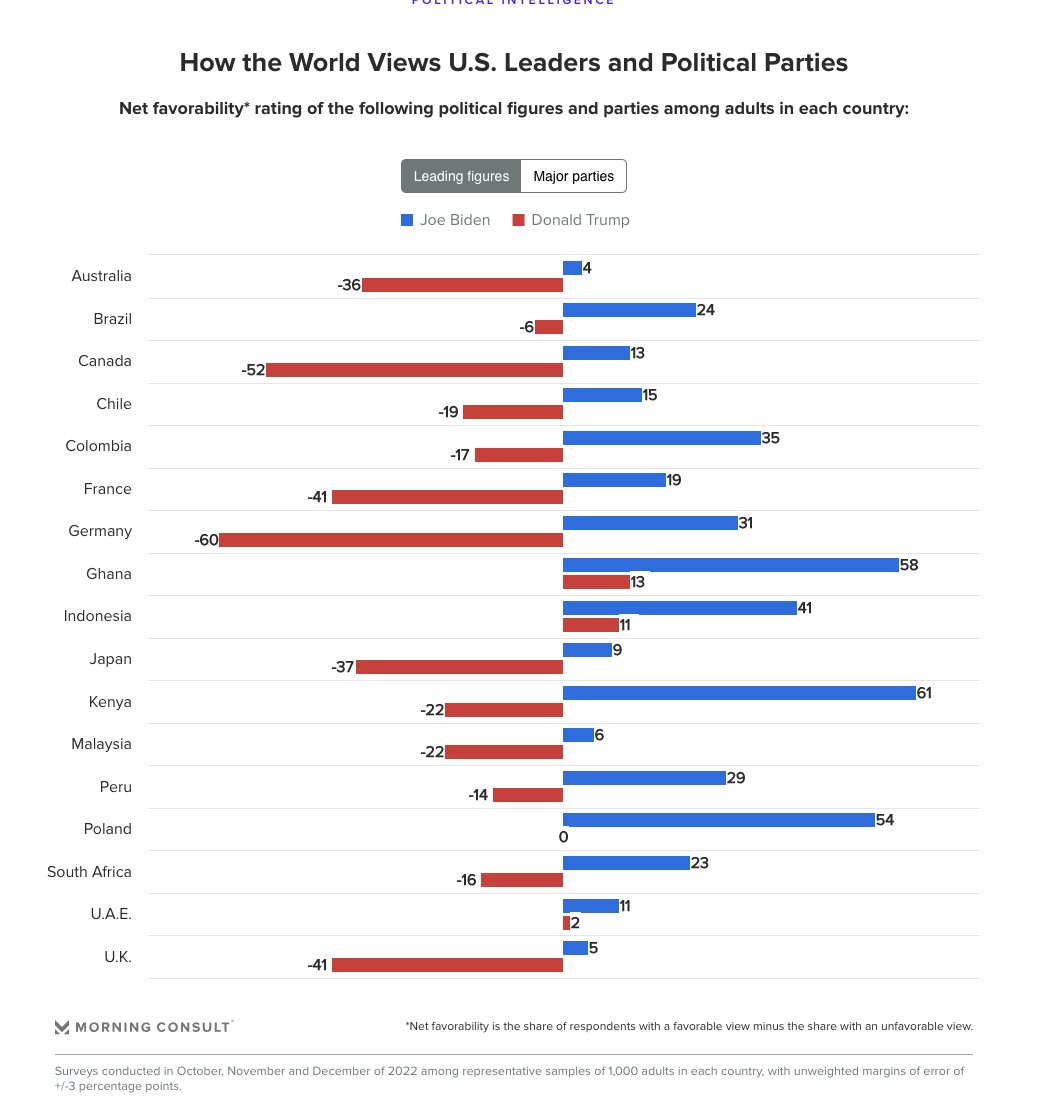 Source: @crampell
Sign up for our reads-only mailing list here.
~~~
To learn how these reads are assembled each day, please see this.