The weekend is here! Pour yourself a mug of  coffee, grab a seat by the fire, and get ready for our longer-form weekend reads:
• The Inside Story of How Wellington and Vanguard Became Partners: Last year, Greenwich Associates founder Charles Ellis published "Inside Vanguard: Leadership Secrets From the Company That Continues to Rewrite the Rules of the Investing Business." In a new introduction written for Institutional Investor to accompany an excerpt from his book, Ellis lays out how Vanguard Founder Jack Bogle unwittingly pushed Bob Doran, head of Wellington, into challenging conventional wisdom and remaking the firm. The changes set the stage for an iconic asset management partnership that continues to endure. (Institutional Investor)

• America Built an Actually Good Airport: LaGuardia is reborn, and it has a message for the nation. Our country once took pride in building things, but then all the things got built. To take pride in rebuilding them will require new approaches to design. When I paid a visit to the renovated airport in East Elmhurst, Queens, I found that it has a message for America: The future of infrastructure is here, and it's fun, and it's expensive, and it's built right on top of its forebears. . (The Atlantic)

• How Palo Alto created capitalism as we know it: From Stanford to Theranos, Malcolm Harris explains the weird, dark history of the mythic California city. (Vox)

• The State of the Culture (2023): Every year the President gives a "State of the Union" speech to a joint session of Congress—and millions of viewers at home. This is actually required by the US Constitution. It's a big deal. At least for some folks. But I'm not much of a fan of politics. What I'd really like is a "State of the Culture" speech—a hard-hitting look at music, writing, arts, media, movies, and all that. And delivered with brutal honesty. (The Honest Broker)

• The Secret Ingredient That Could Save Fake Meat I tried "bacon" made with lab-grown fat, and it was just as good as the real thing. (The Atlantic)

• What Is ChatGPT Doing … and Why Does It Work? What's going on inside ChatGPT— why it is that it can do so well in producing what we might consider to be meaningful text? ChatGPT is always fundamentally trying to produce a "reasonable continuation" of whatever text it's got so far, where by "reasonable" we mean "what one might expect someone to write after seeing what people have written on billions of webpages, etc." (Stephen Wolfram)

• The Art of the Shadow: How Painters Have Gotten It Wrong for Centuries: The goal is not to expose the "slipups" of the masters but to understand the human brain. (The MIT Press Reader)

• How the War in Ukraine Ends An eminent historian envisions a settlement among Russia, Ukraine, and the West. (New Yorker)

• We're All Living Under Gravity's Rainbow: Looming apocalypse. Paranoid conspiracies. Rocket-obsessed oligarchs. As Thomas Pynchon's novel turns 50, its world feels unnervingly present. (Wired)

• Physicists Use Quantum Mechanics to Pull Energy out of Nothing: The quantum energy teleportation protocol was proposed in 2008 and largely ignored. Now two independent experiments have shown that it works. (Quanta Magazine)
Be sure to check out our Masters in Business interview this weekend with David Layton, CEO of Partners Group. The firm is the largest listed PE/Buyout firm in Europe, managing $135 billion in assets in Private equity, infrastructure, real estate and debt.
Consumer Price Inflation, by Type of Good or Service (2000-2022)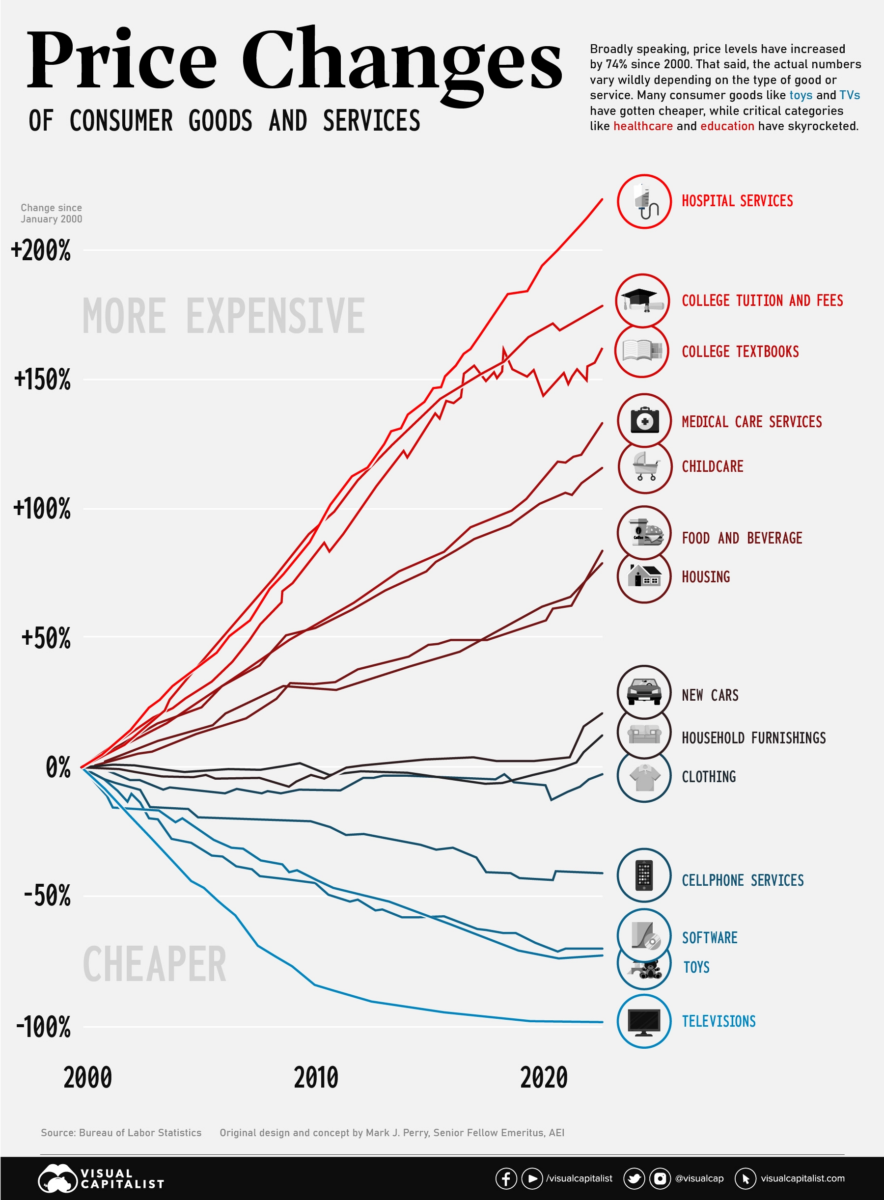 Source: Visual Capitalist