My end-of-week — indictment-free — morning reads:
• Twitter is dying: It's five months since Elon Musk overpaid for a relatively small microblogging platform called Twitter. The platform had punched above its weight in pure user numbers thanks to an unrivaled ability to both distribute real-time information and make expertise available. Combine these elements with your own critical faculty — to weed out the usual spam and bs — and it could feel like the only place online that really mattered. (TechCrunch)

• Exodus From America's Big Cities Slowed Last Year as Pandemic Receded: New census figures show suburbs and smaller metro areas claimed most U.S. growth. (Wall Street Journal) see also Is Coffee Bringing People Back to the Office? Data show workers are staying in the office for coffee and here's why it may be part of return to office strategies. (Bloomberg)

• Remote Banking Crisis: Banks tried to kill remote work. Now, remote work is trying to kill banks. In 2021, banks tried to kill remote work. Goldman Sachs's David Solomon called it "an aberration that we are going to correct as quickly as possible." JP Morgan's Jamie Dimon declared he's canceling all his Zoom meetings and expected the office to "look just like it did before." In 2023, remote work is threatening to kill banks. Days after the collapse of Silicon Valley Bank, some media reports suggested remote work was to blame. (Dror Poleg)

• Apple Wants to Solve One of Music's Biggest Problems: Forget the metaverse. The future is metadata. It's how the world's most valuable company built a better way of listening to Mozart and Beethoven. (Wall Street Journal)

• First Republic Bank is not currently looking for a buyer. Embattled First Republic Bank is no longer searching for a buyer as investment advisors and company executives seek to repair the company's balance sheet before any sale might take place, FOX Business has learned. (Fox Business)

• 10 of the strangest merch items from companies that crashed: WeWork mugs for $500, FTX fortune cookies and Theranos gift cards offer souvenirs from recent business disasters. (The Guardian)

• What Broke Sweden? Real Estate Bust Exposes Big Divide At the heart of the country's economic and social crisis is a broken housing market, which has amplified social divisions. (Bloomberg)

• The Kremlin Has Entered the Chat: Russian antiwar activists placed their faith in Telegram, a supposedly secure messaging app. How does Putin's regime seem to know their every move? (Wired)

• DeSantis Fights for Everglades As He Neglects Climate Crisis: Picking environmental fights has paid off for Florida's governor, who built a 2024 base with a unique mix of crusading for wetlands conservation and attacking ESG. (Bloomberg)

• Elusive 'Einstein' Solves a Longstanding Math Problem: And it all began with a hobbyist "messing about and experimenting with shapes." (New York Times)
Be sure to check out our Masters in Business interview this weekend with Ken Kencel, founder and CEO of Churchill Asset Management. The private credit firm manages $46 billion in private capital and is an affiliate of Nuveen, the $1.1 trillion asset manager of TIAA. Churchill was the top U.S. private equity lender in 2022 and was "Lender of the Year" according to M&A Advisor. Kencel was named one of private credit's 20 power players.
Hollywood's started another year in recovery mode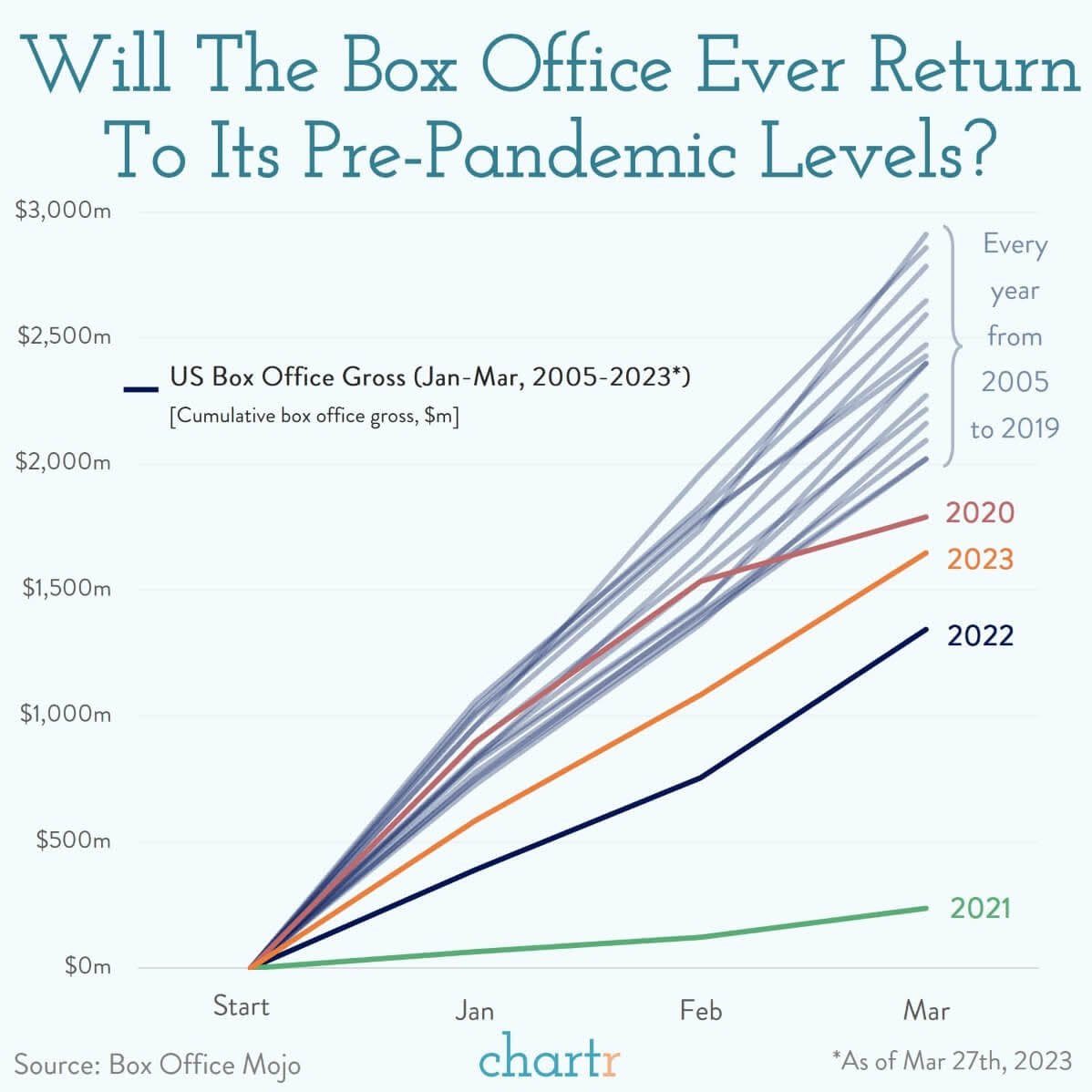 Source: Chartr
Sign up for our reads-only mailing list here.