My Two-for-Tuesday morning train reads:
• A 120-Year-Old Company Is Leaving Tesla in the Dust: Tesla had me convinced, for a while, that it was a cool company. fundamentally, its cars had no competition. If you wanted an electric car that could go more than 250 miles between charges, Tesla was your only choice for the better part of a decade. (New York Times) see also Tesla Offers an Unprecedented Look at the Bench Behind Elon Musk: In a clear response to investor criticism, the CEO shared the stage with 16 other executives last week. (Bloomberg)

• The Boom Time for Farmers Can Last. Who Will Reap the Rewards. Agriculture is getting its biggest tech upgrade in generations. Deere, AGCO, and other industry giants stand to benefit. (Barron's)

• Loose Monetary Policy and Financial Instability. Fed working paper finds that long periods of easy money leads to financial instability. This may not be surprising to financial market participants, but this is the first time I have seen a Fed working paper coming to this conclusion. (FRBSF) see also A Dozen Questions for Jerome Powell, Fed Chair: We can expect a series of useless questions, posturing for sound bites, and self-aggrandizing speeches that pretend to be questions. And as poor as the questions are, the Fed chief will work very hard to not say anything at all. Here are some btter alterantives (TBP)

• Silicon Valley's AI frenzy isn't just another crypto craze: It isn't theoretical. Millions of people are already using apps like ChatGPT to write books, create art, and develop code. (Vox)

• Why the Recession Is Always Six Months Away: Continued strong hiring and consumer spending are complicating Federal Reserve Chair Jerome Powell's campaign to tame inflation. (Wall Street Journal) see also The permanent recession that never arrives: According to public opinion, the U.S. is seemingly in a semi-permanent recession, and the Fed has failed to improve matters. (Axios)

• Food fight: FDA is redefining 'healthy' and food industry is pushing back: Less saturated fat, less sodium, less added sugar; manufacturers say almost no packaged foods would qualify under the agency's new rules. (Washington Post)

• The giant arcs that may dwarf everything in the cosmos: The discovery of giant superclusters of galaxies are challenging our very understanding of the Universe. (BBC) see also Astronomers spotted shock waves shaking the web of the universe for the first time: The observation could offer an indirect look at large-scale magnetic fields in the universe. (Science News)

• The bewildering descent of Scott Adams and 'Dilbert' 'I shook the box intentionally,' Scott Adams told The Post about the comments that prompted newspapers to drop his comic strip. (Washington Post)

• How 'Drive to Survive' remade Formula One for America: Ferrari and Mercedes sat out Season One. But they soon realized this wasn't going to be a show about front wings, telemetry analysis and tire degradation. It was an opportunity to engage with fans who had no prior knowledge of motor racing, by focusing on the characters. (The Athletic) see also What the NBA Can Learn From Formula 1: To be fair, F1 is still my side fling; the love of my sports life is the NBA. While my Milwaukee Bucks are doing fantastic — 14 straight wins as I write this — the NBA as a whole isn't doing so hot. The All-Star Game is the league's pre-eminent regular season event, and the only thing worse than the desultory action on the floor was the ratings. (Stratechery)

• The timeless innovations of De La Soul, now (finally) available for the streaming generation: Before De La Soul, says Hank Shocklee, "'beautiful' and 'rap' weren't two words that went together." (MSN)
Be sure to check out our Masters in Business interview this weekend with Dr. Maria Vassalou, chief investment officer of multi-asset solutions at Goldman Sachs Asset Management. She was a Professor of Finance at Columbia Business School where her academic research led her to establish many of the investment principles she employs today. At Columbia, she did consulting work for numerous institutions before joining Soros Capital Management and S.A.C. Capital Advisors.
The U.S. Stock Market Is Undervalued, but It Looks Like a Rough Road Ahead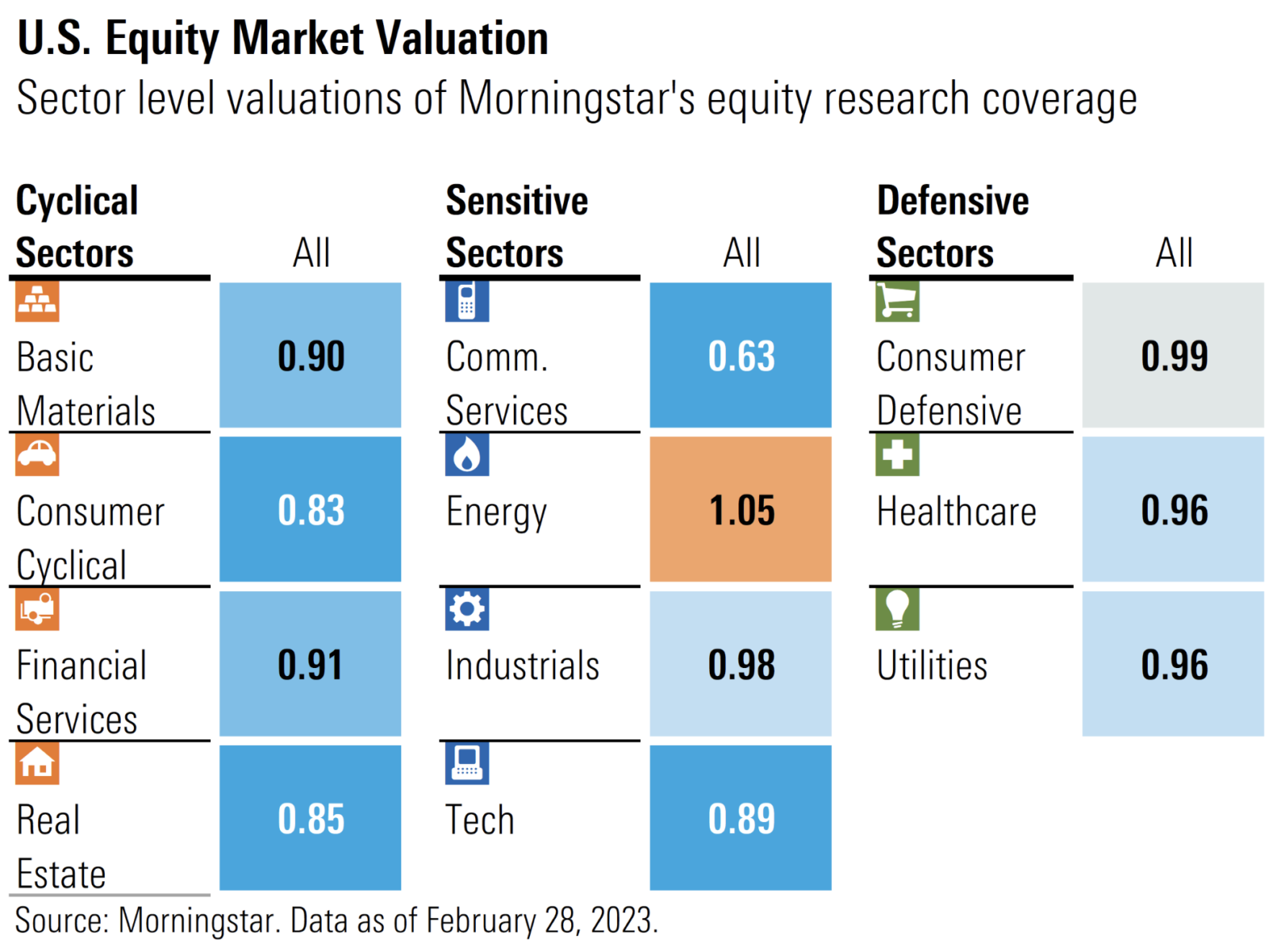 Source: Morningstar