My Two-for-Tuesday morning train WFH reads:
• The Fed's anti-inflation work is almost done, with an assist from the banking crisis. the economic turmoil created by the collapse of three banks this month and the impairment of a fourth gave it a bit of breathing room in its increasingly unpopular campaign to subdue inflation with a series of sharp interest rate hikes. (Los Angeles Times)

• Schwab's $7 Trillion Empire Built on Low Rates Is Showing Cracks: Company faces pressure from bond losses and rising cash yields Executives say business is misunderstood, has enough liquidity. (Bloomberg) see also Charles Schwab Says It Could Ride Out a Deposit Flight: Brokerage is sitting on sizable long-term debt that has lost value as the Fed has raised rates (Wall Street Journal)

• Bitcoin Versus Bank: Something happened in crypto this week that has never happened before. It acted as a safe haven. (Irrelevant Investor)

• What's eating Deutsche Bank? A much discussed and little understood pricing anomaly is the Weekend Effect, which says returns on average are negative on Mondays. A less discussed but better understood anomaly is the Friday Effect, which says that in times of crisis it's best to sell banks going into a weekend, just in case they don't make it to Monday. (Financial Times)

• The Planet Can Do Better Than the Electric Car: Environmental groups are finally acting like it. (Slate) see also How Elon Musk knocked Tesla's 'Full Self-Driving' off course: Tesla's campaign to deliver a fully autonomous vehicle has suffered amid mounting safety concerns — and the boss's Twitter distraction. (Washington Post)

• 'Bonkers' Bond Trading May Be Sending a Grim Signal About the Economy:Wild swings in the Treasury market are unlike anything many investors today had seen. They're also potentially warning of a recession. (New York Times)

• It's the Most Thankless Job in Banking. Silicon Valley Bank Didn't Fill It for Months. Before the money started fleeing SVB, the company operated without a chief risk officer for much of 2022. When success means averting danger, it's hard to notice when someone's not on the job until it's too late. (Wall Street Journal) see also The Dodd-Frank Act could have at least helped Silicon Valley Bank 'fail well' Looking at the 2018 bill deregulating banks like SVB can not only help us understand what just happened, but it can also help us figure out what to do now. (MSNBC).

• The 20-Somethings Fueling a Stick-Shift Renaissance: Think the manual transmission car is dead? Not yet. (Wall Street Journal)

• How Din Tai Fung Makes The World's Most Loved Pork Soup Dumplings: One Hong Kong location alone makes 17,000 xiaolongbao every week. (Huffington Post) see also From 20 dollars in his pocket to a dumpling empire: Din Tai Fung founder dies, age 96. The founder of one of the world's biggest dumpling empires has died. Yang Bing-yi, who set up the Taiwanese restaurant chain Din Tai Fung, "passed away peacefully" at the age of 96, the company said in a statement Saturday. (CNN Business)

• Can depression get playful? 'Lucky Hank' says yes. The Bob Odenkirk / AMC show about a professor has no thesis. That's half the fun. (Washington Post)
Be sure to check out our Masters in Business with Dominique Mielle, (retired) partner at Canyon Capital, a $25 billion hedge fund where she worked there for 20+ years. She is also the author of "Damsel in Distressed," which turns out to be (surprisingly) the very first memoir written by a woman working at a hedge fund. The book is a fun romp covering the 1998-2018 era.
US Core PCE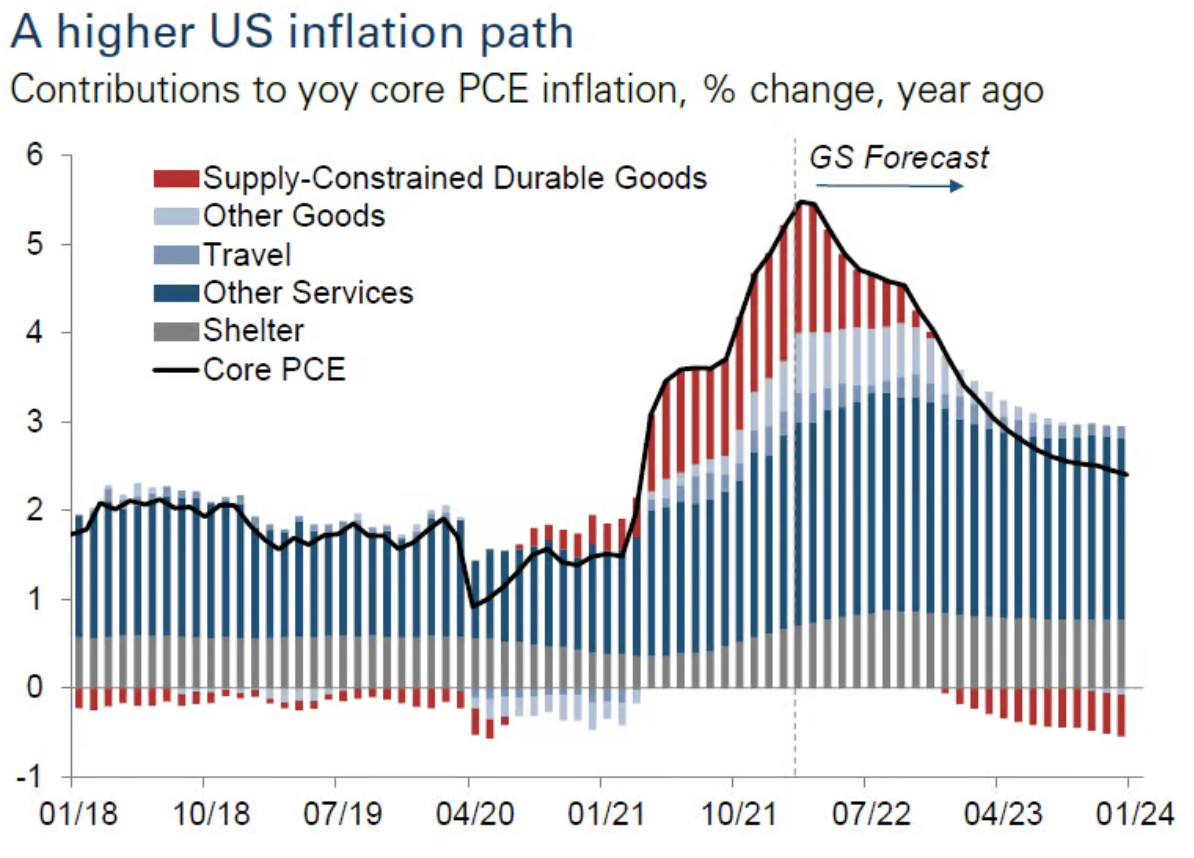 Source: Eightball