The weekend is here! Pour yourself a mug of  coffee, grab a seat outside, and get ready for our longer-form weekend reads:
• Why Not Mars? (Because it sucks). Landing on Mars with existing technology would be a destructive, wasteful stunt whose only legacy would be to ruin the greatest natural history experiment in the Solar System. It would no more open a new era of spaceflight than a Phoenician sailor crossing the Atlantic in 500 B.C. would have opened up the New World. And it wouldn't even be that much fun. (Idle Words)

• Cornering Classic Cars: How a Midwestern Insurance Salesman Cornered the Classic Car Market: In two years, McKeel Hagerty has transformed his modest family business for vintage vehicles into a conglomerate with unprecedented control of the entire industry. (Bloomberg)

• He Wasn't Thinking About Renting His Arizona Home. Then Rihanna Came Knocking. When a big event comes to town or vacation time rolls in, A-listers turn to the privacy, security and space of private homes. (WSJ)

• Apple's New Classical Music App Is a Ton of Fun: It's an exciting moment for classical music, and Apple's new dedicated music streaming app is the perfect way to experience it. (GQ)

• Paradigms Gone Wild: The​ tragedy of Thomas Kuhn's life was to have written a great book. The Structure of Scientific Revolutions was published in 1962, when he was forty, and he spent the rest of his life distressed by its success. It has sold 1.7 million copies, and has been translated into 42 languages. Very few academic books sell in those numbers and scarcely any are still seen as state of the art sixty years after publication. (LRB)

• How Pro Wrestling Explains Today's GOP: The battle between Ron DeSantis and Donald Trump could split the party with surprising results, argues the author of a new book on Vince McMahon. (Politico)

• You Can Kiss Your Web Browser Goodbye: Welcome to the radical future of push media, where information cascades to you—and doesn't need your clicks. (Wired)

• Why dinosaurs were terrible swimmers: They dominated earth, but not the oceans. (Popular Science)

• "It's Not So Black and White": Gisele Bündchen, Self-Professed "Witch of Love," Talks About It All: The supermodel is super ready for her next act, as she enjoys the pura vida in Costa Rica. (Heads up, casting directors—she has superhero ambitions!) (Vanity Fair)

• The impossible job: inside the world of Premier League referees: Players, pundits and fans complain bitterly that referees are getting worse each season – but is that fair? (The Guardian)
Be sure to check out our Masters in Business interview this weekend with Ken Kencel, founder and CEO of Churchill Asset Management. The private credit firm manages $46 billion in private capital and is an affiliate of Nuveen, the $1.1 trillion asset manager of TIAA. Churchill was the top U.S. private equity lender in 2022 and was "Lender of the Year" according to M&A Advisor. Kencel was named one of private credit's 20 power players.
30 Years of Gun Manufacturing in America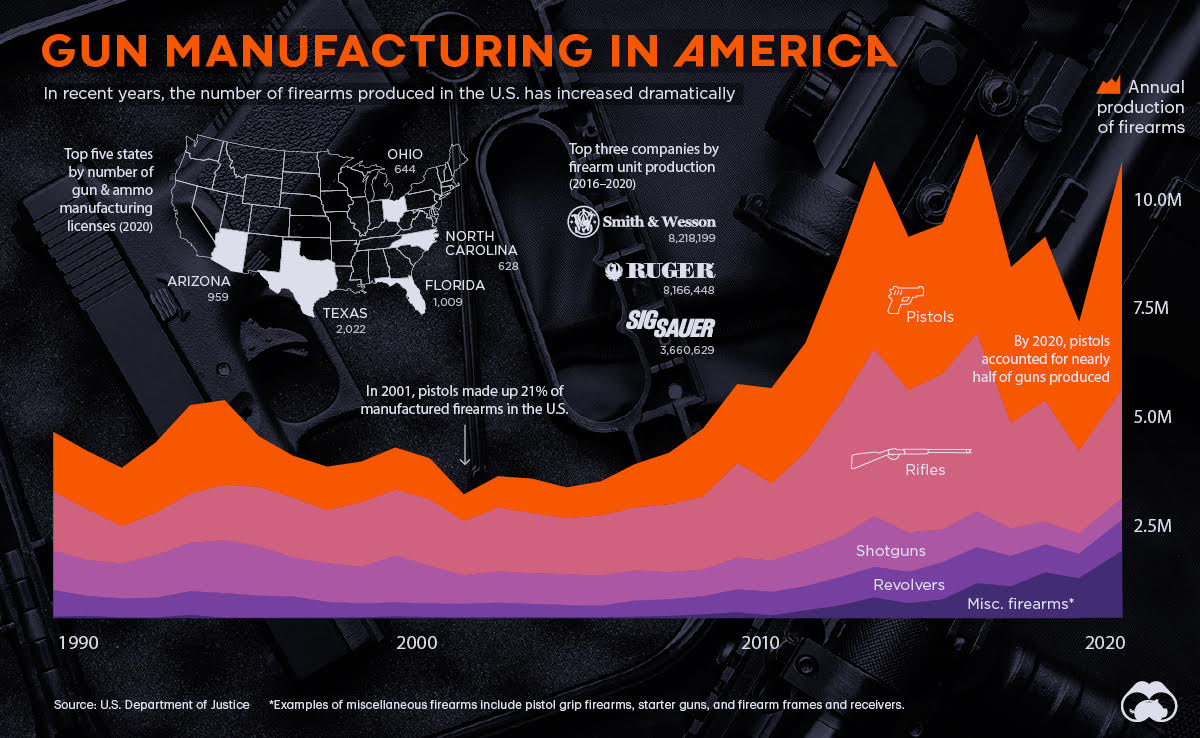 Source: Visual Capitalist