My mid-week morning train WFH reads:
• How BYD snatched Tesla's crown: BYD dominates the Chinese EV market. Now it's coming for the world. (Rest of World)

• The incredible American consumer: The biggest driver of the surprisingly resilient US economy has been the ability and willingness of Americans to shrug off the bad vibes and buy "everything that isn't nailed down", as Chris Rupkey puts it. Consumer spending doesn't seem to be slackening much either. Quarter-on-quarter growth did slow from a blockbuster 4.2% in the first three months of 2023 to 1.7% in the second quarter, but it's currently tracking at 3.2% in the current one. (Financial Times)

• How Slowing Inflation Can Hit Corporate Profits: High inflation helped boost earnings at many companies, but now comes the hangover. (Wall Street Journal)

• Why China Is Avoiding Using 'Bazooka' to Spur Economy: Beijing isn't pulling out a "bazooka" stimulus package like it did during the global financial crisis in 2008-09, or even when the pandemic hit in 2020. Much of the reluctance lies in a drive by President Xi Jinping's government to control the growth of debt in the country, especially at the municipal level; a desire to shrink the property sector's outsized influence on the economy; and an aversion to doling out cash to consumers, Western-style. (Bloomberg)

• Roth vs. Traditional 401(k): Where to Put Your Money for Retirement? You don't have to think like a tax accountant, actuary and investment adviser to get it right. (Wall Street Journal)

• How AI Is Making Prediction More Precise — And What That Means for Risk and Human Behavior: In their new book, WorldQuant's Igor Tulchinsky and Christopher E. Mason explore how predictive technology is reshaping everything from markets to medicine. (Institutional Investor)

• 9 Smart Ways to Make Cities Better: Cities have problems. Here are some solutions. Illustrations https://www.bloomberg.com/features/2023-ways-to-make-cities-better. (Businessweek and Citylab)

• Meet the Couple Spending Millions to Save California's Architectural Gems: John McIlwee and Bill Damaschke's collection has included the Lautner-designed Garcia House in Los Angeles and the former Rancho Mirage estate of Gerald and Betty Ford. (Wall Street Journal) see also Inside the Most Expensive ZIP Code in America: The California enclave of Newport Coast has seen homes sell for as high as $61 million—but one local real-estate pro says there are properties worth more than that (Wall Street Journal)

• The End Will Come for the Cult of MAGA: The next generation isn't buying it. (Oh, great, it will take 20 years…) (The Atlantic)

• TikTok has transformed the concert experience: Fans are creating new concert traditions for a new age. (Vox)
Be sure to check out our Masters in Business this week with Jonathan Miller, CEO of Miller Samuel, a real estate appraisal and consulting firm he co-founded in 1986. He is a state-certified real estate appraiser in New York and Connecticut who performs court testimony as an expert witness, and holds the Counselor of Real Estate (CRE) and Certified Relocation Professional (CRP) designations. His weekly email Housing Notes is widely read in both the appariasal and real estate brokerage industries. Miller Samuel's research and data analytics drive much of the national real estate brokerage publications and strategic plans.
Ultra-short contracts, already popular in the US, are now in Europe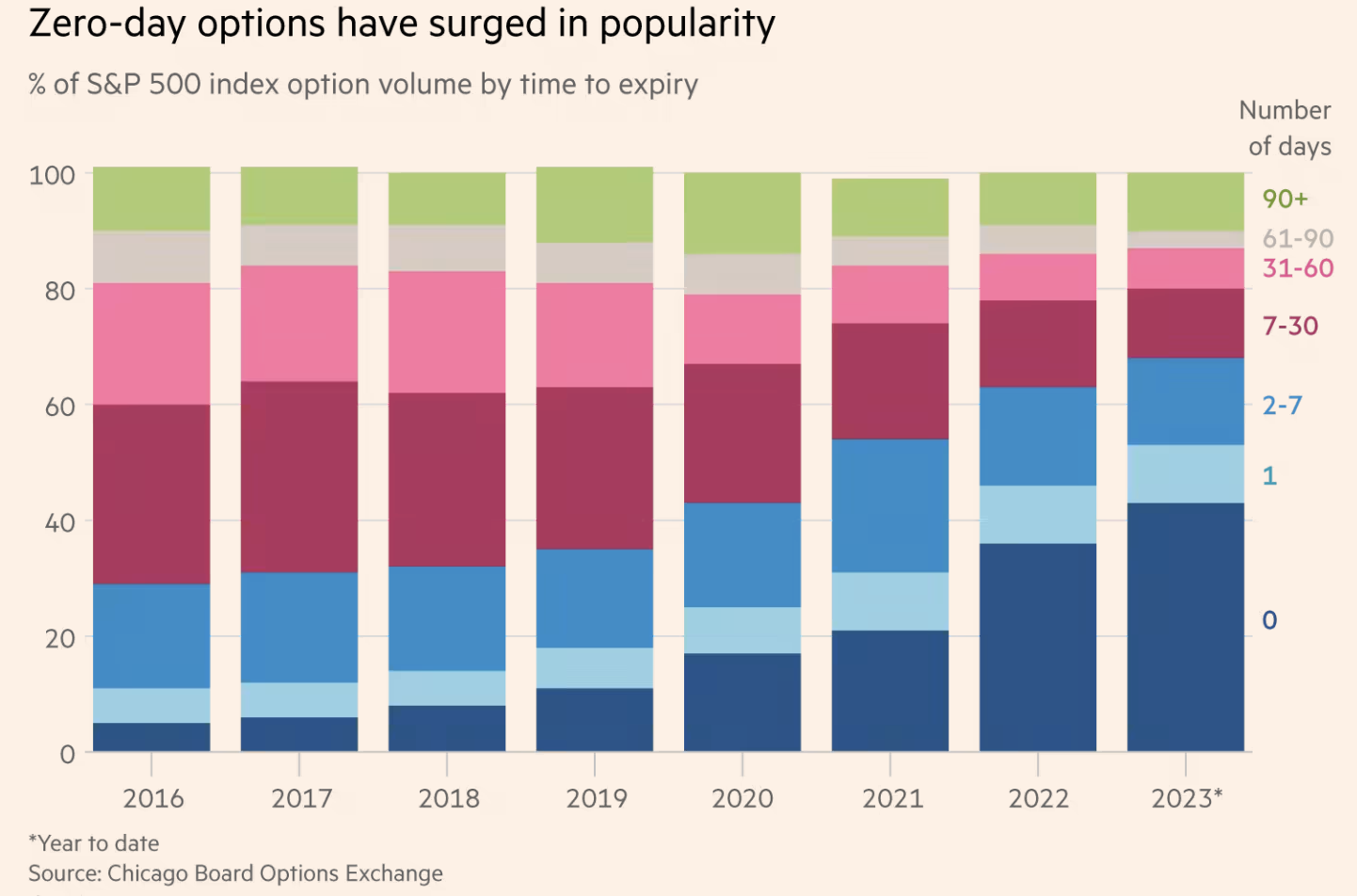 Source: Financial Times
Sign up for our reads-only mailing list here.