Avert your eyes! My Sunday morning look at incompetency, corruption and policy failures:
• 'Off-the-charts records': Has humanity finally broken the climate? Extreme weather is 'smacking us in the face' with worse to come, but a 'tiny window' of hope remains, say leading climate scientists. (The Guardian)

• Paid Late, or Never: Painters, Builders and Brokers Hit by China's Property Crisis: As a real estate meltdown ripples through the economy, small businesses and workers are owed hundreds of billions of dollars, and new projects have dried up. (New York Times)

• Following Elon Musk's lead, Big Tech is surrendering to disinformation: Facebook and YouTube are receding from their role as watchdogs against conspiracy theories ahead of the 2024 presidential election. (Washington Post)

• Journalism fails miserably at explaining what is really happening to America: Momentous week of GOP debate, Trump's arrest gets "horse race" coverage when the story's not about an election, but authoritarianism. (Philadelphia Inquirer)

• The play deficit: Children today are cossetted and pressured in equal measure. Without the freedom to play they will never grow up. (Aeon)

• Blue-tick scammers target consumers who complain on X: Misleading Twitter handles displaying paid-for icon being used to carry out phishing attacks. (The Guardian)

• What Is Narcissism? Science Confronts a Widely Misunderstood Phenomenon: Researchers debate whether grandiosity always masks vulnerability. (Scientific American)

• The Christian home-schooler who made 'parental rights' a GOP rallying cry: On a private call with Christian millionaires, home-schooling pioneer Michael Farris pushed for a strategy aimed at siphoning billions of tax dollars from public schools. (Washington Post)

• He spread conspiracies about elections. Now he oversees them: A controversy over conspiracy theories that has engulfed a small Iowa county shows the continuing power of Donald Trump's false claims about election fraud. (BBC) see also How Trump's Election Lies Left the Michigan G.O.P. Broken and Battered: Infighting between Trump acolytes and traditionalists has driven away donors and voters. Can the Michigan Republican Party rebuild in time for the presidential election? (New York Times)

• Highways are the next antiabortion target. One Texas town is resisting. A new ordinance, passed in several jurisdictions and under consideration elsewhere, aims to stop people from using local roads to drive someone out of state for an abortion. (Washington Post)
Be sure to check out our Masters in Business this week with Jonathan Miller, CEO of Miller Samuel, a real estate appraisal and consulting firm he co-founded in 1986. He is a state-certified real estate appraiser in New York and Connecticut who performs court testimony as an expert witness, and holds the Counselor of Real Estate (CRE) and Certified Relocation Professional (CRP) designations. His weekly email Housing Notes is widely read in both the appariasal and real estate brokerage industries. Miller Samuel's research and data analytics drive much of the national real estate brokerage publications and strategic plans.
The Skyrocketing Toll of the Billion-Dollar Climate Disaster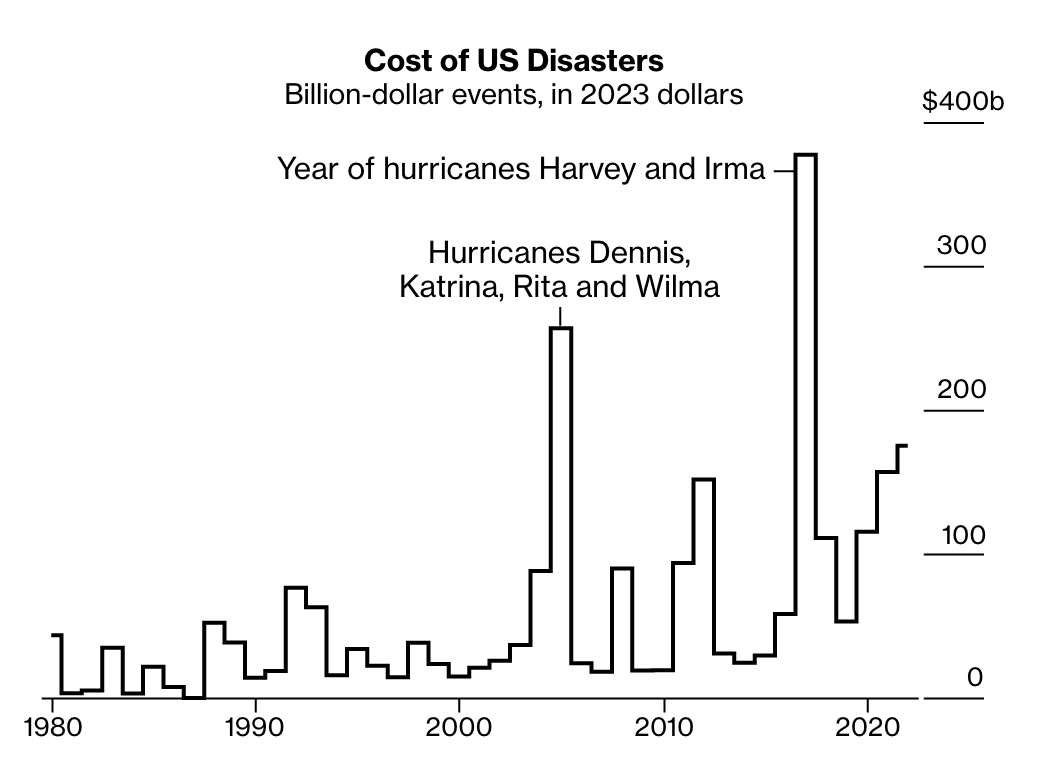 Source: Businessweek
Sign up for our reads-only mailing list here.
~~~
To learn how these reads are assembled each day, please see this.