My morning train WFH reads:
• Anger Is What's Driving the US Economy: A deep-seated resentment about a "rigged" system has been simmering since long before the pandemic and continues to affect consumer attitudes. (Bloomberg). 

• Stocks for the Long Run? Sometimes Yes, Sometimes No. new historical record shows that over multi-decade periods, sometimes stocks outperformed bonds, sometimes bonds outperformed stocks and sometimes they performed about the same. New international data confirm this pattern. Asset returns in the US in the 20th century do not generalize. Regimes of asset outperformance come and go; sometimes there is an equity premium, sometimes not. (Taylor & Francis Online)

• How On running shoes became inescapable: The Swiss shoes with the distinctive toothy outsoles are reaching a 2010s-Allbirds level of ubiquity — for better or for worse. (Washington Post)

• Why Are We So Obsessed with Sam Bankman-Fried's Parents? The operatic family saga showed us not just the deranging effect of parental love but the limits of privilege and good intentions in saving our children from themselves (Wall Street Journal)

• The REIT Pain Trade: Shorting REITs perceived as vulnerable to higher rates has been a popular trade this year but not a successful one. (Lewis Enterprises)

• The Future of Obesity Drugs Just Got Way More Real: The results of a highly anticipated study indicate that Wegovy can have profound effects on heart health, which potentially opens up the drug to even more patients. The FDA also approved Zepbound, an obesity drug that is a bit cheaper and appears more potent than Wegovy. Obesoty drugs are about to go mainstream. (The Atlantic)

• Fake Reviews Are Rampant Online. Can a Crackdown End Them? A wave of regulation and industry action has placed the flourishing fake review business on notice. But experts say the problem may be insurmountable. (New York Times)  see also Fake Review Factory, Redux (2011) As if you didn't know that the many reviews were purchased… (The Big Picture)

• 10 Japanese Concepts For Self-Improvement and a Balanced Life: Omoiyari means caring and showing sincere consideration for others. Omoiyari is also manifested in the designs of products. For example, Japanese hi-tech toilets have a warm seat, washer, and a sound to cover those 'unpleasant' noises. Practicing omoiyari is said to help build compassion and empathy toward others. (Better Humans)

• Univision, the Spanish-language news giant, shifts its approach to Trump: The presence of corporate executives at Mar-a-Lago raises alarm among Democrats, who are used to Latino media criticism of the former president's policies. (Washington Post)

• With Diana's Death, 'The Crown' Enters Its Most Evocative Era: The final season of Netflix's royal drama opens in 1997, on the cusp of one of the most analyzed periods in recent British history. (New York Times)
Be sure to check out our Masters in Business this week with Brad Gerstner, founder and CEO of Altimeter Capital. The tech-focused fund started in 2008 and invests in both public and private firms. Gerstner began as an entrepreneur and has had multiple exits, including travel startup NLG (to IAC). Openlist.com, (to Marchex) and Farecast (to MSFT). He also was an early investor in Zillow, Real Self, Nor 1, Instacart, Expedia, Silver Rail Tech and Room 77. After returning $7B in profits to its LPs, Altimeter manages currently manages $10B in assets.
Annual rise in consumer price index slows more than economists had forecast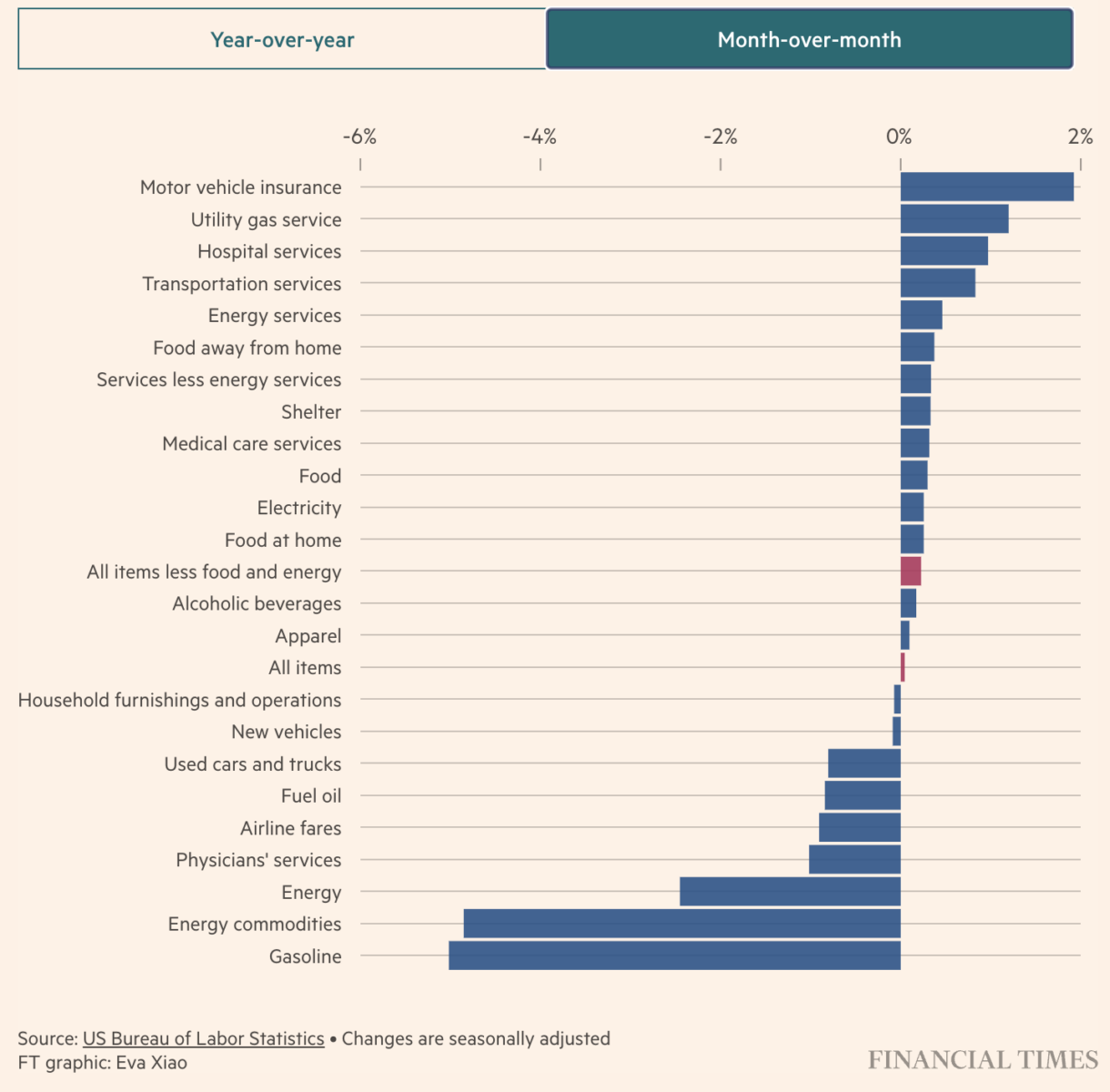 Source: Financial Times
Sign up for our reads-only mailing list here.