My easy like Sunday morning reads:
• What Would Jesus Disrupt? Entrepreneurs from Cincinnati's Crossroads Church try to scale their startups without selling their souls. (Bloomberg Businessweek)
• Who Wants an Opaque ETF? (Bloomberg Gadfly)
• TIAA/Nuveen: A Trillion Dollar Startup Is Making Its Move: Roger Ferguson is rebuilding the pension-plan giant from the ground up and aims to expand its reach.  (Barron's)
• Two Years of Uncertainty: Europe Prepares for Tough Brexit Negotiations (Spiegel)
• Meet The Martin Shkreli Of Defense Contracting (Huffington Post)
• Donald Trump's first 100 days in office have been a disaster. Scott Pruitt's have been even worse. (Mother Jones)
• Our messed-up relationship with food has a long history. It started with butter. (Washington Post)
• Inside knowledge: The biggest questions about facts, truth, lies and belief (New Scientist)
• Never Mind The Russians, Meet The Bot King Who Helps Trump Win Twitter (Buzzfeed) see also It's Not Their Pop Idol, but a Bot. Fans Cheer Anyway. (New York Times)
• The Long, Lucrative Right-wing Grift Is Blowing Up in the World's Face (Fusion)
Be sure to check out our Masters in Business interview this weekend — the return of Ken Fisher of Fisher Investments, who manages $79.5 billion dollars.
Japan's cherry blossoms are emerging increasingly early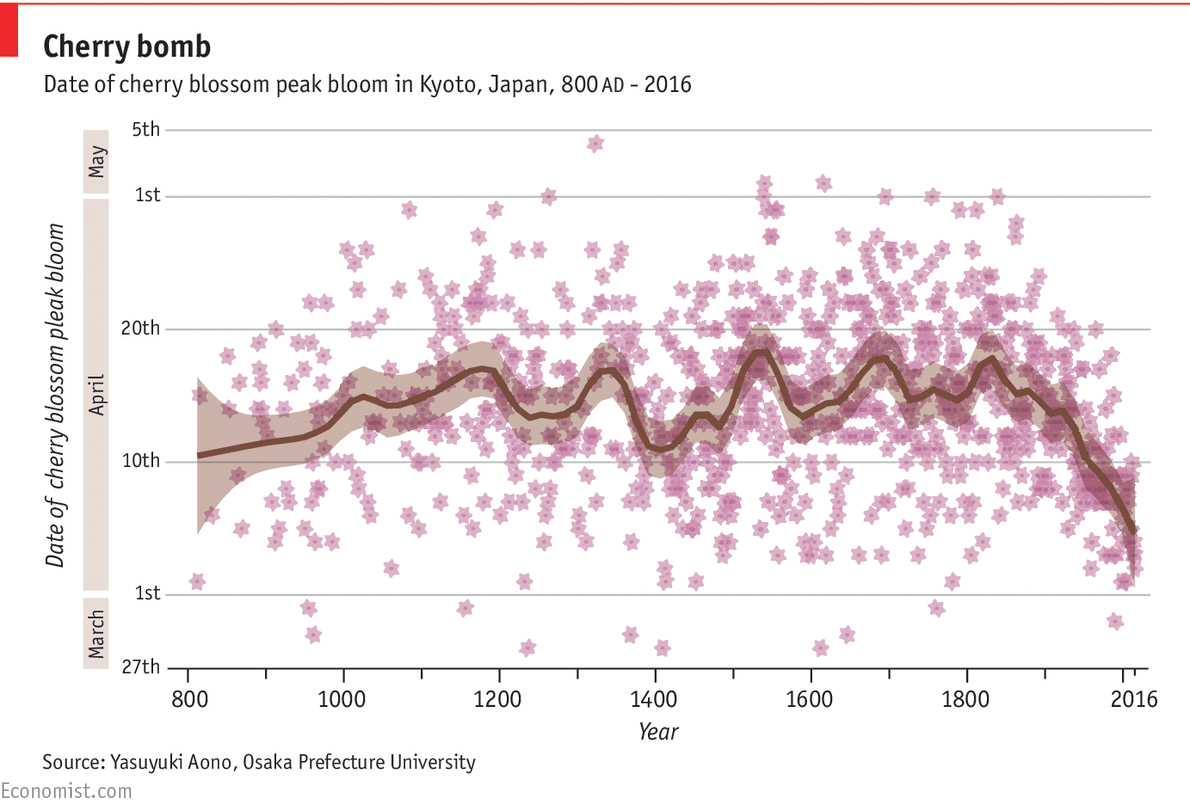 Source: The Economist
Want to receive our daily reads in your inbox? Sign up here!