My two-for-Tuesday morning holiday reads:
• The Pivotal Mistakes that Cripple Family Wealth (Black Cypress Capital) see also The Biggest Financial Concerns Of Affluent Investors (Financial Samurai)
• 2017: The strange, scary and superlative, in 11 charts (Recode)
• What's behind the falling number of public companies? (Vanguard) see also There are less tiny companies going public than there used to (IrrelevantInvestor)
• Jeremy Siegel is Still Bullish After All These Years (Bloomberg Gadfly)
• You're on your own now (Reformed Broker) see also Consumer Financial Protection Bureau Has a New Mission: Protecting America From "Burdensome Regulations" (Slate)
• Dead coal mines everywhere are being reincarnated as solar farms (Quartz)
• Could Rome have had an industrial revolution? (Reaction) see also How climate change and disease helped the fall of Rome (Aeon)
• Police shoot far more people than anyone realized, a VICE News investigation reveals (Vice)
• Math Says You're Driving Wrong and It's Slowing Us All Down (Wired) see also Motoring myths: what 'black boxes' reveal about our driving habits (The Guardian)
• The Top 10 Albums Of 2017, According To Everyone (Digg)
Be sure to check out our Masters in Business interview this weekend with Ric Edelman, co-founder and chairman of Edelman Financial Services LLC, managing $21 billion dollars.
More say the health care law has had a positive effect on nation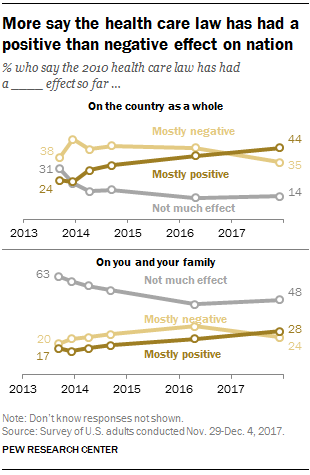 Source: Pew Research
Want to receive our daily reads in your inbox? Sign up here!