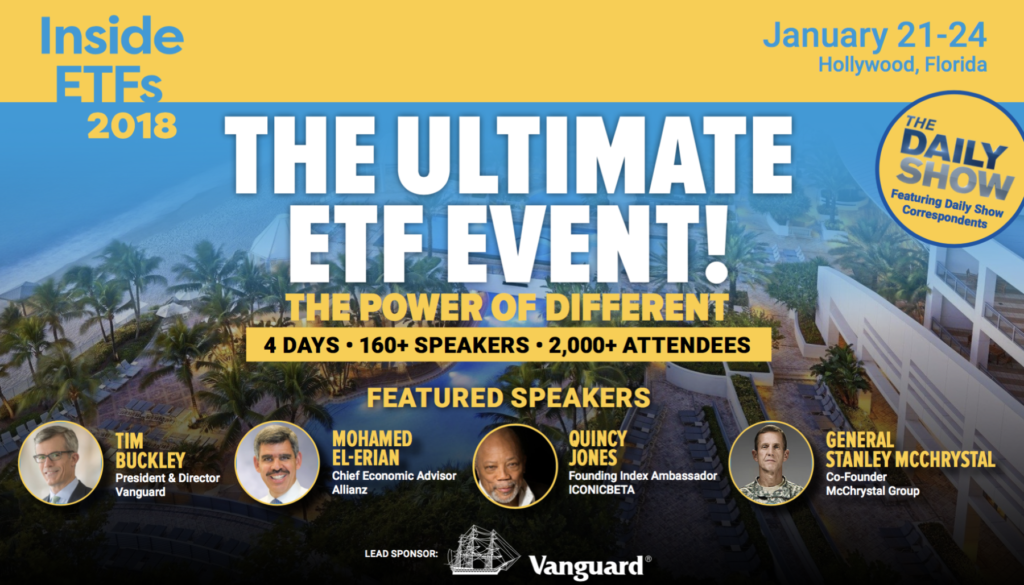 I am very jazzed about an upcoming conference, the annual Inside ETFs Conference held in Hollywood, Florida. Billed as the "world's #1 ETFs event," it has more than 2500 attendees from over 50 countries.
There is the usual who's who list of investing royalty (Tim Buckley, Vanguard, Mohamed El-Erian, PIMCO, Jeffrey Sherman, DoubleLine Capital, Rob Arnott, Research Affiliates, Tom Farley, NYSE Group, Alan Krueger, CEA and others), the real surprise attraction are some of the non-financial speakers:
• Music legend Quincy Jones
• 4 Star General Stanley McChrystal, former Commander of U.S. & International Forces in Afghanistan at US Army
• Tennis great Serena Williams
I am very excited to announce that at the event, I will be doing a live MiB interview with tennis great Serena Williams.
And on a day like today, with gale force winds and a foot of snow on the way, there are many worse places to think about for a long weekend than Hollywood, Florida.
You can register here
Special discount for Big Picture readers: Use code RITHOLTZ