The weekend is here! Pour yourself a mug of Intelligentsia coffee, grab a seat by the fire, and get ready for our longer form weekend reads:
• The Real Future of Work: Forget automation. The workplace is already cracking up in profound ways, and Washington is sorely behind on dealing with it. (Politico)
• The Evangelist of Molecular Biology: James D. Watson's unfinished quest to master genetic destiny (New Atlantis)
• Making China Great Again (New Yorker)
• Inside Silicon Valley's Orgiastic Dark Side (Vanity Fair)
• Dubai's Opulent Wealth – Supercars And The £100m Private Plate Market (Absolute Reg)
• How Jeff Sessions and Donald Trump have restarted the war on drugs: Under Obama, America's addiction to mass incarceration seemed to fade. But then came Trump and a hardline attorney general (Guardian)
• My Life as a New York Times Reporter in the Shadow of the War on Terror (The Intercept)
• Inside the Regulatory Rollback at the EPA (ProPublica)
• Solving Wildlife's Strangest Mysteries (Outside)
• Rick Wilson: MAGA Monsters Turn on Each Other (Daily Beast)
Be sure to check out our Masters in Business interview this weekend with Bruce Bartlett, domestic policy adviser to Ronald Reagan and Treasury official under George H. W. Bush, author of The Truth Matters: A Citizen's Guide to Separating Facts from Lies and Stopping Fake News in Its Tracks.
Job Gains in Trump's First Year: Solid But Not (as claimed) "the Greatest"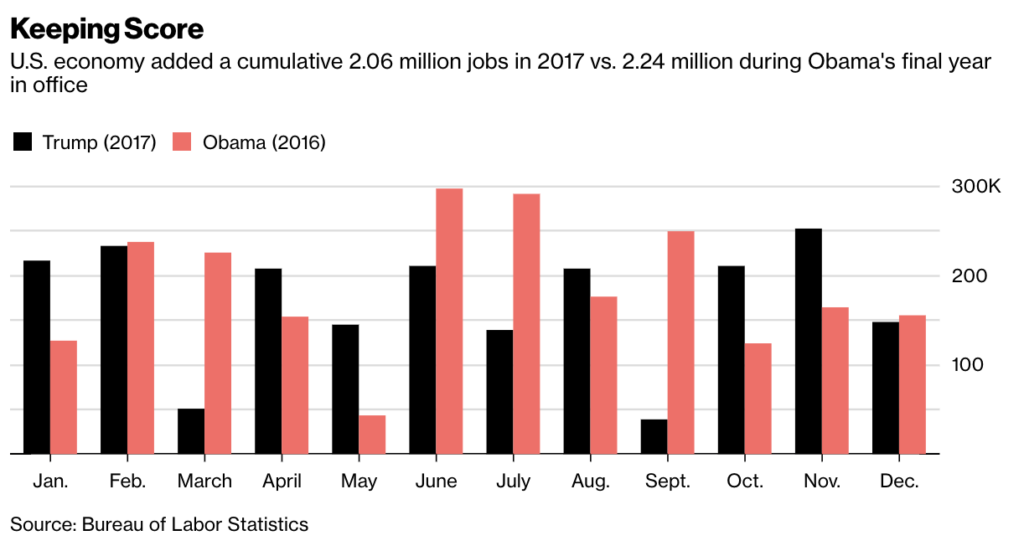 Source: Bloomberg
Want to receive our daily reads in your inbox? Sign up here!