In 1991, I was fortunate enough to see Ella Fitzgerald live in Concert at Radio City Music Hall.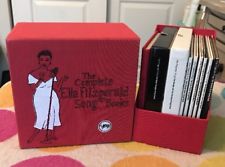 I have been a huge fan of her work, especially her boxed set of The Complete Ella Fitzgerald Song Books. (I have recommended this 16-CD set numerous times).
To me, she is the gold standard by which all other female jazz vocalists are measured. There are lots of other women whose voices* and body of work I truly adore, but Ella is tops.
Two Ella-related coincidences occurred: first, today is her birthday (April 25, 1917); second, her new CD 4 disc box set, Cheek To Cheek: The Complete Duet Recordings of all of her outings with Louis Armstrong, arrived at home.
Her satin voice matched against his gravelly baritone makes for a wonderful juxtaposition; I have always loved these albums — they are desert island disc material.
I have older versions of Ella and Louis albums, but I am a sucker for the complete set . . .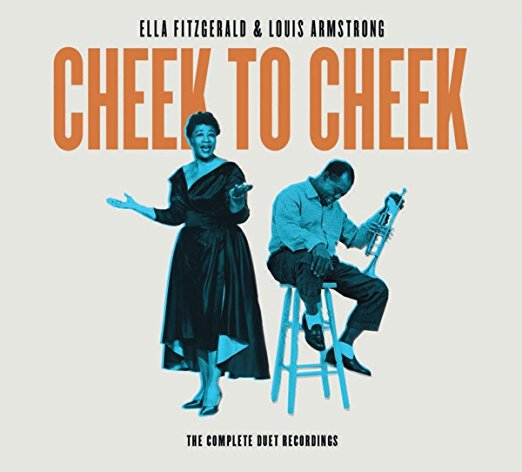 Ella Fitzgerald has sold 40 million copies of her more than 70 albums, won 13 Grammy Awards and was awarded the National Medal of Arts.
Here is the jabber from the liner notes:
"For the first time, all of Ella & Louis' classic duets are in one place. This 4CD set gathers their timeless three Verve albums newly remastered versions of Ella and Louis, Ella and Louis Again and Porgy and Bess combining them with their eight Decca singles, live recordings from Jazz at the Hollywood Bowl plus several alternates & false starts from the Decca & Verve eras, illuminating their craft & good humor. The set also includes an extensive essay by Ricky Riccardi."
_______
* Billie Holiday, k.d. lang, Amy Winehouse, Annie Lennox, Madeleine Peyroux, Julie London, Joni Mitchell, Sarah Vaughan, Sarah Mclaughlin, Norah Jones, Etta James, Aretha Franklin, Adele, Aimee Mann, Ariana Grande, etc.