The weekend is here! Pour yourself a mug of Danish Blend coffee, grab a seat by the window, and get ready for our longer form weekend reads:
• A Billionaire's Sears Fiasco Is Finally Nearing Its End. (Bloomberg)
• It's Not What You Know, It's How You Think (Medium)
• A Map of Every Building in America (New York Times)
• The Information Terrorists Trying to Reshape America (Wired)
• Checkpoint Nation: Immigration authorities are extending their reach deep into the interior, putting civil liberties in jeopardy for millions of people (Texas Observer)
• Trump's Patron-in-Chief: Casino Magnate Sheldon Adelson (ProPublica)
• Fossil Discoveries Challenge Ideas About Earth's Start (Quanta Magazine)
• The Complicated Politics of Alec Baldwin (Hollywood Reporter)
• Active listening? Hi-fi bars arrive in Los Angeles as In Sheep's Clothing; Gold Line deliver vinyl-only audiophile sound (Los Angeles Times)
• Inside the Guts of the World's Strongest Men (MEL)
Be sure to check out our Masters in Business interview this weekend with Rex Sorgatz, author of "The Encyclopedia of Misinformation: A Compendium of Propaganda, Hoaxes, Conspiracies & Miscellaneous Fakery." He discusses the intersection of media, technology and culture.
Public Opinion on Legalizing Marijuana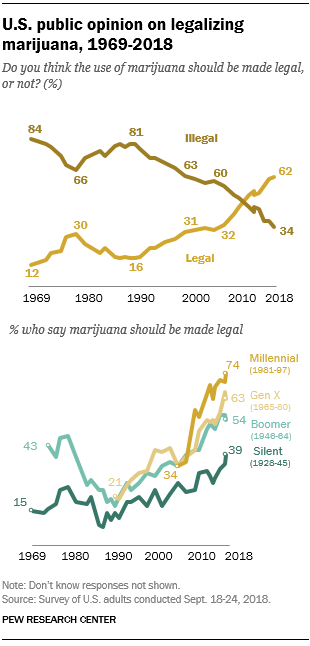 Source: Pew Research
Want to receive our daily reads in your inbox? Sign up here!