The weekend is here! Pour yourself a mug of Danish blend coffee, grab a seat by the window, and get ready for our longer form weekend reads:
• Super-tall, super-skinny, super-expensive: the 'pencil towers' of New York's super-rich (The Guardian)
• Why Does It Feel Like Everyone Has More Money Than You? (Harper's Bazaar)
• Scientists Are Totally Rethinking Animal Cognition What science can tell us about how other creatures experience the world. (The Atlantic)
• Is the universe pro-life? A new understanding of the mechanisms underlying the origin of life is reinvigorating the notion of a bio-friendly universe (Quartz)
• The Tiny Swiss Company That Thinks It Can Help Stop Climate Change (New York Times) see also The Cautious Case for Climate Optimism via giant carbon-sucking machines. (New York Magazine)
• Has the internet made us collectively lose our minds?  (London Review of Books)
• Two Sisters Bought DNA Kits. The Results Blew Apart Their Family. In an age of ubiquitous direct-to-consumer genetic testing, family secrets are almost impossible to keep.  (Wall Street Journal)
• What Happened When I Bought a House With Solar Panels: Third-party ownership and decades-long contracts can create real headaches (Bloomberg Businessweek)
• The case for capping all prison sentences at 20 years: America's prison sentences are far too long. It's time to do something about it (Vox)
• Bob Costas, unplugged: From NBC and broadcast icon to dropped from the Super Bowl (ESPN)
Be sure to check out our Masters in Business interview this weekend with Joseph H. Davis, Ph.D., Vanguard's global chief economist and head of Vanguard Investment Strategy Group. He is a member of the senior portfolio management team for Vanguard Fixed Income Group.
The Best-Paid Hedge Fund Managers Made $7.7 Billion in 2018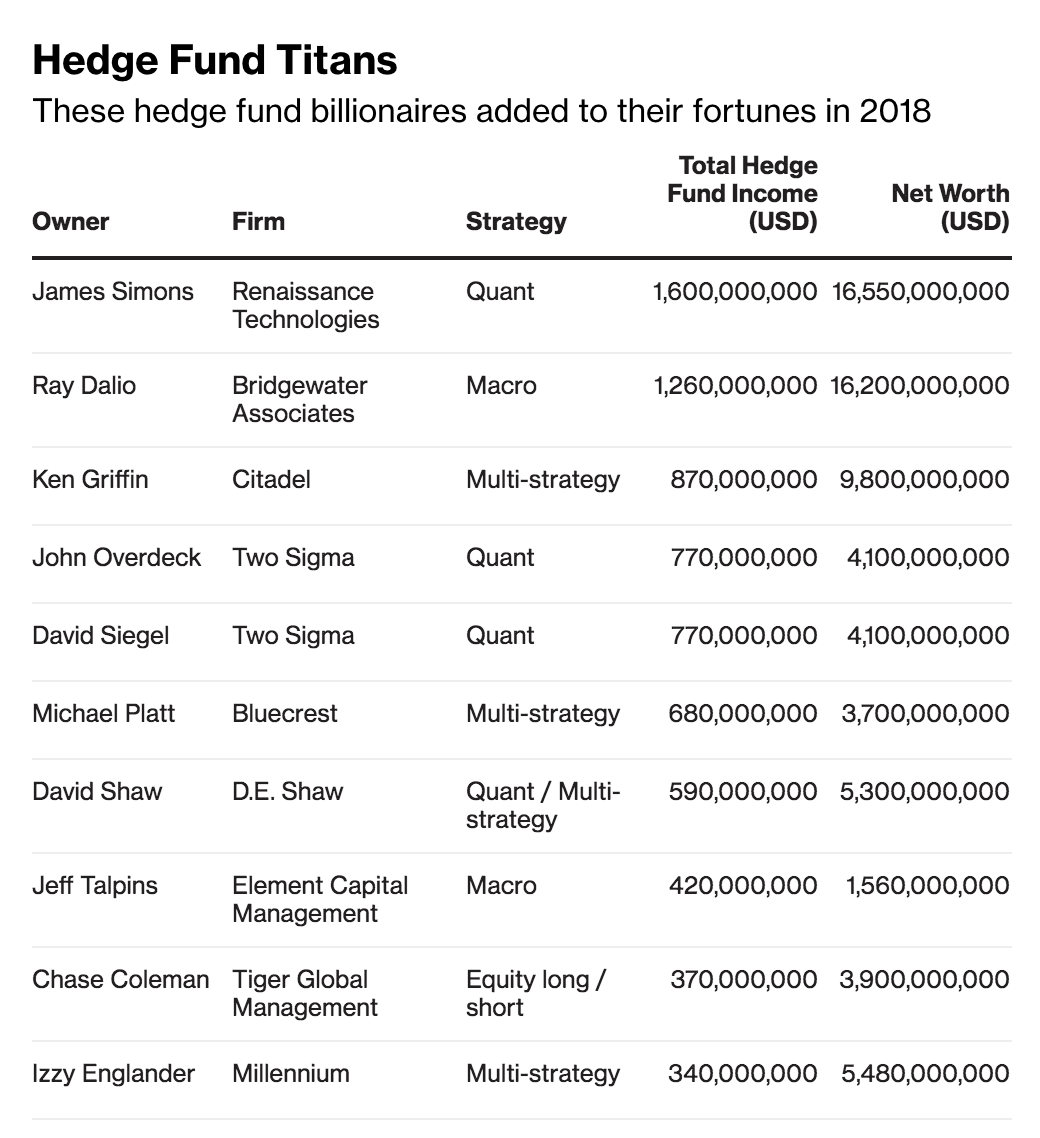 Source: Bloomberg
Want to receive our daily reads in your inbox? Sign up here!