Our Mueller-free, 3-day holiday weekend reads:
• 15 Months of Fresh Hell Inside Facebook (Wired) see also Thousands of leaked Facebook documents show Mark Zuckerberg as 'master of leverage' in plan to trade user data (NBC News)
• Fintech Gains a Footing with Asset Owners (CIO)
• Recessions vs. Bear Markets (A Wealth of Common Sense)
• FUCT: Streetwear Gets Its Day at the Supreme Court (GQ)
• Rich States Get Richer, Most of the Time (Bloomberg)
• How to Identify Talent: Five Lessons from the NFL Draft (Behavioral Scientist)
• The Problem With Putting a Price on the End of the World: Economists have workable policy ideas for addressing climate change. But what if they're politically impossible? (New York Times Magazine)
• The Future's Electric at the Shanghai Auto Show (Bloomberg) see also A $255 Billion EV Debate Is Raging Among the World's Biggest Automakers (Bloomberg)
• Is Seltzer Jewish? And 99 Other Argument-Starters (New York Times)
• For the first time, astronomers see the birth of a neutron star binary system (Syfy Wire)
Be sure to check out our Masters in Business interview this weekend with William J. Bernstein, a neurologist and co-founder of the investment management firm Efficient Frontier Advisors. Bernstein has written several titles on finance and economic history, including A Splendid Exchange. He was the 2017 winner of the James R. Vertin Award from CFA Institute.
Aging Population / Declining Birthrates Create Underpopulated Cities & Towns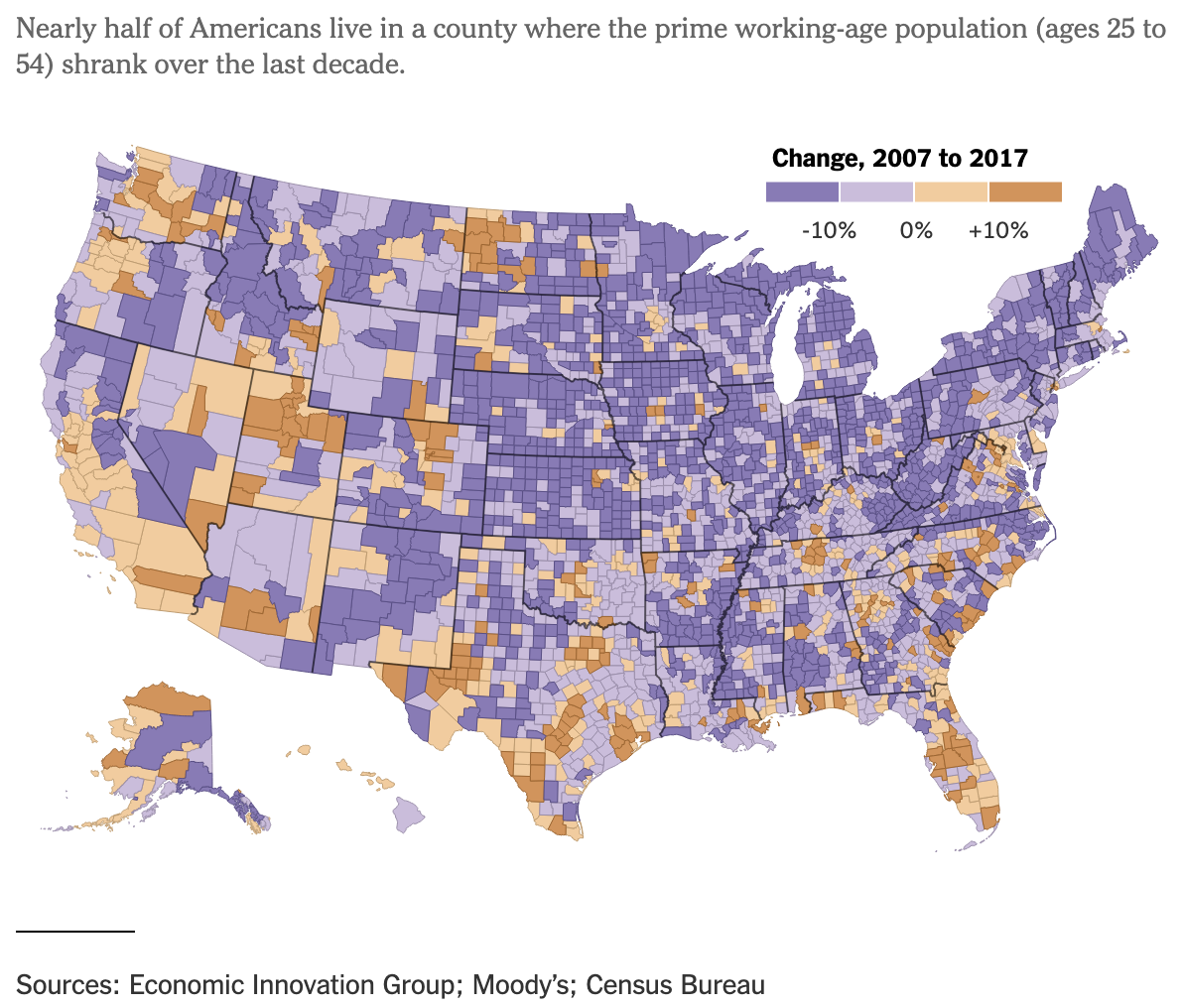 Source: Upshot
Get the daily reads in your inbox — free!  Sign up here