My Two-for-Tuesday morning train reads:
• The World's 50 Most Valuable Sports Teams 2019 (Forbes) see also Baseball card collectors suspected rampant fraud in their hobby. Now the FBI is investigating. (Washington Post)
• Munger's 2005 'Almanack' of sage advice finds an audience in S.F. tech world (San Francisco Chronicle)
• Walmart, Costco, Home Depot: Learning about Retail from Sol Price (Investment Masters Class) see also US retailers quicken exit from malls as online shopping bites (Financial Times)
• How the Brexit debate was flushed down the drain (Tim Harford)
• Who Actually Feels Satisfied About Money? (The Atlantic) But see Money Doesn't Deserve the Bad Rap It's Getting (Bloomberg Opinion)
• Four ideas that most economists believe — and that reality has debunked (Vox)
• The Most Pressing Question in the Suburbs: What Do You Do When the Golf Course Shuts Down? (Wall Street Journal) see also The Guilty Pleasures of Mansion Porn (The Atlantic)
• What the last Nuremberg prosecutor alive wants the world to know (CBS News)
• 19 Questions We Have for Mueller Ahead of His Testimony Before Congress (New York Times) see also The Definitive Congressional Guide to Robert Mueller's Mind (Wired)
• Secretly Recorded Phone Call Offers Window Into How Live Nation Helped Metallica and Other Artists Place Tickets Directly On Resale Market (Billboard)
What are you reading? Hit me here with hashtag #Reads.
Who owns leveraged loans?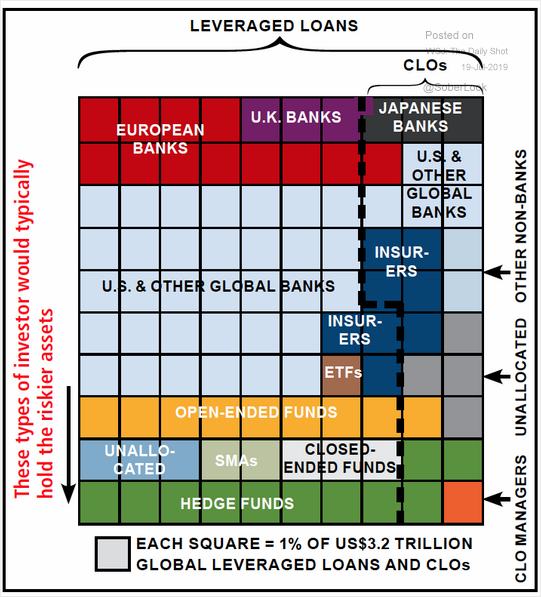 Source: BCA Research via Daily Shot