My morning train reads:
• 14 things we learned from Gene Fama's interview (Evidence-Based Investor) See also Eugene Fama Transcript (Bloomberg)
• 401(k) plans haven't helped you save enough for retirement (L.A. Times)
• Is Philanthropy Undemocratic? Stanford professor Rob Reich argues yes—at least as it's currently organized. (Worth)
• What Investors Can Learn From the Best Poker Players (WSJ)
• What Falling US Interest Rates, Negative Global Yields Mean for Asset Allocators (Chief Investment Officer)
• These $50 Chicken Nuggets Were Grown in a Lab (Bloomberg)
• How to spend your money, according to science (Big Think) see also How to Give People Advice They'll Be Delighted to Take (New York Times)
• Deep Sleep Gives Your Brain a Deep Clean (Scientific American)
• Drones Used in Crime Fly Under the Law's Radar (New York Times)
• Piracy Crackdown May Be Next Front in Streaming Wars (Hollywood Reporter)
Be sure to check out a special edition of Masters in Business Live! this weekend with Nobel Laureate Eugene Fama and Dimensional Funds co-founder and executive chairman David Booth, live from the University of Chicago's Booth School of Business.
The most tax-friendly U.S. state for retirees isn't what you'd guess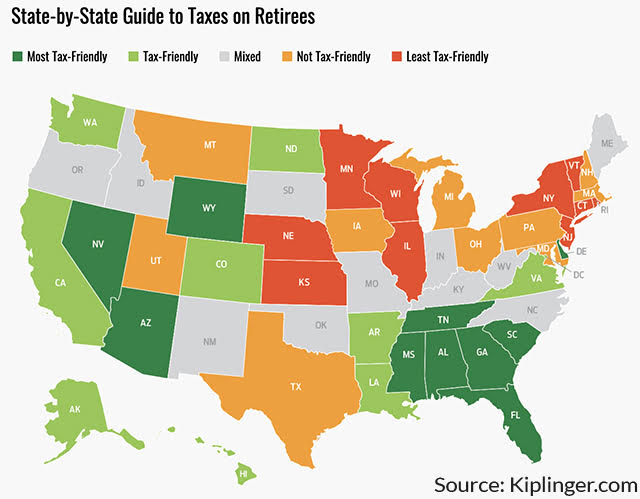 Source: Marketwatch
Sign up for our reads-only mailing list here.