My Two-for-Tuesday morning train reads:
• The 'Silicon Six' spread propaganda. It's time to regulate social media sites. (Washington Post) see also How a Facebook Employee Helped Trump Win—But Switched Sides for 2020 (Wall Street Journal)
• National Enquirer company chief David Pecker talking with New York prosecutors (CNN)
• A Realistic 3D-Printed Steak Is Fake Meat's Holy Grail (Businessweek) see also We Could Be Approaching Peak Beef (Bloomberg)
• Silicon Valley Adjusts to New Reality as $100 Billion Evaporates (Wall Street Journal)
• If that was a retail apocalypse, then where are the refugees? (Washington Post) see also Photographing the retail apocalypse (Washington Post)
• No More Gurus (Collaborative Fund)
• Taylor Swift dispute highlights music perils for private equity (Financial Times) see also 10 things you missed at American Music Awards, from Taylor Swift's speech to Billie Eilish's message (Washington Post)
• That Uplifting Tweet You Just Shared? A Russian Troll Sent It (Rolling Stone)
• The Audacity of Pete Buttigieg (GQ) see also Are Your Neighbors Ready for President Pete? (Politico)
• Electric Cars Racing at 170 MPH Are Test Labs for SUVs (Bloomberg)
Be sure to check out our Masters in Business interview this weekend with Ilana Weinstein, founder and CEO of The IDW Group, a leading consulting & hiring boutique for hedge funds, private equity and family offices in search of top investment talent.
Only 3 U.S. billionaires gave more than 1%: Buffett, Gates & Bloomberg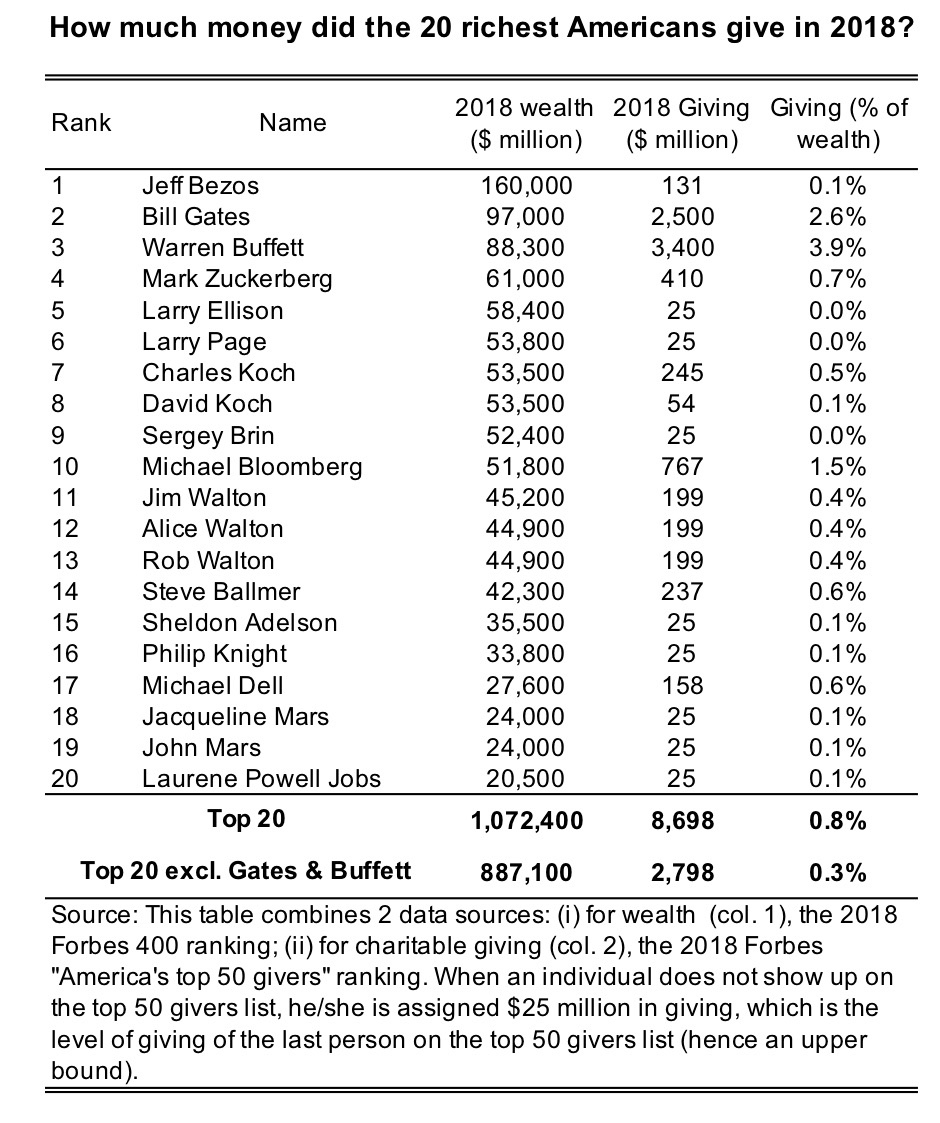 Source: Gabriel Zucman @gabriel_zucman
Sign up for our reads-only mailing list here.