My back to work morning train reads:
• The decline of cash: The technology we might never replace (MIT Technology Review)
• 58 Words and Phrases That Got Us Through a Crazy Decade in Business: From Brexit to microinfluencer, from Arab Spring to ghosting, here's a list looking back over the past 10 years (Businessweek)
• Forecasting Follies 2020 (Above the Market)
• Lessons From Japan's Lost Decades: A record-long U.S. bull market hasn't stopped investors from asking: Is Japanification coming this way, too? (Wall Street Journal)
• Unremarkables. (No Mercy, No Malice)
• Sales of electric autos doubled in 2019 from 2018. (New York Times)
• Films are quietly disappearing from Disney Plus (Polygon)
• Amazon Has Long Ruled the Cloud. Now It Must Fend Off Rivals. (Wall Street Journal)
• Polarization in the Twittersphere: What 86 million tweets reveal about the political makeup of American Twitter Users and how they engage with news (Knight Foundation)
• Scenes from Australia's Deadly Bush Fire Crisis (Washington Post)
Be sure to check out our Masters in Business interview this weekend with Brian Kelly, better known as "The Points Guy." Kelly took an interest in credit card and airline points, and turned it into a substantial media business, with 60 employees and 7 million unique visitors a month.
Markets Roundup for 2019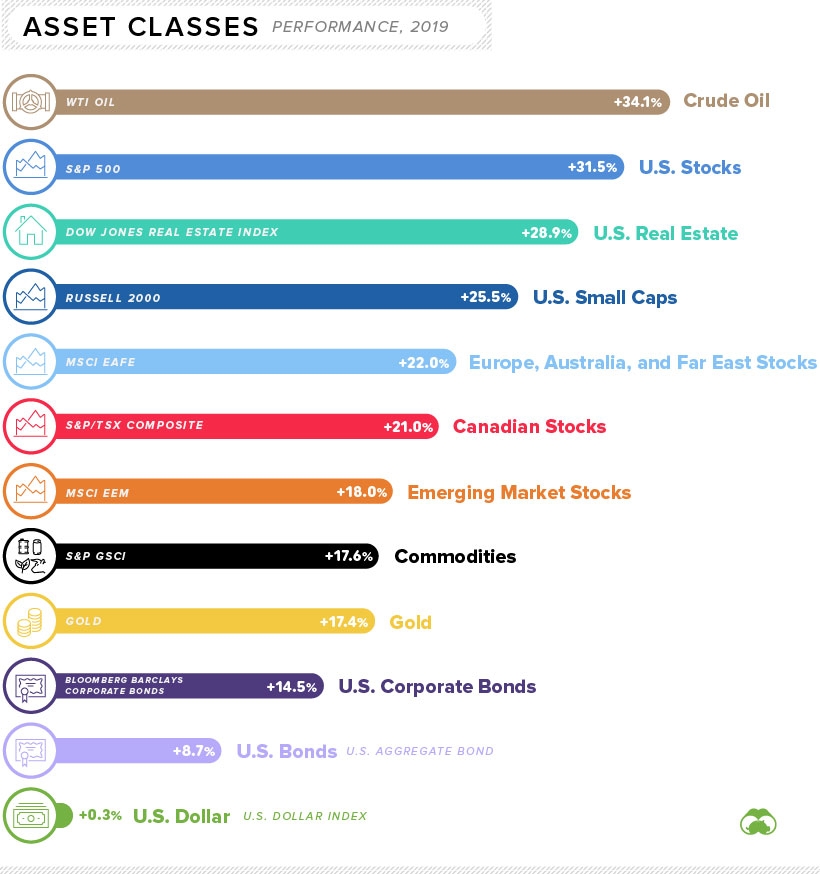 Source: Visual Capitalist
Sign up for our reads-only mailing list here.