My Two-for-Tuesday morning train reads:
• Study: Ultrafast Trading Costs Stock Investors Nearly $5 Billion a Year (WSJ) see also Quantifying the High-Frequency Trading "Arms Race": A Simple New Methodology and Estimates. (FCA)
• Famed Medallion Fund "Stretches . . . Explanation to the Limit," Professor Claims (Institutional Investor)
• Apple Was Headed for a Slump. Then It Had One of the Biggest Rallies Ever. (Wall Street Journal) but see also 2019's Apple's Big Stock Selloff Is a Sign of Things to Come (Fortune)
• The economics of all-you-can-eat buffets (The Hustle)
• So Long, California? Goodbye, Texas? Taxpayers Decide Some States Aren't Worth It (Wall Street Journal) see also New Cloud Over Global Growth: Synchronized Housing Slowdown (Wall Street Journal)
• The Utter Ridiculousness of the U.S. Senate: The world's greatest deliberative body? Really? (The Atlantic)
• Bernie Can't Win: But unless other Democrats take a page from his book, they won't prevail either. (The Atlantic) see also Bernie Bros: The Vermont senator condemned bullying. Is it his problem if the Bros don't seem to listen (New York Times)
• If you want to save the world, veganism isn't the answer (The Guardian)
• Live For Today (Irrelevant Investor) see also The 24 Stats That Explain Kobe Bryant's Staggering Legacy (The Ringer)
• To the Chagrin of Politicians, New York Has Strict Food Rules (Wall Street Journal)
Be sure to check out our Masters in Business interview this weekend with Barbara Tversky, professor of psychology at Stanford and Columbia, and author of Mind in Motion: How Action Shapes Thought. Tversky was married to Amos Tversky, and helped Michael Lewis research his book on Tversky & Kahneman, The Undoing Project.
The Gold Bubble 40 Years On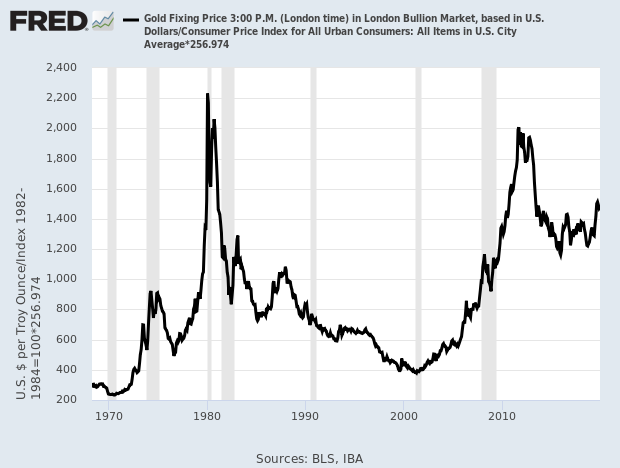 Source: Crossing Wall Street