The weekend is here! Pour yourself a mug of Costa Rican Hacienda Miramonte coffee, grab a seat by the fire, and get ready for our longer form weekend reads:
• Mutual Funds That Rank High on Sustainability Are Outperforming the Market (Barron's)
• 'Like sending bees to war': the deadly truth behind your almond milk obsession (The Guardian)
• Reports of Value's Death May Be Greatly Exaggerated (Research Affiliates)
• No free lunch, but almost: What DoorDash actually pays after expenses (plus tips) (PayUp)
• The Fog of Rudy: Did he change — or did America? (New York Times)
• Hackers Are Coming for the 2020 Election — And We're Not Ready (Rolling Stone)
• Who Is Jared Kushner? The Kushner family history—from lying on immigration forms to becoming major Democratic donors—often seems at odds with the initiatives Jared supports in his father-in-law's Administration. (New Yorker)
• Who's Winning 2024? It's not too early to examine which future presidential candidates had the best 2019—and what to watch from them next. (Politico)
• The Fight to Decolonize the Museum: Textbooks can be revised, but historic sites, monuments, and collections that memorialize ugly pasts aren't so easily changed. (The Atlantic)
• Zion Williamson's preparation and preservation have no precedent (ESPN)
Be sure to check out our Masters in Business interview this weekend with Safa Bahcall, member of President Obama's council of science advisors, and author of the book, "Loonshots: How to Nurture the Crazy Ideas That Win Wars, Cure Diseases, and Transform Industries.
The Bloomberg Effect: Huge Spending Transforms 2020 Campaign Dynamics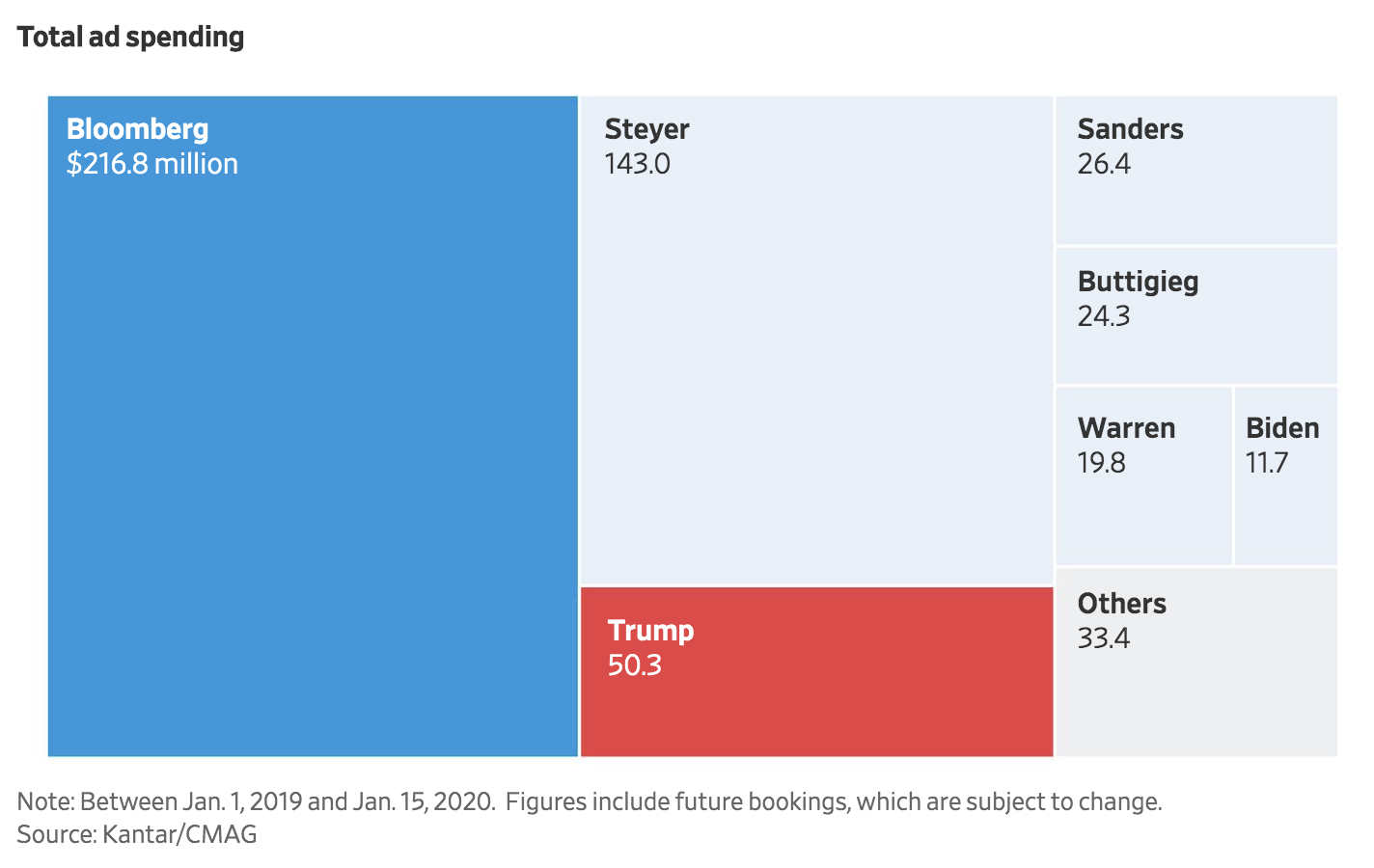 Source: Wall Street Journal
Sign up for our reads-only mailing list here.