My end of week morning train hunker down reads:
• Good News:  'There Is Plenty of Food in the Country' (New York Times)
Bad News: How U. S. Coronavirus Went Wrong. (New Yorker)
• Bird in the Hand (Belle Curve)
• This Is Your Brain on a Crashing Stock Market (Wall Street Journal) see also If You Are Reading This, the World Has Not Ended (The Big Picture)
• Lyft is on pace to surpass Uber in the U.S. (Apptopia)
• Millennials' Passions Haven't Affected How They Invest (Wall Street Journal) see also Will the Coronavirus Change the Way China's Millennials See Their Country? (New Yorker)
• Common Enemies (Collaborative Fund)
• What is a movie? With theaters shuttering, the question gets real. (Washington Post)
• How Russian meddling is back before 2020 vote (CNN)
• As Biden cruises toward the Democratic nomination, which VP pick can help him beat Trump? (USA Today)
• A running list of makeshift 'sports' being invented due to social isolation (SB Nation)
Be sure to check out our Masters in Business interview this week with David Dunning, professor of psychology at the University of Michigan, where he focuses on the psychology underlying human misbelief. He is best known for the Dunning Kruger effect, his work on metacognition and why the unskilled are unaware of their lack of skills.
S&P 500 Volatility Gauge Gives Stocks the Look of a Crash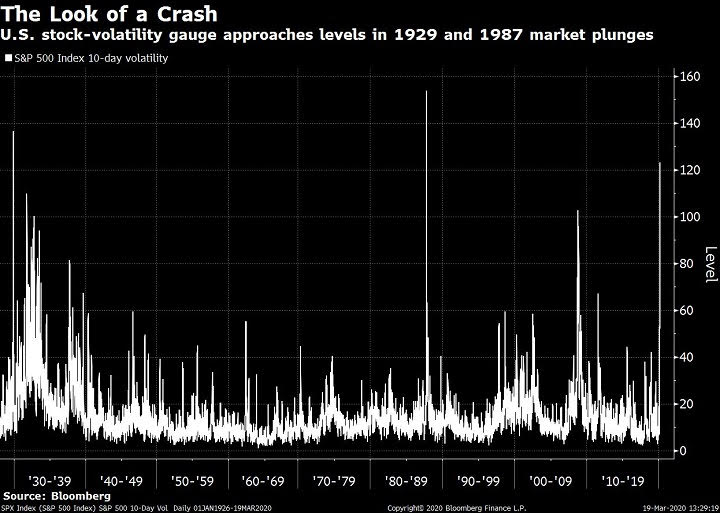 Source: Bloomberg Radio's Dave Wilson
Sign up for our reads-only mailing list here.