My easy like Sunday morning policy reads:
• The Last Straw (Al Franken)
• Pets Help Ease Symptoms of Depression and Anxiety, and the Science Proves It (Allure)
• What Would Roosevelt Do? (Project-Syndicate)
• 100 things to do while stuck inside due to a pandemic (USA Today)
• Coronavirus will hurt us all. But it will be worst for those who have the least (Los Angeles Times) see also "Blow up the bridges" — pandemic leads to class warfare in Hamptons (New York Post)
• Ways to Help During the Coronavirus Pandemic (Morning Brew)
• Shutting Markets Isn't the Solution to What's Wrong (Wall Street Journal)
• Why It Matters The White House Is Calling COVID-19 "the Chinese Virus" (Rude Pundit)
• Three big takeaways from the stunning GOP stock-selling revelations (Washington Post) see also Intelligence Chairman Raised Virus Alarms Weeks Ago to a Small Group of Donors, while staying quiet to the public (NPR)
• How to Have a Social Life While Practicing Social Distancing (Real Simple)
Be sure to check out our Masters in Business interview this week with David Dunning, professor of psychology at the University of Michigan, where he focuses on the psychology underlying human misbelief. He is best known for the Dunning Kruger effect, his work on metacognition and why the unskilled are unaware of their lack of skills.
World Coronavirus Cases vs. MSCI World Level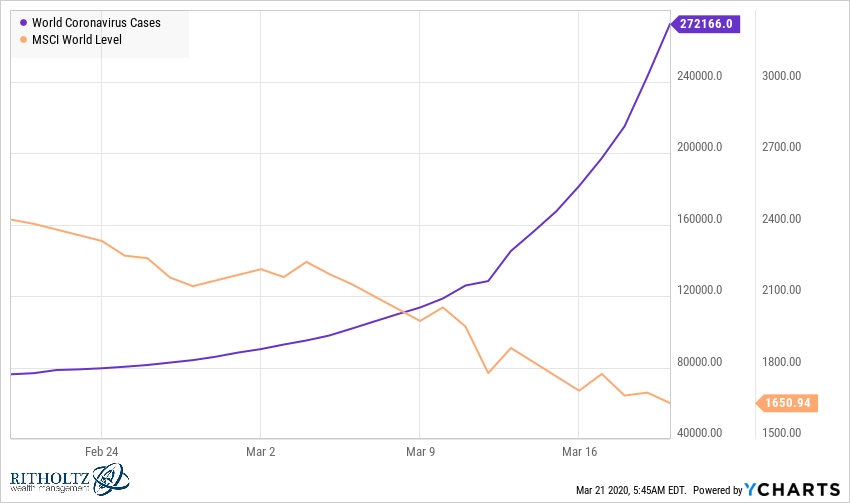 Source: YCharts
Sign up for our reads-only mailing list here.