The weekend is here! Pour yourself a mug of Peters Blend coffee, grab a seat by the pool, and get ready for our longer form weekend reads:
• The Untold Story of the Birth of Social Distancing (New York Times)
• The Provocations of Elon Musk: The mercurial billionaire CEO of Tesla and SpaceX regularly flouts the law with little fear of punishment. (GQ)
• Small Businesses Are the Key to Reviving the Economy. They Face an Existential Threat. (Barron's)
• The Narrative Distribution Monopoly (Jeff Feiwell)
•  The Quarantining We tried to follow the rules. Only they kept changing. They broke us. (Commentary)
• Chips and Geopolitics (Stratechery)
• Helicopter Deliveries, Landscaper Shortages: In the Hamptons, the Coronavirus Summer Is Going to Be Insane (Vanity Fair)
• The Twilight of the Iranian Revolution (New Yorker)
• Managing Decline: The Economy of Value Extraction (American Affairs)
• The Painting Behind the Door: A stolen de Kooning was found in the New Mexico home of a pair of Jewish retirees. It wasn't their only secret. (Tablet)
Be sure to check out our Masters in Business interview this weekend with Jon Taffer, creator of Bar Rescue about the state of bars and restaurants under lockdown and beyond. Taffer is the author of Don't Bullsh*t Yourself!: Crush the Excuses That Are Holding You Back.
1Q GDP is -4.8%; 2Q forecast about -40%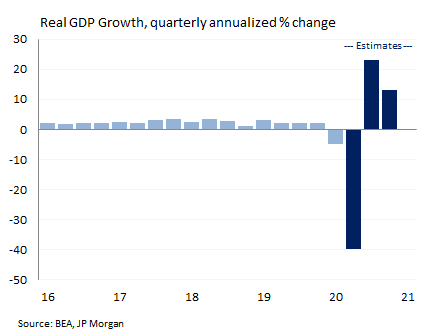 Source: @SteveRattner
Sign up for our reads-only mailing list here.