My Two-for-Tuesday morning train WFH reads:
• Can Big Business Fix Racial Injustice? It Has to Try. Here's How. (Barron's) but see also These companies are publicly embracing Black Lives Matter. Will they continue to bankroll Tom Cotton? (Popular Information)
• Stocks Are Rallying Despite Nationwide Protests. That's Typical. (Wall Street Journal)
• No, the Jobs Report Wasn't Rigged. Here's What Happened. (New York Times) see also The May Jobs Report Doesn't Say What We Think It Says (Time)
• Why We're Ignorant of Our Own Ignorance (Safal Niveshak)
• Looking for an Edge (Humble Dollar) see also Automate Automate Automate (Irrelevant Investor)
• The New Leader of the Free World (Eudaimonia)
• 10 things we know about race and policing in the U.S. (Pew Research Center) see also The Mount Vernon Police Tapes: In Secretly Recorded Phone Calls, Officers Say Innocent People Were Framed (Gothamist)
• What to Do if You're the Target of Online Harassment (Slate)
• Concerned about "brutal" internal polling, Trump's top aides plot new theme (Axios) see also The 2020 Cake Is (Almost) Baked (The Bulwark)
• Everyone Took the Wrong Lesson From Jackie Robinson (Mel)
Be sure to check out our Masters in Business interview this weekend with Jon Litt, Land & Buildings Investment Management chief investment officer, about the prospects for recovery in commercial real estate.
The Craziest Charts of the Year (So Far)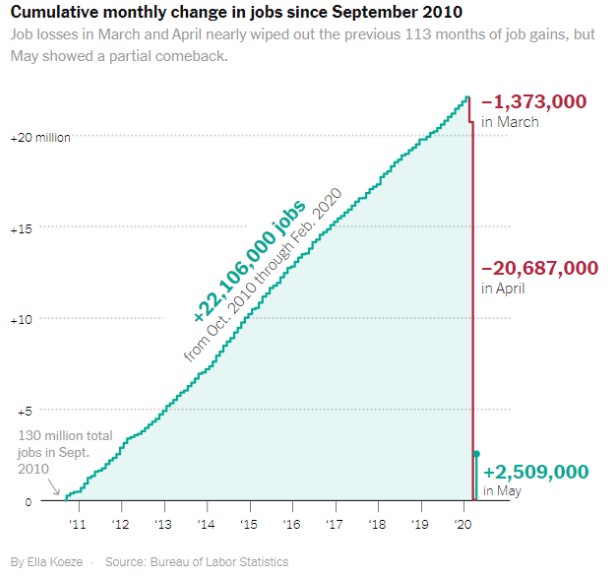 Source: Wealth of Common Sense
Sign up for our reads-only mailing list here.