My Two-for-Tuesday morning train WFH reads:
• Make money day-trading from home: Ten Thousand Day Traders an Hour Are Buying Tesla Shares (Bloomberg) but see Amateur J.C. Penney Traders Beg Judge to Save Them From Wipeout (Bloomberg)
• Blank-Check Boom Gets Boost From Coronavirus (Wall Street Journal)
• After the fastest recession in U.S. history, the economic recovery may be fizzling (Washington Post) see also Wall Street's Earnings Forecast: Cloudy With a Chance of Turbulence (Wall Street Journal)
• Could This New Metric Upend Private Equity Compensation? (Institutional Investor)
• A Wave of Evictions Would Be Bad for Everybody (Bloomberg) see also This Recession Is a Bigger Housing Crisis Than 2008 (New York Mag)
• Larry Brilliant on How Well We Are Fighting Covid-19: Three months ago, the epidemiologist weighed in on what we must do to defeat this new threat. We went back to ask: How are we doing, and what comes next? (Wired)
• The Backlash Against PPP Is Why the U.S. Can't Have Nice Things (The Atlantic) see also The PPP worked how it was supposed to. That's the problem (Vox)
• Your dog might be older (in human years) than you realize. New study debunks 7 years claim (USA Today)
• (Outdoor) Serenity Now: How to Create an Open-Air Zen Space (Mansion Global) see also Designing a Garden? You'll Need a Plan (New York Times)
• For Sale: A Team With a Colorful Financial History (New York Times)
Be sure to check out our Masters in Business with Bill Miller of Miller Value Partners, which manages $2 billion in client assets. Miller is best known for running Legg Mason's Capital Management Value Trust, whose after-fees returns beat the S&P 500 index for 15 consecutive years from 1991 through 2005.
Nasdaq-100 Comes Nowhere Near Reprising Bubble-Era Surge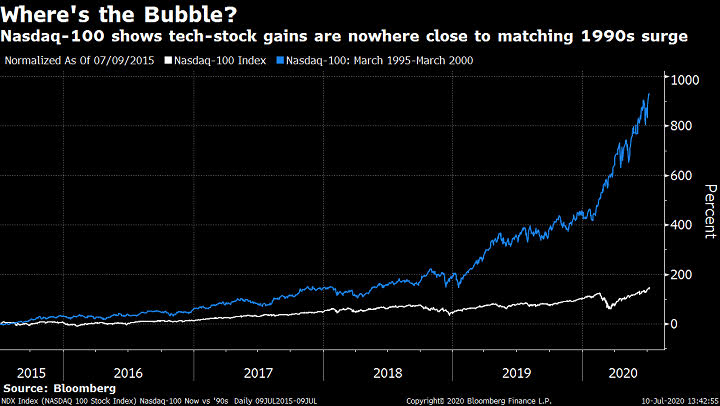 Source: Bloomberg Radio's Dave Wilson