It's a Tax Day (really April 18th) and a 3-day weekend! Kick it off with our end of week morning reads:
• America's Highest Earners And Their Taxes Revealed Secret IRS files reveal the top US income-earners and how their tax rates vary more than their incomes. Tech titans, hedge fund managers and heirs dominate the list, while the likes of Taylor Swift and LeBron James didn't even make the top 400. (ProPublica)

• U.S. companies load up on costly inventories as new supply snarls loom in China Many U.S. companies are in the same position. Inventory levels have gone up in recent months as U.S. port congestion eased and supply chains have begun to untangle. Wholesale inventories surged 19.9% in February on a year-on-year basis, according to figures released by the Commerce Department on Thursday. They were up 2.5% from January. (Reuters) see also Trucking Boom Is Hitting the Brakes as Freight Demand Slows Rates are sliding and shipping demand and capacity appear to be coming into balance following a period of strong earnings for trucking companies. (Wall Street Journal)

• Is Elon Musk really going to buy Twitter for $43 billion? Maybe? If you were in the "it's possible Musk hasn't really thought this through at all" camp, you may be right. In an interview today, Musk suggested that, just like his take-Tesla-private non-bid, he may not have the financing secured for this one, either. Meanwhile, Twitter's board is reportedly considering using a so-called "poison pill" that would make it more difficult for Musk to amass more Twitter shares. (Vox)

• Understanding the U.S. Housing Crisis in an Era of Inflation Economist Jenny Schuetz offers a practical guide to one of the biggest challenges facing renters and homebuyers: the skyrocketing cost of housing. (CityLab + Green)

• No, the Fed's Balance Sheet Doesn't Explain Stocks' Moves Just because two lines look alike on a chart doesn't mean they are related. (Fisher)

• Crypto Revolution Spurs Central Banks to Design Money's Future Six projects around the world provide clues to the next stage of digital cash. (Bloomberg)

• How Homeownership Changes You: It's not just a financial commitment. It can alter people's relationships to a community, a place, and even time. (The Atlantic)

• 'The lunacy is getting more intense': how Birds Aren't Real took on the conspiracy theorists On a march, Peter McIndoe held up a sign and talked about how the 'deep state' had replaced all birds with drones. It was meant as a small act of satire but has become a mass movement theorists. (The Guardian)

• 'It's Super Spectacular.' See How the Tonga Volcano Unleashed a Once-in-a-Century Shockwave. When an underwater volcano in the Pacific island nation of Tonga erupted violently in mid-January, it spawned a tsunami that devastated many of its islands and struck far-off shores across the ocean. (New York Times)

• The 50 Best Places to Travel in 2022 From far-flung destinations to hometown favorites, 2022 is the year to get back out there and turn your dream trips into reality. (Travel & Leisure)
Be sure to check out our Masters in Business interview  this weekend with Luana Lopes Lara, co-founder of Kalshi, which has been approved by the Commodity Futures Trading Commission (CFTC) as an authorized Designated Contract Market (DCM). Kalshi operates a federally regulated exchange allowing investors to trade directly on the anticipated outcome of future events.
The Worst Quarter in Years for Bond Fund Investors Had Few Bright Corners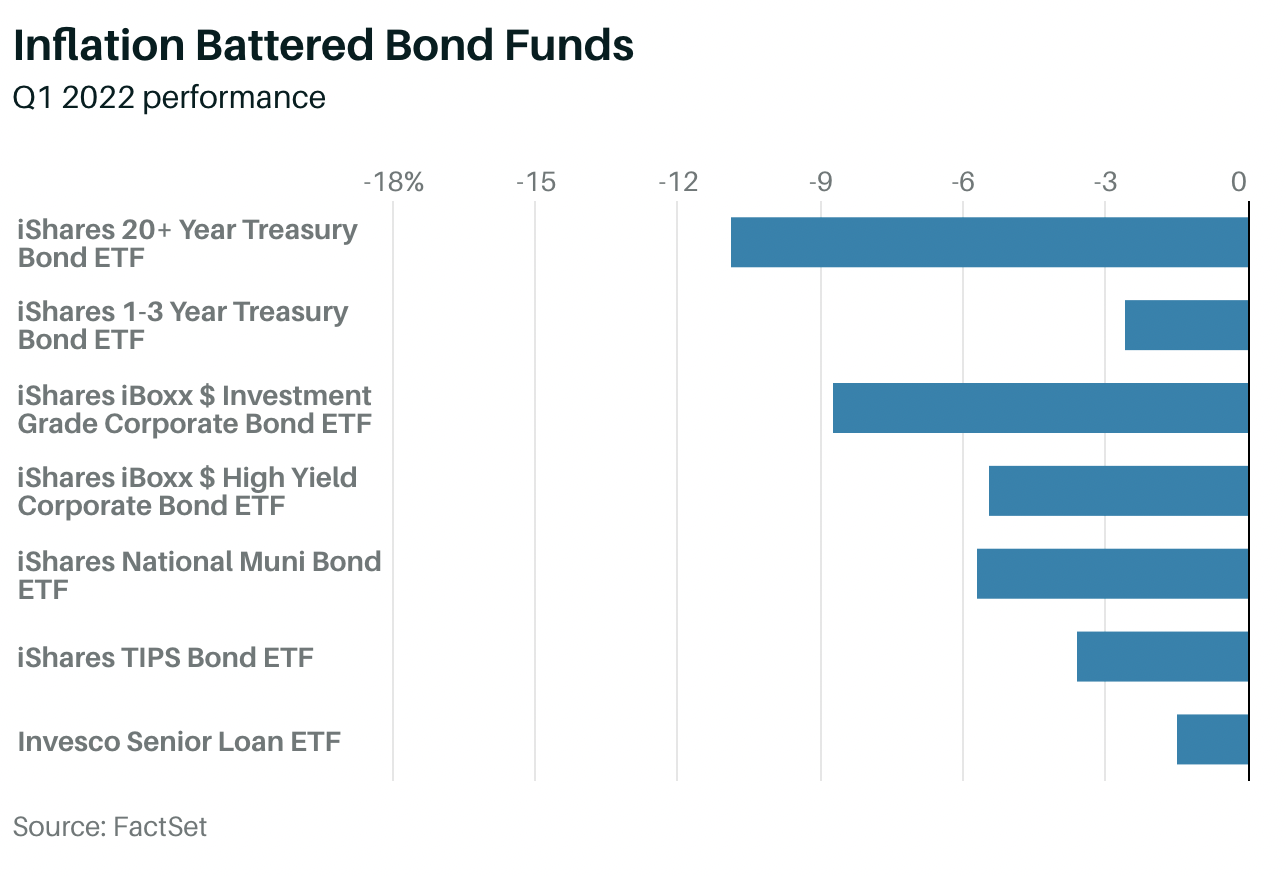 Source: Barron's
Sign up for our reads-only mailing list here.