My end of week morning train WFH reads:
• With the Pullback in IPOs, Shareholders in Private Companies Are Selling — And Prices Are Dropping With the rise of Forge and other platforms, employees, hedge funds, and other investors are getting liquidity even though the window to go public has closed. (Institutional Investor)

• How Barnes & Noble Went From Villain to Hero To independent booksellers, the enormous chain was once a threat. Now it's vital to their survival. And it's doing well. (New York Times) see also How Bricks Might Save Clicks Rising costs of doing business online is making physical retail more appealing for e-commerce brands (WSJ)

• America Gave Up on Overtime—and It's Costing Workers $35,451 a Year Overtime pay was one of the biggest deals of the New Deal reforms—along with the prohibition of child labor and the establishment of a federal minimum wage. But sometime around 1975 the prosperity of working Americans was dramatically severed from that of the economy as a whole. (Time)

• Business Leaders Know the Climate Status Quo Is Untenable New carbon removal funds show the private sector is stepping up on climate, and that's reason for optimism. (Bloomberg)

• Inside the New Right, Where Peter Thiel Is Placing His Biggest Bets They're not MAGA. They're not QAnon. Curtis Yarvin and the rising right are crafting a different strain of conservative politics. (Vanity Fair)

• Why Russia gave up on urban war in Kyiv and turned to big battles in the east: Just weeks into its war in Ukraine, Russia has shifted its focus to the country's east, redeploying weapons and troops and increasing attacks on key towns and cities. The sudden pivot to friendlier territory — where pro-Moscow separatists have fought for years — comes after Russian forces failed to capture Ukraine's capital, Kyiv. (Washington Post)

• How to stay optimistic in these dark times There are different kinds of optimism; let's think carefully about which we need. (Noahpinion)

• What Happens When An Election Official Believes The Big Lie: There are likely hundreds of would-be Big Lie beleivers all across the country — candidates running for elected office in the midterm elections who believe, to varying extents, that the 2020 election was rife with fraud, despite all their evidence being categorically debunked. Election fraud believers are also running for less high-profile jobs that would give them influence over elections: secretary of state, attorney general and, yes, county clerk. (FiveThirtyEight)

• How to Judge COVID Risks and When to Wear a Mask Scientific American asks experts in medicine, risk assessment and other fields how to balance the risks of COVID with the benefits of visiting public indoor spaces (Scientific American) see also It Makes Total Sense if You Still Don't Want to Get COVID Between people going maskless on planes and politicians attending fancy dinners, there's a lot of pressure to just move on. (Slate)

• 20 Years Married: How 'My Big Fat Greek Wedding' Became a Smash Hit On a special anniversary, here is the unlikely story of how a starless, non-studio-backed long shot became the highest-grossing rom-com of all time. (The Ringer)
Be sure to check out our Masters in Business interview this weekend with Mark Jenkins, Head of Global Credit, at Carlyle. The firm manages over $300 billion in assets. Carlyle's Global Credit platform manages over $73 billion in assets in liquid, illiquid, and real asset strategies.
The productivity pay gap. Workers are more efficient than they used to be, but wages haven't kept up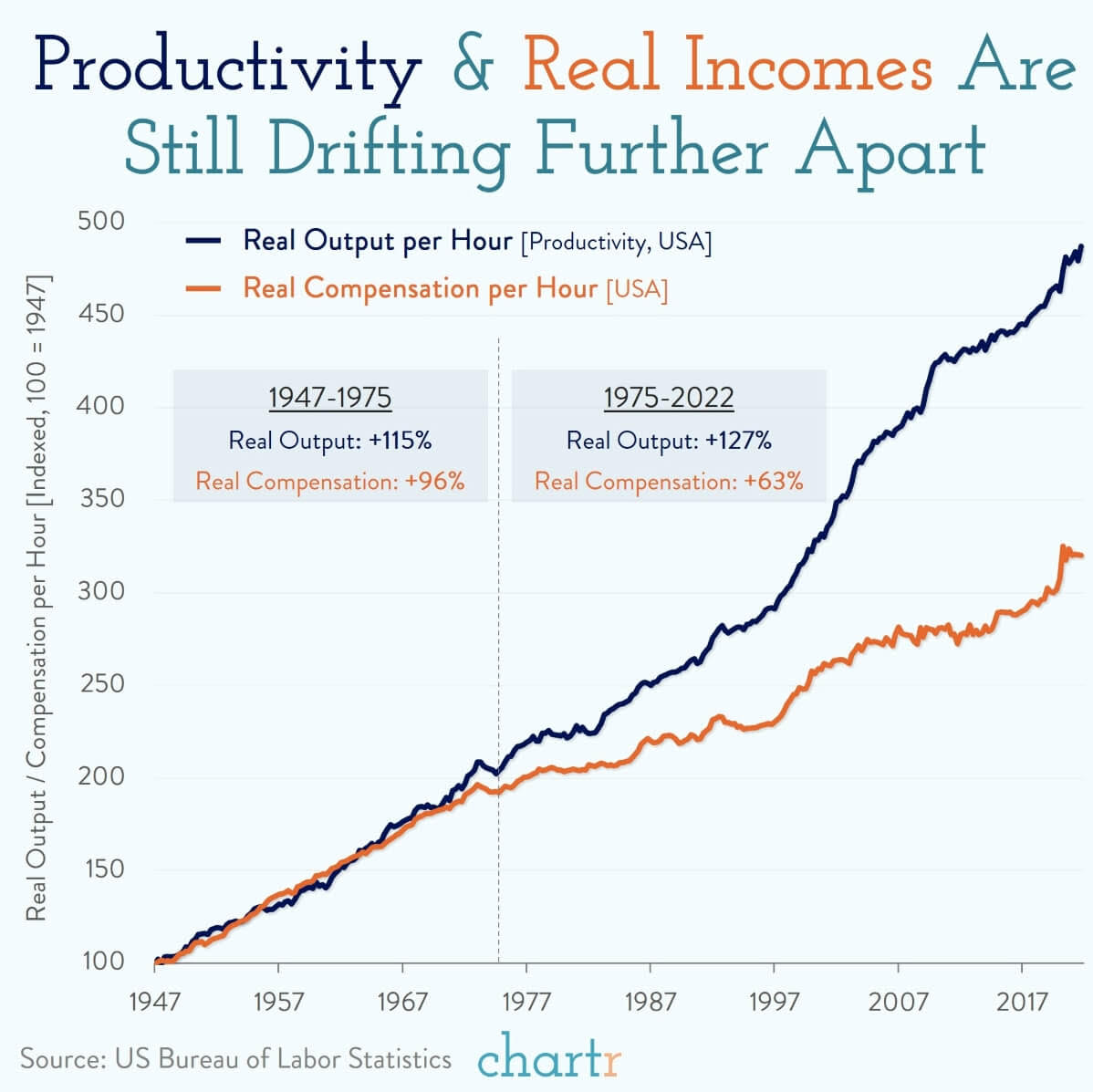 Source: Chartr
Sign up for our reads-only mailing list here.