My end-of-week morning train WFH reads:
• The Housing Shortage Isn't Just a Coastal Crisis Anymore An increasingly national problem has consequences for the quality of American family life, the economy and the future of housing politics. (New York Times)

• The US Plan to Turn Israel's Tech Industry Against China Is Working: Ahead of President Biden's visit to Jerusalem, his administration continues to push for more restrictions in a pressure campaign to cut Beijing off from a crucial source of advanced technology. (Businessweek) but see How China's BYD played catch-up with Tesla Battery expertise and patience have made the group a formidable competitor in the global car industry. (Financial Times)

• The Bond Market Selloff in Historical Perspective: Treasury yields have risen sharply in recent months. The yield on the most recently issued ten-year note, for example, rose from 1.73% on March 4 to 3.48% on June 14, reaching its highest level since April 2011. Increasing yields result in realized or mark-to-market losses for fixed-income investors. We put these losses in historical perspective and investigate whether longer-term yield changes are better explained by expectations of higher short-term rates or by investors demanding greater compensation for holding Treasury securities. (Liberty Street Economics)

• 'They couldn't even scream any more. They were just sobbing': the amateur investors ruined by the crypto crash Fuelled by hype and hysteria, the market in bitcoin and other cryptocurrencies went from an obscure niche to a $3tn industry. Then the house of cards collapsed.(The Guardian)

• The First Million-Transistor Chip: the Engineers' Story: Intel's i860 RISC chip was a graphics powerhouse: Freed from the limitations of compatibility with the 80X86 processor family, the secret N10 team started with nothing more than a virtually blank sheet of paper. To cut down on bureaucracy and communications overhead, [Leslie Kohn] determined that the N10 team would have as few engineers as possible. (IEEE Spectrum)

• Humans Have Always Been Wrong About Humans: The Dawn of Everything fundamentally shifted my view of … everything. I had to meet one of the minds behind its world-tilting revelations. (Wired)

• Once nearly extinct, bison are now climate heroes: Indigenous tribes are leading the effort to bring back the bison — a victory not only for the sake of biodiversity, but for the entire ecosystem they nurture. (Washington Post)

• The real-life Maverick who took on 7 Soviet jets in a classified Korean War dogfight: The existence of the improbable dogfight remained under wraps for decades, yet the details of what happened are the stuff of legends. (Task and Purpose)

• A madman's guide to Wagner: You don't have to be crazy to enjoy Wagner, but it helps: With that in mind, I put together a personal list of the nineteen acts of Wagner's mature operas, going from the ones I still, after years, find a real test of endurance, to the ones that have transformed my life. Here goes. (The Critic)

•  Never Bring White Wine to a Cookout, and Other Summer Grilling Rules A wine writer and a grill master share expert tips—plus nine bottles that will pair spectacularly with anything. (Bloomberg)
Be sure to check out our Masters in Business next week with Antti Ilmanen, AQR Capital's co-head of Portfolio Solutions Group. Ilmanen market theories and research are highly regarded, and he has won multiple awards, including the Graham and Dodd award, the Harry M. Markowitz special distinction award, multiple Bernstein Fabozzi/Jacobs Levy awards, and the CFA Institute's Leadership in Global Investment Award. His most recent book is "Investing Amid Low Expected Returns."
The Top CEOs: Kudos to 24 Game-Changing Corporate Leaders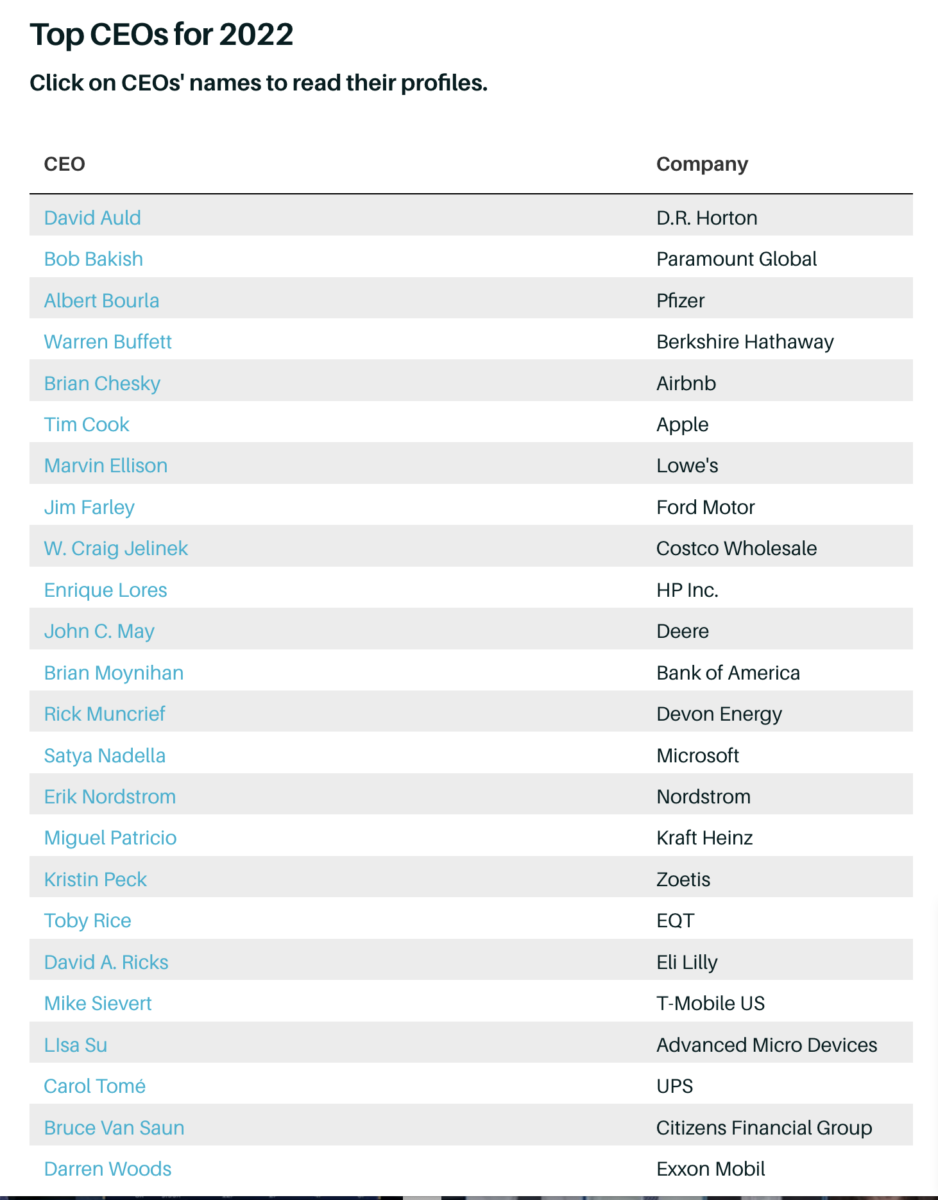 Source: Barron's
Sign up for our reads-only mailing list here.